Rules of Civility by Amor Towles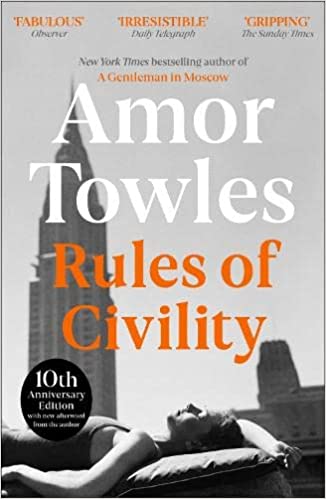 This post may contain spoilers.
I was a bit reluctant to read this book as it's about as far out of my usual genres as its possible to go and reading the summary it sounded horribly similar to The Great Gatsby that I was forced to read for my English Inter Cert and detested. However, I'd already read The Lincoln Highway and loved it so I was prepared to give this a go. Guess what, I loved this too!
Katey is the daughter of Russian immigrants who was born and raised in New York and from a very working class background. The preface starts in the late 60s with Katey happily married and living a wealthy and contented life. At an art exhibition she spots two photos of an old friend and lover taken in 1938 and 1939. She is catapulted back to her first meeting with "Tinker" Grey and the events of 1938 that changed her life at 25.
The story focuses very much on Katey's perspective but also tells the story of the many people she meets and befriends throughout 1938, the sometimes frivolous behaviour of the late 30s and how the paths are set for the rest of their lives.
The quality of the writing is superb and it's hard to believe this is the author's first book. I was surprised, not only by how much I enjoyed it, but also by how emotionally invested in the characters I became. This is a book of both highs and lows but I finished it with a sadly sweet nostalgia for a life that wasn't my own.
My Rating: ⭐⭐⭐⭐⭐
Header image by Kaboompics .com from Pexels