Dark Sacred Night (Harry Bosch #21, Renee Ballard #2) by Michael Connelly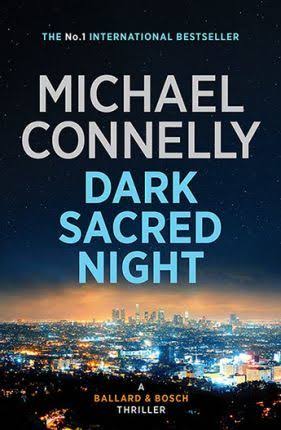 This post may contain spoilers.
Connolly has created a superb character in detective Harry Bosch, supplemented that with his excellent half brother Mickey Haller and recently introduced a very intriguing new character with Renee Ballard. In this novel he brings Bosch and Haller together in one interlinked story.
This is an interesting concept. Bosch is well established as a bit of a lone wolf and with no hesitation about stepping outside of the line when circumstances require it. Ballard is also very much a loner. She is effectively homeless, working the unwanted night shift and with her dog as the only consistent relationship in her life. When we first met her we were given the impression that the "late show" was a punishment for lodging a harassment complaint against her former superior officer but in this book we get the strong message that she likes working it as she doesn't have to interact with many other colleagues. In fact she's particularly happy this time as she's running solo with her partner off on leave. The author blends these two lone wolves together very well.
I particularly liked the way he took the chapters and focused them on one character at a time. Their stories overlap and become more and more entwined as the story progresses but it's really good to see it told from the individual points of view. It also helps with the momentum of the plot as he brings them together more frequently as it picks up pace towards the end.
On top of all of this the author has created two very interesting cases to be worked. Bosch is working a cold case as a reserve officer with a local police force (San Fernando Valley) but trying to solve an old case of the brutal murder of Daisy Clayton. This has become particularly personal with Daisy's mother now living in his house as she gets clean from her own battle with drug addiction. Ballard comes across Bosch and eventually takes on the Clayton investigation as a hobby case to work it officially from within LAPD.
This Clayton investigation is the basis of the recent Bosch: Legacy TV show which made this feel very familiar. As a fan of Bosch on TV I can't help but overlay Titus Welliver's portrayal on to the book character. Despite the huge variations it doesn't cause any problems for me and in some ways, enhances the books.
I found the partnering of Bosch and Ballard very enjoyable in this book and it seems there are more to come. I would like to see Ballard getting another book of her own though as she is a brilliant character in her own right.
My Rating: ⭐⭐⭐⭐⭐
Header image by Kaboompics .com from Pexels