The Late Show (Renée Ballard #1) by Michael Connelly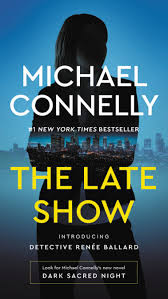 From Goodreads:
Renée Ballard works the night shift in Hollywood, beginning many investigations but finishing none as each morning she turns her cases over to day shift detectives. A once up-and-coming detective, she's been given this beat as punishment after filing a sexual harassment complaint against a supervisor.

But one night she catches two cases she doesn't want to part with: the brutal beating of a prostitute left for dead in a parking lot and the killing of a young woman in a nightclub shooting. Ballard is determined not to give up at dawn. Against orders and her own partner's wishes, she works both cases by day while maintaining her shift by night. As the cases entwine they pull her closer to her own demons and the reason she won't give up her job no matter what the department throws at her.
My Rating: ⭐⭐⭐⭐⭐
This is just superb! Michael Connelly is best known for his books about LA detective Harry Bosch set in the 80s and 90s. This is a brand new character for him and is set in the much more modern mid 2010s. For an author that spent so much time writing about men this is a female character and from a totally male perspective I think he's done a fantastic job of creating a strong female character working in a male dominated culture that is tough enough to get the job done but doesn't simply become a man with a woman's name*. Contrast that with David Baldacci's Atlee Pine character.
If you haven't read any of Connelly's books before then it's possible to start here as it's a completely different storyline from anything else he's written although there does seem to be some crossover in later books.
I don't want to spoil the story so I won't give much detail and to be honest I don't really know how to add to the summary above. Simply put Ballard is a brilliantly constructed character and Connelly's writing is so good that I struggled to put this one down and read it through in just a couple of days.
*so difficult to write that without sounding patronising and sexist!
Header image by Kaboompics .com from Pexels