Daylight (Attlee Pine #3) by David Baldacci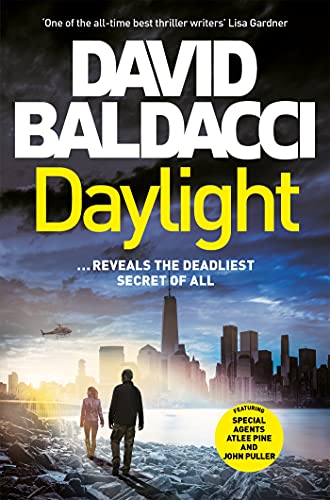 This post may contain spoilers.
Not a bad book but just very formulaic and dull. This series is starting to feel like it should have been two maybe three books but has been stretched out to four.
Don't get me wrong, there are loads of twists and turns and plenty of action with people getting shot, abducted, murdered and buildings blown up, there's a massive blackmail scheme involving politicians, judges and cops but it's still dull. I get the feeling that the author has a formula for writing by now but has no passion for it any longer.
To try and spice up the bizarre relationship between Pine and her grandmother style sidekick, Carol Blum, the author brings in the Pullers. John Puller's investigation crosses Pine's and they soon figure they need to work together. The second Puller brother, Robert, also gets pulled in and we have a sad scene between John and his father. Despite bringing these guys into the story it can't seem to raise the excitement levels at all.
In the second book I found the character of Carol Blum to be very unrealistic. If anything she has become even more so in this one, following Pine around like a sad shadow of a mother and seemingly only useful as a sounding board for Pine to work through theories, come to conclusions and move the story ahead to the next step on the author's plot list.
I will read the last installment but, as my only interest now lies in how they manage to complete Mercy's story, I'm in no rush.
My Rating: ⭐⭐
Header image by Kaboompics .com from Pexels