Into The Out Of by Alan Dean Foster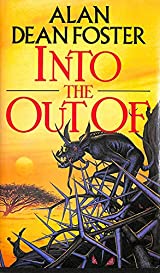 From Goodreads:
An ancient evil…
They're small and dark–and as elusive as a shadow under your bed or an unexplained creak in the night. But the shetani are beings of awesome power, a swarm of spirits stealing into our world from the Out Of to destroy the very fabric of reality.
A modern menace!
Only one man sees the growing danger. Olkeloki, an elder of the Maasai people, an African laibon with the knowledge to fight the shetani both in this world and its bizarre counterpart. But he must have help from two others if he is to stem the deadly tide–U.S. government agent Joshua Oak, a man all too used to combat, and Merry Sharrow, a courageous young woman braving demons of her own. Together, they must invade the very heart of a nightmare and–as spell-cast mayhem causes one earthly crisis after another–defeat the shetani in their own terror-strewn world
My Rating: ⭐⭐⭐
This was one of the first science fiction stories that I ever read and it really gave me a hunger for more. That was in my mid teens (late '80s) and I have been wanting to read it again for quite some time now. I recently came across a digital version and added it to my reading list.
After more than 35 years of reading science fiction, fantasy and horror I found this early example of the genre quite dated. It starts well with an interesting concept, good characters and a good storyline. However, the second half of the book very quickly runs out of steam and becomes quite dull. There was huge scope for creating an alternative world (the out of) but it's as if the author created a concept that he didn't know how to handle and ended up with a poor shadow of the potential. With this he also lost grip of the characters and they quickly lost depth as well as my interest.
Despite its poor aging it was still worth a read even just for sentimentality but there are many better books out there that I'd recommend instead.
Header image by Kaboompics .com from Pexels