Warning: this turned into quite a long post!
Over the last couple of years most of society has given up a lot of control to others. Many of the decisions we had been used to making ourselves were restricted by the decisions of those in government over us. These restrictions have resulted in many positive impacts with health services not becoming over run and the lives of many being saved. There have been negative impacts also with the mental health of many being badly affected, health appointments, checkups and surgeries delayed and many people becoming frightened and isolated from the rest of society. Finally though, with the end of the latest Omicron wave, it appears that life will now begin to return to normal as restrictions are being completely removed in many countries around the world.
From a personal point of view I feel that I have lost control of certain aspects of my own life and especially so over the last 6 to 12 months. I've written a number of times here about my inate lack of motivation and tendency towards laziness and putting things on the long finger. I know Covid has made that more difficult but in some ways it's also an excuse that I've been using to justify my actions or rather inactions. That needs to change.
Most years at either the end of December or the beginning of January I make a list of targets and plans for the year ahead. I intentionally didn't do that this year. As 2021 drew to a close I'd been thinking about this lack of control and what I was going to do about it. I decided that this year was to be about taking back control of my health, fitness and weight. I've been very inactive especially since about August and my diet has deteriorated quite badly. Consequently I'm now less fit and heavier than I have been for a good few years. I'm 49 this year and that's not a good place to be at this age. I decided that getting back to regular activity, cutting most of the crap from my diet and getting my weight back to a healthier level was more important than arbitrary distance targets or streak challenges this year.
Changing jobs has given me a new impetus and also new opportunities with a shorter commute and slightly shorter working day but the change has also brought new challenges with new systems, people and routines to learn and establish. I did get a little more active in January but not to the level that I need.
Last week saw the turn of the month from January into February. The 1st of February is celebrated in Ireland as St. Brigid's Day but in ancient Ireland it was known as Imbolc. Halfway between the Winter Solstice and Spring Equinox it traditionally marked the beginning of Spring and generally associated with new beginnings. What better week to start afresh?
On Monday I finally made it to a physio to get some work done on my back. It's been an issue for me for quite a few years but has been a consistent annoyance now for the last 4-5. I've had a few episodes of very bad pain this last year and twice over Xmas and New Year. I've been to physios before but it's always been a temporary fix and I haven't maintained the stretching or exercises to get into shape and keep the pain away. This is now the time to reverse that. The physio gave me a good examination, some massage and stretching followed by some dry needles and electro therapy. I was tender for a day or two but the next couple of days were the best I've felt for a long time. I have a follow up appointment this week and then a series of strengthening and stretching exercises to do daily to keep it good. Despite my lack of effort this seems to be an issue that should be reasonably easy to treat if I apply myself.
On Tuesday I then read a blog post written by Jim at Fit Recovery. Jim writes a lot about cycling, more recently about bowling but also a lot about recovery from alcohol addiction. This particular post was about recovery but it definitely struck a chord with me, especially the bit about not letting the argument in your head start at all. Just shut it down before it starts. Too many times I let the argument run and it wins and I do nothing or put something off. My big challenge now for this year is to make that my new habit.
With that new momentum I decided to cycle with the Club on Wednesday morning. I got the bike prepped and my kit ready for the morning and for the first time in well over 6 months I went for a group spin. It was a damp Wednesday morning so it was only the 3 of us and the other guys were stronger than me. However, we went out with a headwind and with them taking turns on the front and me on the 3rd wheel we all had a good workout and at much the same level. At Ballinamore School (21km) I turned back for home while they went on to Fintown for an extra 10-15km. I knew I didn't have the legs for that and was able to enjoy the tailwind home solo. I had a surprising amount of anxiety about going out for this spin that took significant effort to suppress. However, I went out, performed way better than I expected and had a good time despite the tender ass and tired legs!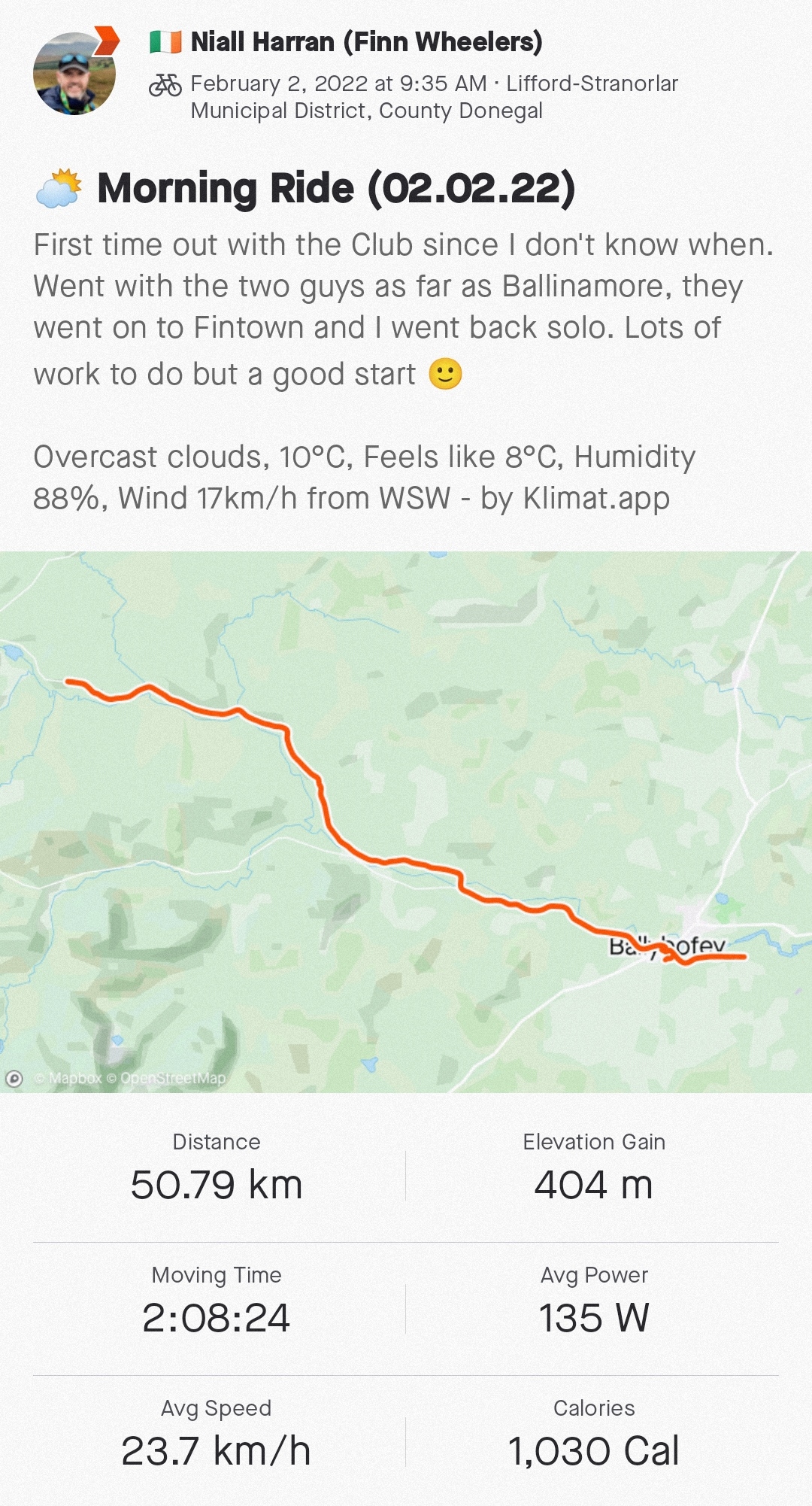 With no plans for the afternoon, buoyed by my successful morning and the encouragement from the two guys I spent some time that afternoon getting my MTB sorted in order to join the Club run on Thursday evening. I used to do this 2-3 nights a week a few years ago but the small group we had broke up when the other guys switched over to Zwift the following winter and I couldn't get a new group together. In the meantime a new group formed but I'd never joined them. Thursday was to be the night.
Again I was a bit concerned about my fitness but this is a very mixed ability group and the ethos is to stick together so I was feeling better about joining them. Altogether we were out for over 2 hours but lost 20-30mins with an awkward puncture. It was a whole load of fun, I'd forgotten how great it was to get cold and wet in the dark on a MTB!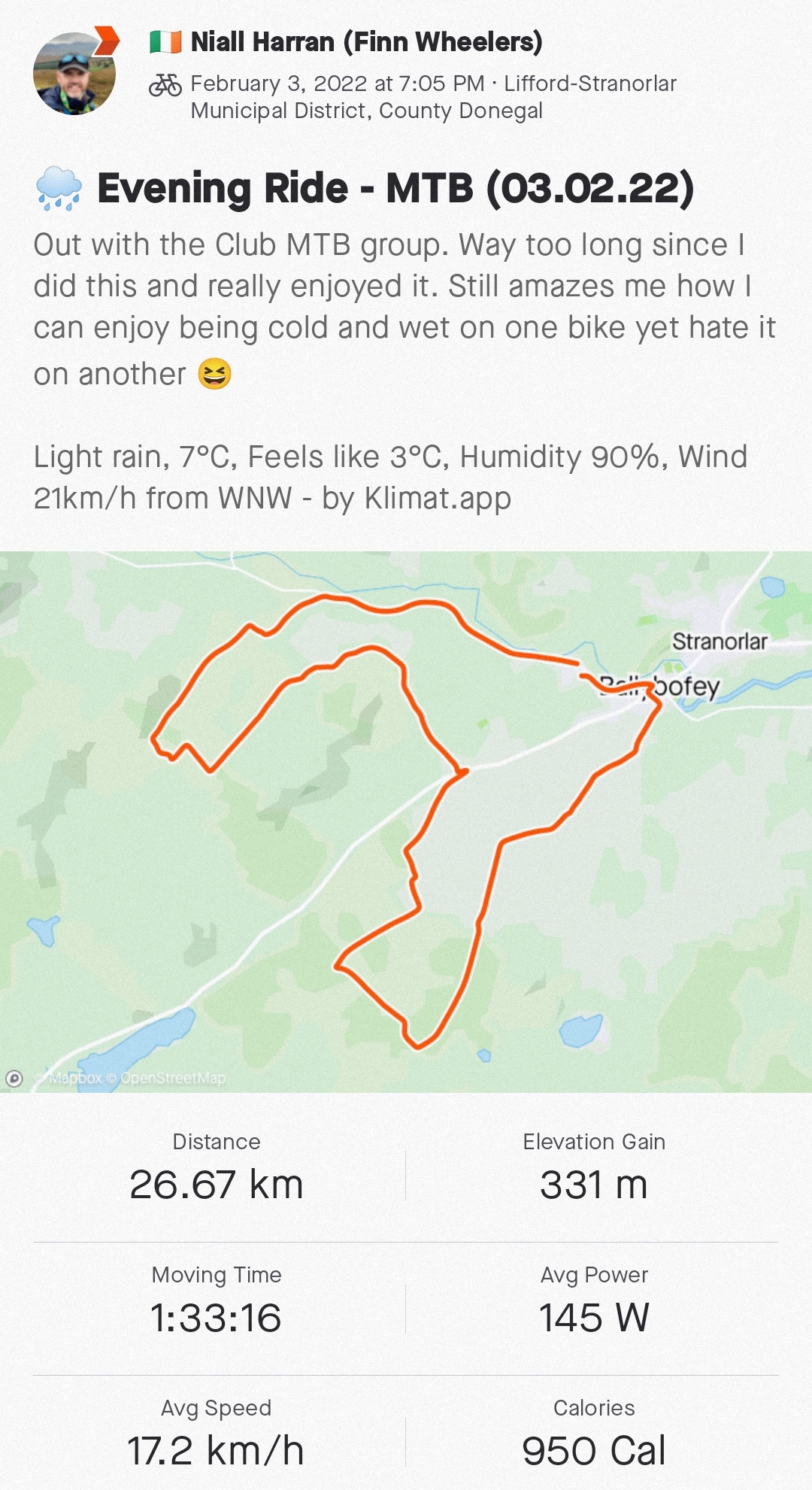 The next stage of my comeback was to join the Sunday morning road bike group but a storm blew in over the weekend making it dangerous to ride and definitely not fun. Despite this early setback I'm ready to roll tomorrow evening again with the MTB group and looking forward to it.
I still have a bit of a way to go to take back control of other things I've been letting slide but the journey has started and so far I'm feeling good.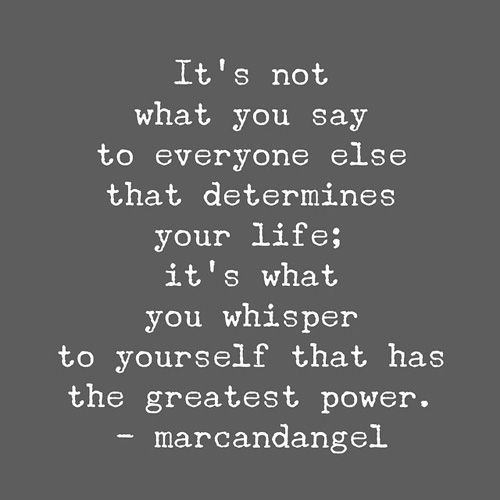 On a complete tangent this post has been rattling around my brain since yesterday and every time I think of it I end up singing this song…..