"Failure is an Option" written and read by Matt Whyman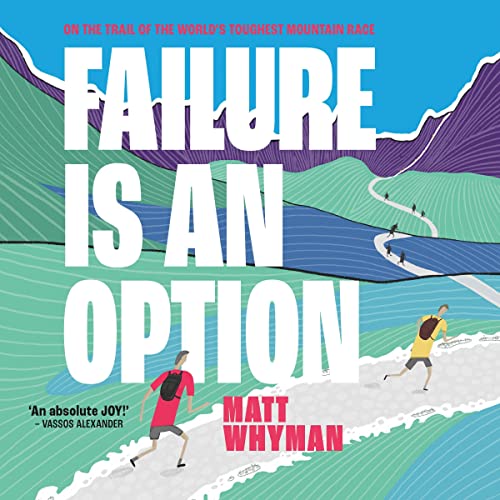 This post may contain spoilers.
Unlike many other books of this type that I've read or listened to previously, this is written by someone who is already an accomplished author and this is obvious from very early in the book. What is also obvious is that he's a very, very good author. To make it even better he has a fantastic personal story to tell.
The book is built around the fact that he is taking part in the 2021 edition of "The Dragon's Back Race" which dubs itself as "the world's toughest mountain race". This is a multi-day ultra distance mountain run along the spine of Wales but the author's story doesn't start there. He takes us right back to the humble beginning of his running journey when he started accompanying his Dad on his local post-work runs as a young child. This progressed through solo running, school cross country to Parkrun, the London Marathon and eventually ultra running races of 100+ miles culminating in the Dragon's Back Race.
I loved his humble and self-deprecating analysis of his running journey. He is very much an average person and an average runner. He has very little knowledge of training programs, sports nutrition or cross training and makes every possible mistake along the way. However, his love of running shines through in every word as he learns from every mistake and gradually gains the knowledge to make success more likely.
He also has many challenges in his personal life. He deals with a period of depression and alcohol misuse as well as physical issues caused by an accident. He's a father and husband and has familial responsibilities that he has to fit around his love of running and describes all his struggles to do both in a way that will probably connect with everyone that reads or listens to his story.
One of the warmest aspects of this story is his very obvious love for his wife and children. He's besotted with them all and they are all a source of incredible pride for him. Overall he's an ordinary Dad that does extraordinary things without the arrogance and selfishness you would normally expect. This book was an absolute joy to listen to and I know very little about running and especially ultra running.
There is a very surreal anecdote in this book that is so bizarre that even the author struggles to believe it. I won't spoil it here as it is too wonderful to take it away from anyone else but as well as having an almost life changing impact on the author it shows the reader an inkling of the kind of warm, caring and special person the man he met actually was. On its own this little piece of the story makes the whole book worthwhile.
This is the third and final audiobook I've listened to that came from recommendations on Splodz Blogz weekly blog Episode 110. All of them have been great but I think this is my favourite of the three.
My Rating: ⭐⭐⭐⭐⭐
More on Goodreads and Audible.
Header image source: fossbytes.com