On Saturday I made the long journey to Tipperary. Leaving Omagh after work at just before 6pm I arrived in Galtymore North Car Park just before 11pm with a longer than expected stop in Lisnaskea to get fish and chips and a short pee and tea break in Portlaoise. The purpose of this journey? To attend a hiking event organised by Martin of Soletrail on Sunday morning in the Galtee Mountains.
SoleTrail is Martin's YouTube channel and website. I've been following his channel for a while now and we have become friendly by commenting on each other's videos and chatting via Messenger. This was to be our first opportunity to meet.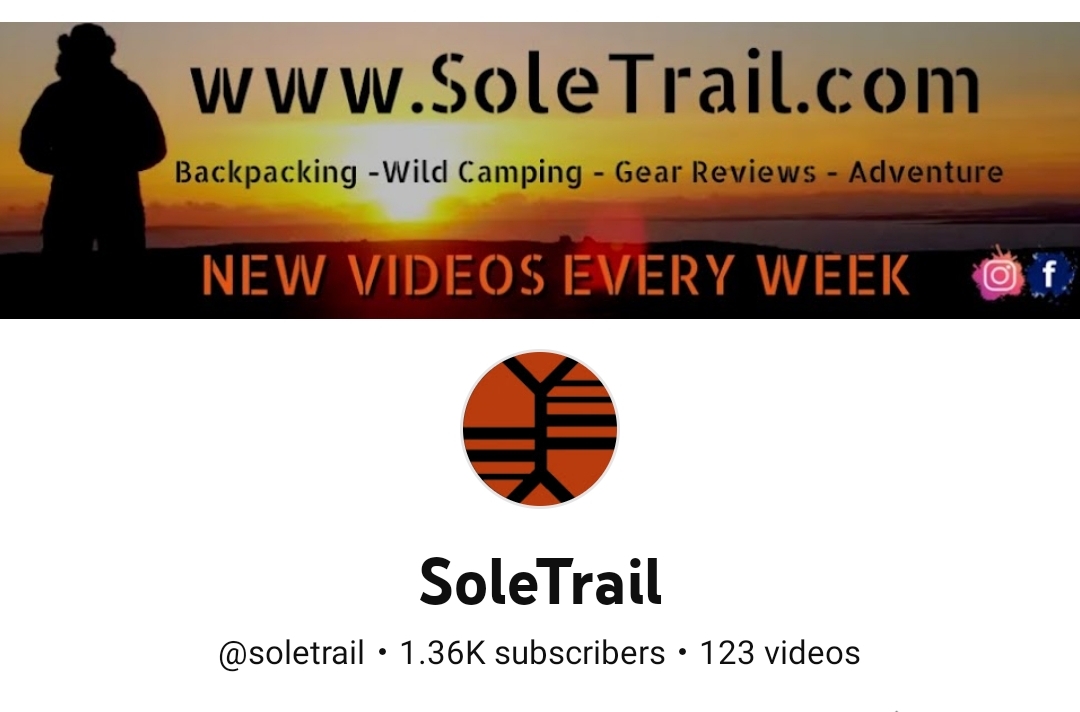 https://youtube.com/@SoleTrail
In addition two other YouTubers were also attending. Gary from Ireland Outdoors is based outside Lisburn in Northern Ireland and has a channel with a similar sized following to myself and Miriam Kennedy from Dublin who has been on YouTube for about the same length of time as Martin. All four of us have been commenting on each other's videos for a while and were keen to meet up.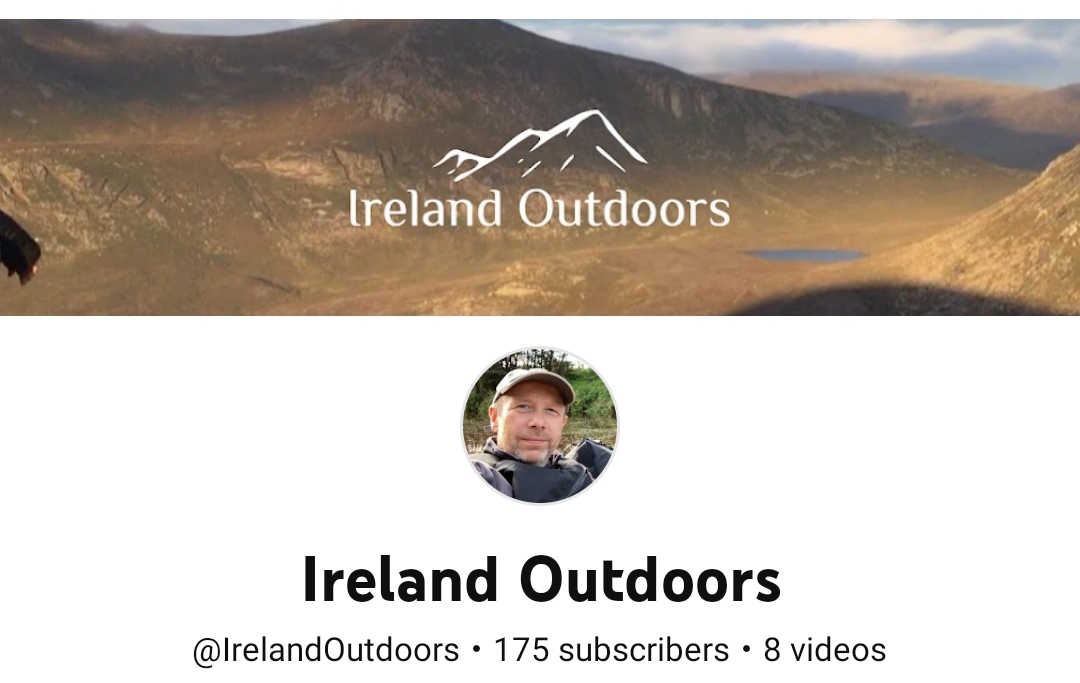 https://youtube.com/@IrelandOutdoors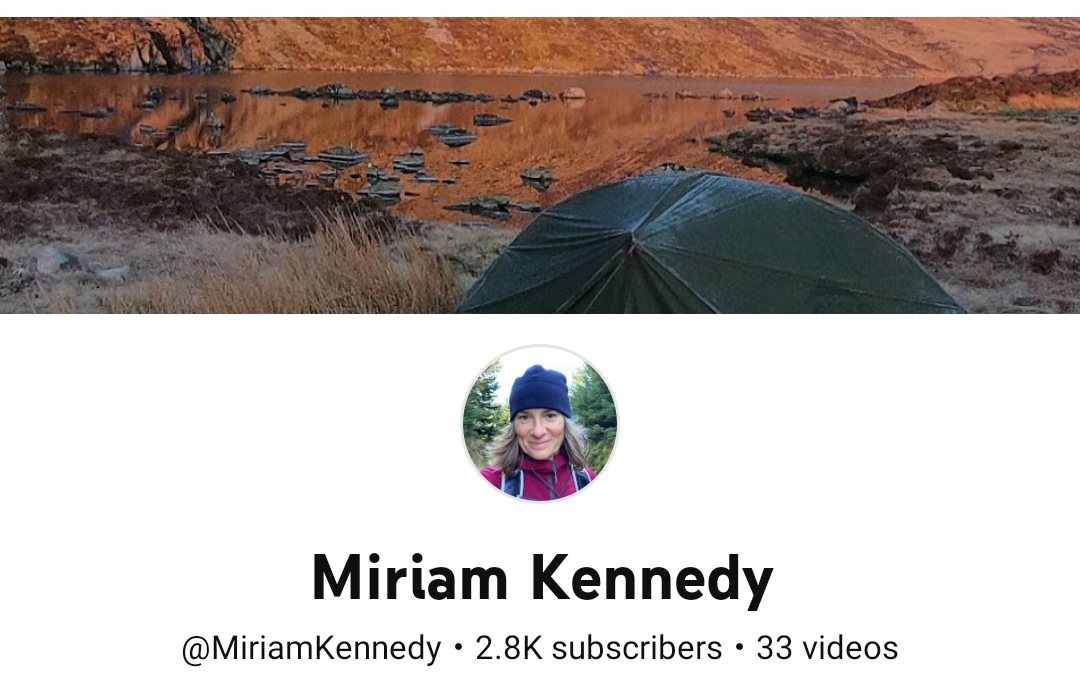 https://youtube.com/@MiriamKennedy
My plan was to van camp on Saturday night to avoid having to get up in the middle of the night to drive from home. Martin and Gary also went with the same option and the three of us met in the car park, in the dark, in the middle of nowhere, at 11pm, on a Saturday night! Nothing dodgy about that – right? 
It was strange meeting the two lads (even disregarding the setting). It was like meeting old friends that I hadn't seen for ages. I'm so used to seeing their faces and hearing their voices on YouTube it was like I knew them already. All three of us had the same experience.
Gary had borrowed his Dad's van that had been converted into a mini camper so the three of us went in there for a drink and a chat. Before we knew it it was almost 2am! The three of us clicked really well and had a great time chatting about this, that and everything. I think if we didn't have to get up in the morning for the hike we could have sat there all night!
Sunday morning came way too early at 7am and after a couple of snooze presses on the alarm. Dragging myself out into the daylight the other two guys were also just up and soon a selection of stoves were on the go. I was very happy I'd decided to go to the effort of cooking some bacon to make a couple of very welcome bacon baps and tea to get me warmed up and awake.
After about 45min Miriam arrived and we very quickly found out that she is every bit as nice off screen as on and even better. We had a good chat together as the other walkers started to filter in and eventually we had a group of 15 ready to hit the hill.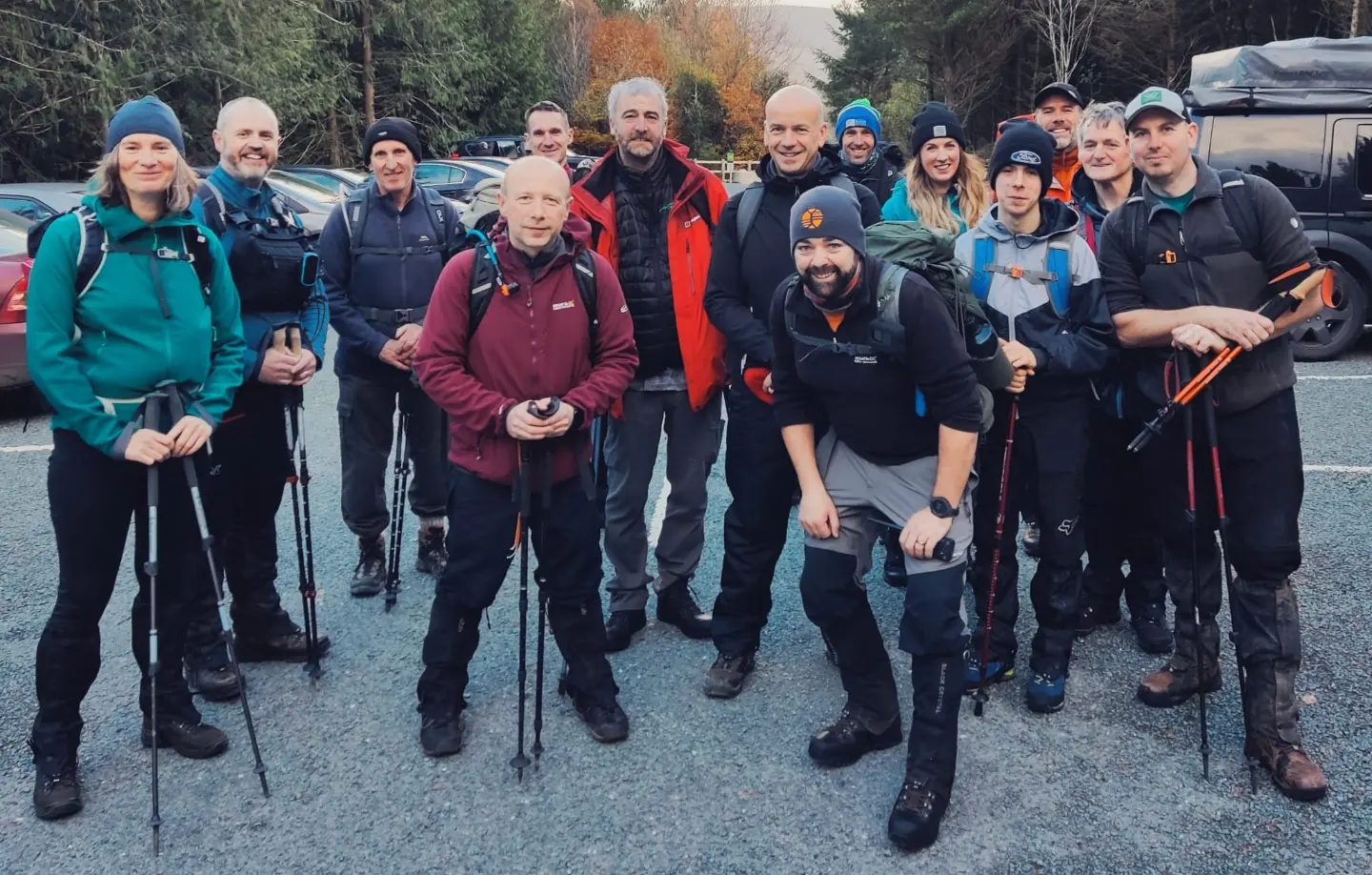 📸 © Martin Leonard (SoleTrail) 
All week the weather forecast had fluctuated from steady rain to dry to showers and back to dry but the consistent prediction was for high winds. As we left the car park the sound of the wind in the trees was an ominous warning of what was to come. 
Exiting the forest after approximately 1.5km we were in the shelter of the hill and with bright sunshine it was soon quite warm. A pretty fast pace didn't help me any after the long drive and late bedtime and I was definitely feeling it and glad for the rest stop at the top.
Thankfully both pace and terrain levelled off considerably as we contoured around the side of the hill heading towards Lough Curra. This was a mixed path, sometimes grassy, mostly rocky and alternating from single file to wide enough for 3. Challenging enough terrain to avoid a twisted ankle or stumble but very enjoyable. It also allowed me to chat to the other 3 but still move up and down the group saying hello to the other walkers and chatting to them for a bit. For a group that only came together that morning everyone got on really well.
On the approach to Lough Curra the last 1km was along the path of the small river flowing out of the lough. This was in full flow and tumbling noisily down the gully beside us. At this stage we had also turned into the wind and lost the protection of the hill. At times gusts were enough to stop us in our tracks and almost blow us off our feet.
Approaching Lough Curra we could see low cloud down over the higher ridge and also see spray from the lough being lifted high into the air giving further indications of how stormy it was getting.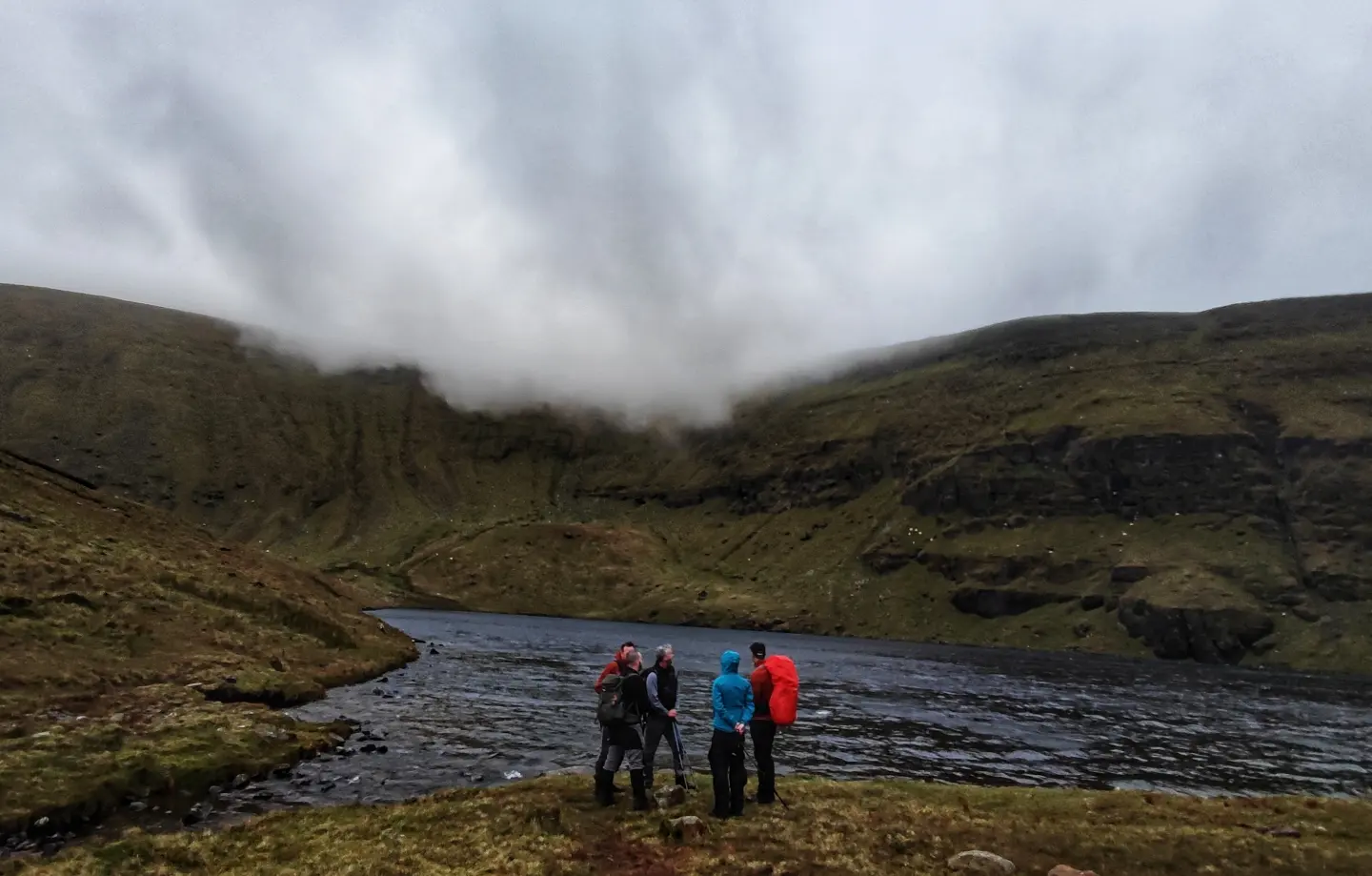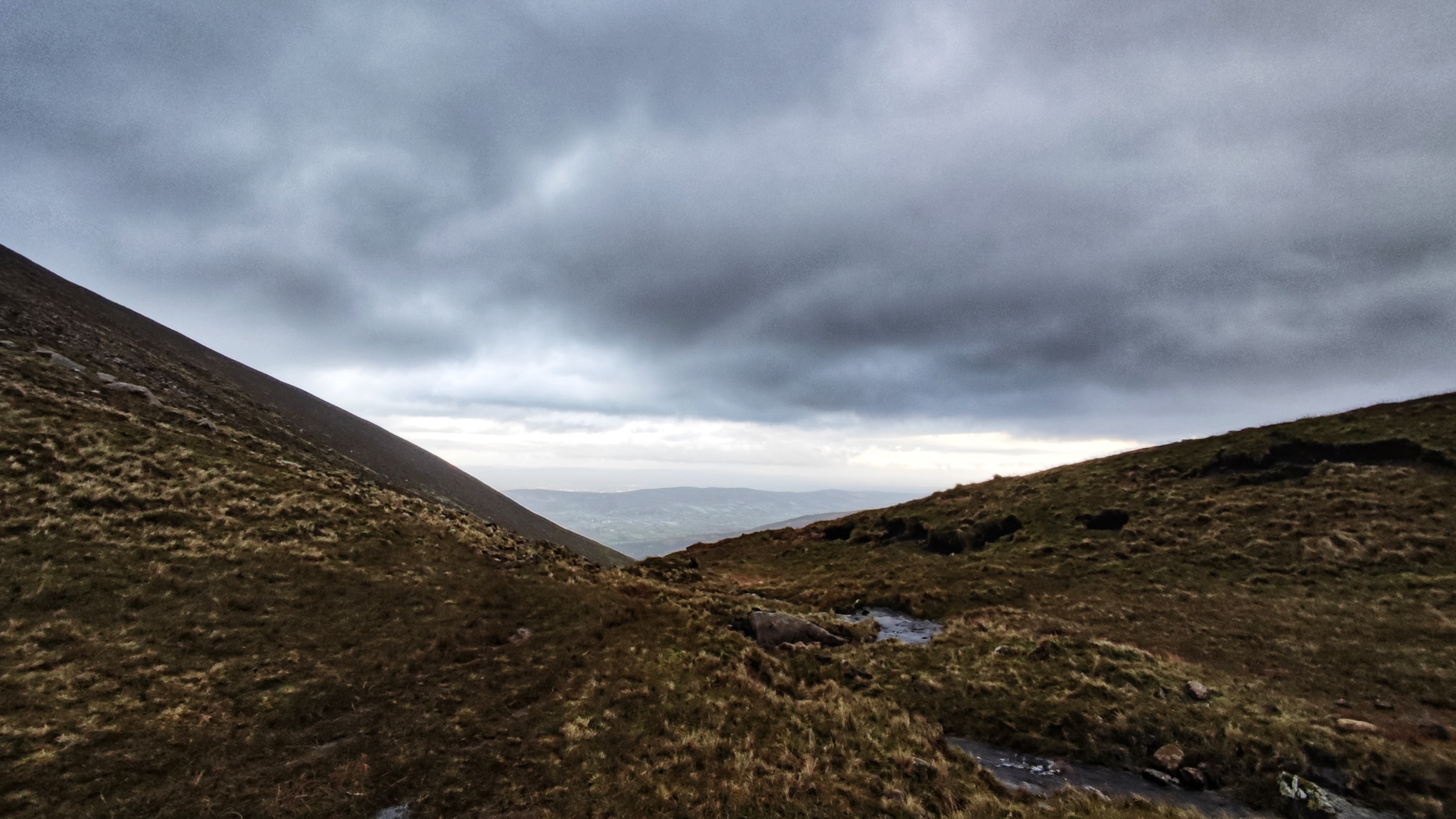 Stopping for a break at the side of the lough we watched as gusts of wind periodically carried big clouds of spray off the lake surface and high into the air. Small white capped waves were blowing across the lake and I was fascinated by the surges of water that sent water flowing down the small river we had just ascended, these surges corresponding to fierce gusts of wind.
Across the lough Martin pointed out a large, dark, rocky outcropping which he explained was the location of "Dan Breen's Cave". This isn't marked on the OSI maps but Dan Breen was an Irish revolutionary and leader during the Irish War of Independence. He was on the run after the British put a substantial £10,000 reward on his head and this cave is reputed to be one of the locations he used to hide out. I didn't get any photos in the cave but Martin has a great video of an earlier hike to Lough Curra and you can see the cave from 5min at the link below
We took a short break at the cave as everyone got a turn to squeeze in the entrance and have a look around. I'd left my light in my bag outside so couldn't explore much but it definitely wasn't a place I'd expect was a comfortable spot to stay for a prolonged period of time.
Outside the rain had started to come in and waterproofs were appearing from bags. The decision was made to avoid the original high route, to return to where we had met the shore of the lough and contour around the side of Galtymore via Lough Curra Mound (600m). A wise decision as the rain came in very heavy and the wind going over the Mound was ferocious. It would have been impossible to walk at 900m and dangerous on an exposed ridge.
Dropping off the mound we got a bit of relief from the wind and headed towards a small but steep gully to make our second river crossing of the day. Good guiding found us a safe spot to cross and had everyone across without any mishaps. We were then following a vague trail on the steep side of Galtymore. This was narrow and rocky and took a lot of concentration to avoid slipping but I really enjoyed it. I like this kind of technical and challenging terrain.
Eventually we reached another very small unmarked cave in the hillside and decided to take a break for a very wet lunch. I'm pretty sure my cup of tea was as much rainwater as tea by the time it was finished. The view though, was hard to beat.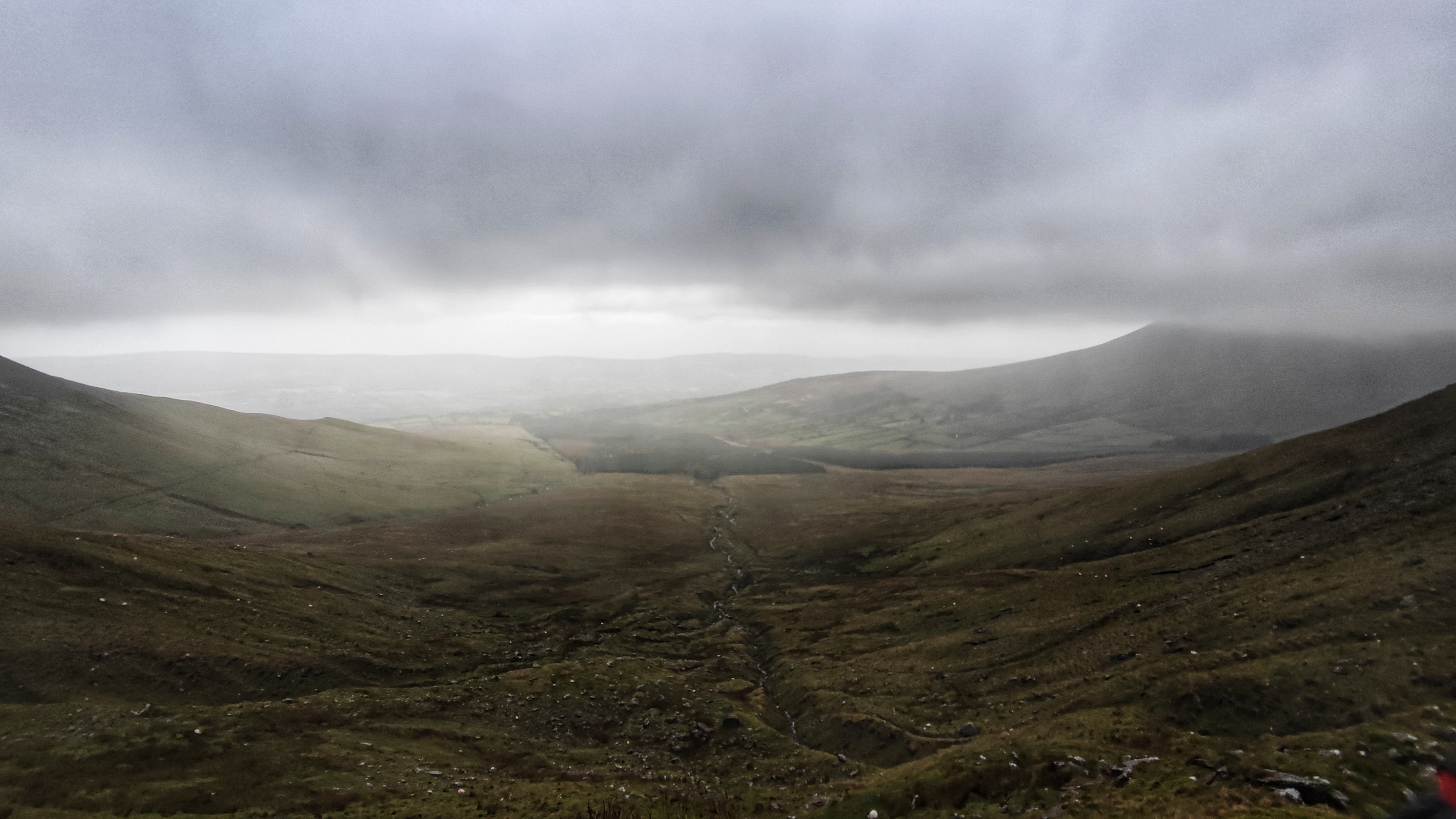 This cave sits at the top of another steep gully with a small river that originates on the slopes of Galtymore. This river was to be our guide off the hill.
The descent from the cave was tough going. There was little to no trail to follow and it was a matter of picking the best line we could find. The ground was very loose rock in places covered by grass and incredibly steep and slippery. At times people were sliding down sections on their bums – sometimes unintentionally with Gary and Miriam re-enacting a particularly good "Rock The Boat" at one point with gales of laughter down the hill.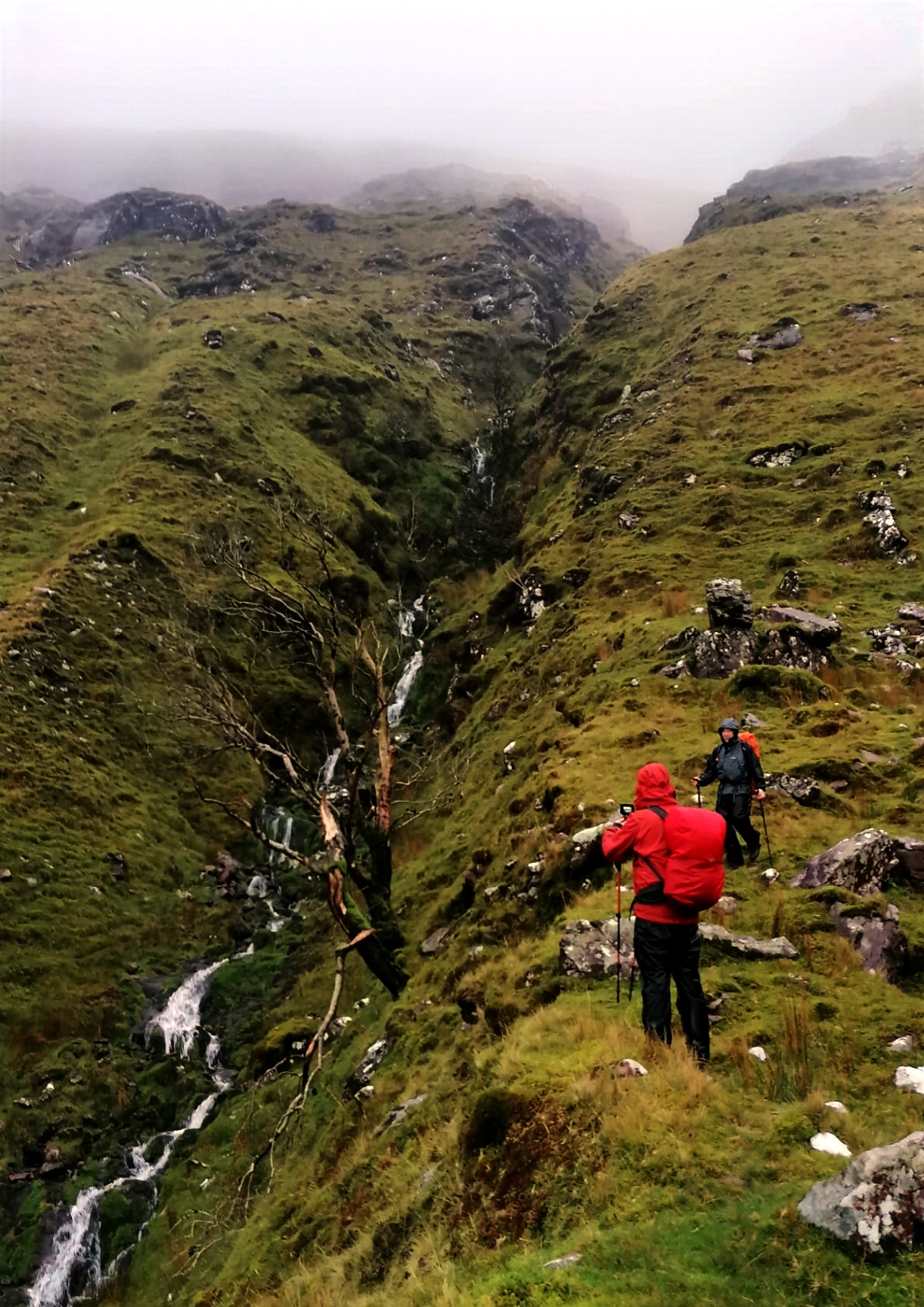 📸 © Martin Leonard (SoleTrail)
Eventually we reached more even ground and using the river as a guide we picked our way along the edge of the forest and reached the stile that had brought us on to the open hillside a few hours earlier. It was a relief to get back on more solid tracks and out of the wind and rain and enjoy the few kilometres back to the car park finishing with a respectable 10.5km, 490m of climbing and one summit ticked off the list.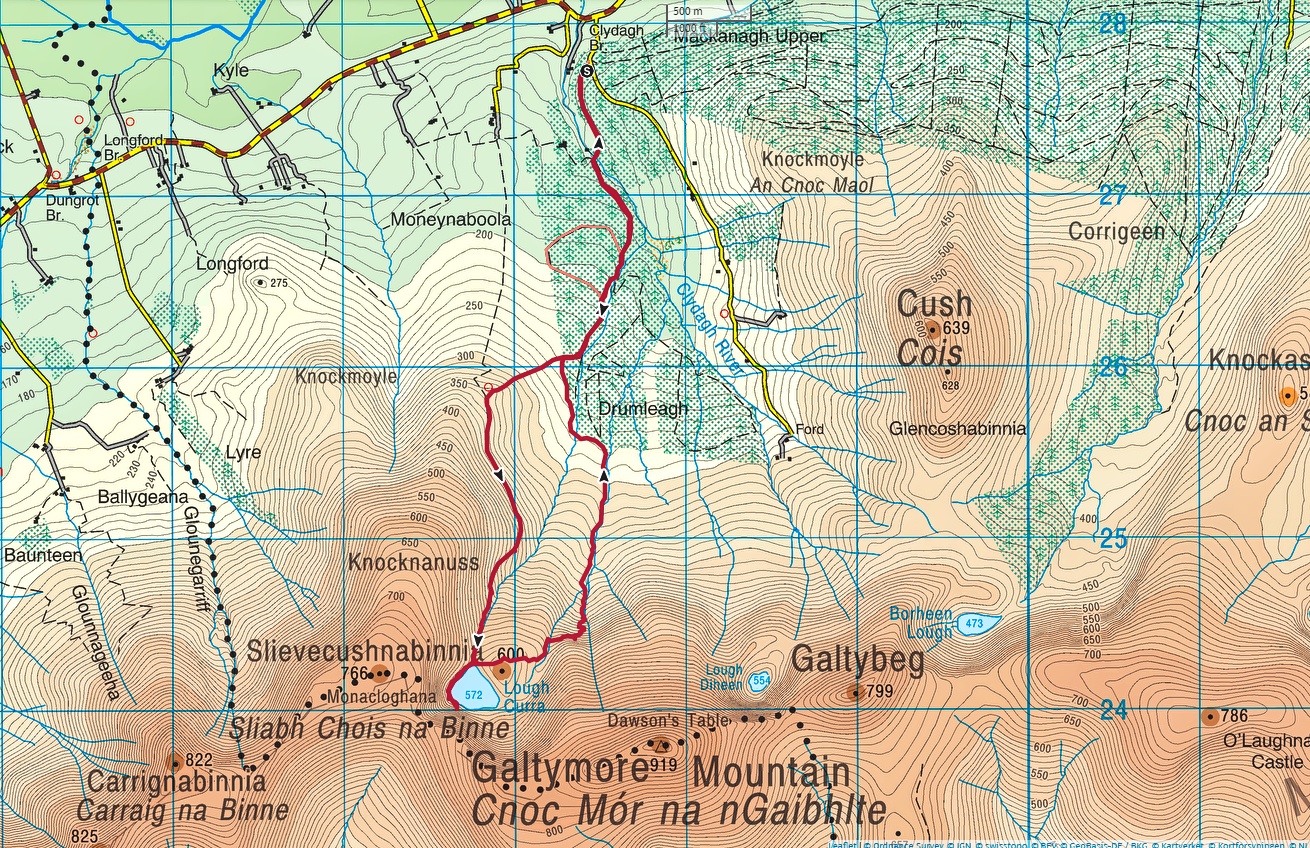 The wind and rain made for a shortened day and a tough walk but I had a ball. My aim of the weekend was to meet Martin, Gary and Miriam and the hike was almost incidental. I met a bunch of really nice people and it was all more than worth the effort.
It didn't end there either. As the others drifted away the 4 of us hung back, made some tea, coffee and hot chocolate and once again ended up in the back of Gary's camper to hide from the rain, have a good chat and scoff a box of biscuits kindly given to Martin by one of the other hikers.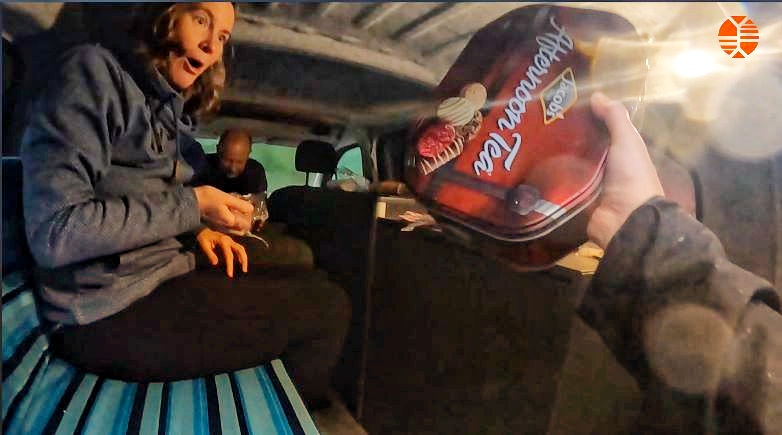 📸 © Martin Leonard (SoleTrail)
Just like the night before, time flew by and we ended up chatting for ages. I literally had to tear myself away at 3pm to start the long journey home but before we parted ways we got a couple of photos and made plans for a repeat meet up sometime in the New Year. The journey home flew by as I had lots of great memories and stories to carry me all the way home. A weekend I'll remember for a long time….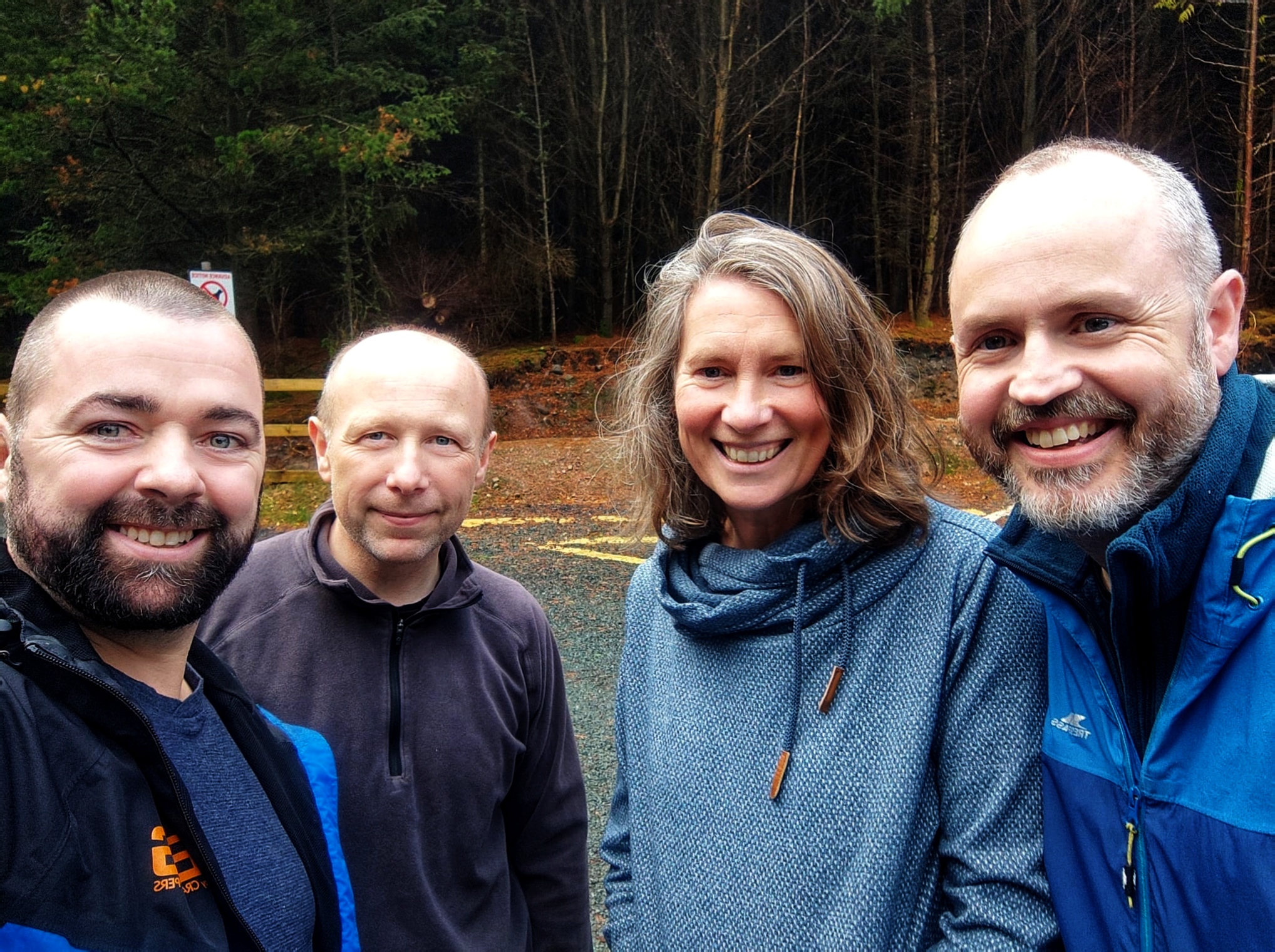 📸 © Martin Leonard (SoleTrail)
Driving Stats:
All 4 Provinces: Ulster, Leinster, Munster, Connaught
15 Counties: Tyrone, Fermanagh, Cavan, Westmeath, Offaly, Laois, Kilkenny, Tipperary. Limerick, Clare, Galway, Mayo, Sligo, Leitrim, Donegal.
Distance: 700km
Driving Time: 9hrs