Dragon Keeper (Rain Wilds Chronicles #1) by Robin Hobb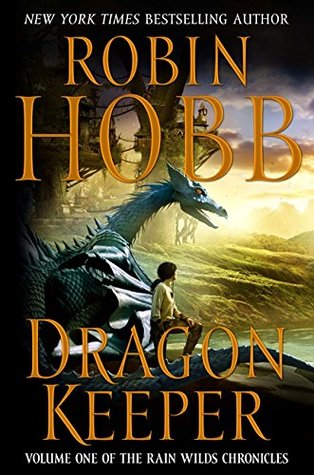 This post may contain spoilers.
I'm a fan of everything I've read from Robin Hobb but this is definitely one of the best fantasy books I've read for quite some time. The author takes elements from the three previous series Liveship Traders, Farseer and Tawny Man trilogies and focuses them all on the Rain Wilds. It's also a perfect example of why you should take reviews by other people with a big pinch of salt as I've seen many reviewers pan this book.
The story is told from the point of view of three brand new characters and in a very pleasant change to the norm all three are female. The first is Alise, daughter of a lower status Trader family that catches the eye of a prestigious and wealthy Trader son. Her stroke of fortune soon becomes a marriage of loneliness and abuse but she manages to make an escape on an adventure to the Rain Wilds that looks like it will change her life for ever.
Thymara is a deformed child of the Rain Wilds that was saved at birth by her father. He went against all tradition by bringing her home when she had been left out to die because of her deformities. Unfortunately, she is shunned by the Rain Wilds community and has a very isolated and lonely life. She is given a suspiciously profitable chance to change her life when the Trader Council recruits a team of Rain Wilders to escort the new dragon population away from the ancient buried city of the Elderlings.
The third POV is one of the newly emerged dragons. Female dragon Sintara is the dragon form of serpent Sisquara from the earlier stories. Like the rest of the newly emerged dragons she spent much too long as a serpent, cocooned much too late in the year and emerged with deformities. Now abandoned by Tintaglia and unable to fly the dragons are stranded and have become a very unwelcome burden on the Rain Wilds.
Another dragon (Mercor who was Maulkin as a serpent) carries memories of the ancient city of Kelsingra (sounds very like the city Fitz visits via the travelling stones) and convinces the others to trick the Rain Wilds council into providing them assistance to reach there. This brings the three strands of the story together and we join them as they start the first part of their journey.
Most of the characters are new and the setting of the Rain Wilds is expanded much more than in previous books but there is a familiarity also that links the earlier stories. Add in cameo appearances by Althea, Brashan, Paragon and Malta and it creates a perfect mix of old and new. I'm really looking forward to seeing how this story develops further.
My Rating: ⭐⭐⭐⭐⭐
Header image by Kaboompics .com from Pexels