Daggerspell (Deverry #1) by Katherine Kerr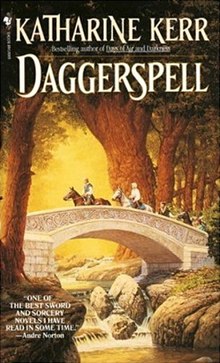 From Goodreads:
Even as a young girl, Jill was a favorite of the magical, mysterious Wildfolk, who appeared to her from their invisible realm. Little did she know her extraordinary friends represented but a glimpse of a forgotten past and a fateful future. Four hundred years-and many lifetimes-ago, one selfish young lord caused the death of two innocent lovers. Then and there he vowed never to rest until he'd righted that wrong-and laid the foundation for the lives of Jill and all those whom she would hold dear: her father, the mercenary soldier Cullyn; the exiled berserker Rhodry Maelwaedd; and the ancient and powerful herbman Nevyn, all bound in a struggle against darkness. . . and a quest to fulfill the destinies determined centuries ago. Here in this newly revised edition comes the incredible novel that began one of the best-loved fantasy series in recent years–a tale of bold adventure and timeless love, perilous battle and pure magic. For long-standing fans of Deverry and those who have yet to experience this exciting series, Daggerspell is a rare and special treat.
My Rating: ⭐⭐⭐⭐⭐
I have been a bit nervous about reading this book and have been putting it off for a while. Following on from my recent review of "Into The Out Of" this was the series of books that convinced me in my mid-late teens that Fantasy was the genre for me. I read the first 3 stories many times and followed the series all the way to the 9th book before losing track of it for some reason. I see now that it's up to 15 stories with more to come.
This book is where the whole story starts and for me it's one of the perfect examples of the genre. It has everything you expect from an epic style story with fantastically developed characters and some of the best story writing I've come across.
I am delighted to find that it has also stood the test of time and it was an absolute delight to return to the world Katherine Kerr has created and to immerse myself in the complex story of reincarnation and magic set in a very familiar yet wonderfully different medieval Celtic society.
If you have any interest at all in the Fantasy genre then make sure you read this book!
Header image by Kaboompics .com from Pexels