Forty Words for Sorrow (John Cardinal and Lise Delorme Mystery #1) by Giles Blunt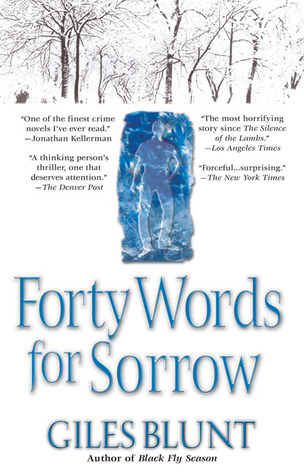 This post may contain spoilers.
This was brilliant! I have recently finished the TV series and was a little apprehensive about reading the books so soon but if anything it enhanced the books. The story was virtually unchanged for the TV production and going by the books was excellently cast. The only real change I noticed was that the senior officer was male in the book and female in the TV show as well as the reason Cardinal was under suspicion by senior officers.
The basis of the story is that John Cardinal has been demoted within the department for irrational focus on the case of a missing child, claiming that it was related to another written off as a runaway and that they were both the work of a serial killer. A body is discovered which appears to be the missing girl and Cardinal is brought back into the fold.
In the background Delorme is brought into the homicide department and partnered with Cardinal with an additional task of investigating him for supplying information to the head of a serious crime organisation. The two of them work together to identify and apprehend the psycho couple kidnapping and torturing victims.
This is one of the best detective stories I've read for a long time. The quality of the writing is superb and the characters are hugely interesting. I'm sure it was enhanced by the TV show but I could feel myself immersed completely in the situations being described and able to picture them clearly. The descriptions of the landscape and weather of a Canadian winter were so detailed. It was fab.
My Rating: ⭐⭐⭐⭐⭐
Header image by Kaboompics .com from Pexels