It's hard to believe we are so far into the year already and that Summer is now officially over! The approach of Autumn can definitely be felt at both ends of the day bringing to mind layers, gillets and arm/leg warmers that have been discarded for months. Thankfully we are experiencing a bit of an Indian Summer that seems will carry us well into September with mild and dry weather to soften the blow.
As the month drew to a close I was running out of time, yet again, for a Gran Fondo ride and/or an Audax Permanent. I'd wasted a lot of cycling time in August with a mixture of illness, bad weather and time spent on family days out and painting the house. The last two reasons are obviously not wasted time but combined they all left me lacking fitness and carrying a little bit more weight than I'm comfortable with.
Last week I managed to get myself back in the saddle and get a few rides in to try and get myself back in reasonable shape. The plan was to do my own Audax Donegal 200 route as a Permanent on Sunday. Saturday morning my plans were derailed fairly significantly. I woke up with quite a bad digestive issue that left me tired, uncomfortable and out of sorts and needing a strong dose of immodium to get me fit for work. Initially I figured it was a reaction to my cholesterol medication again but it didn't feel the same.
I eventually worked out the cause on Sunday morning. Friday evening I'd gone for a 60K spin and needed water half way. In Raphoe I was attempting to use a service station tap that was disconnected and a local man directed me to a public spout. I thought this was a great novelty to be drinking from a natural water source. In hindsight I looked back at the photo I took and it was most likely the cause of my woes!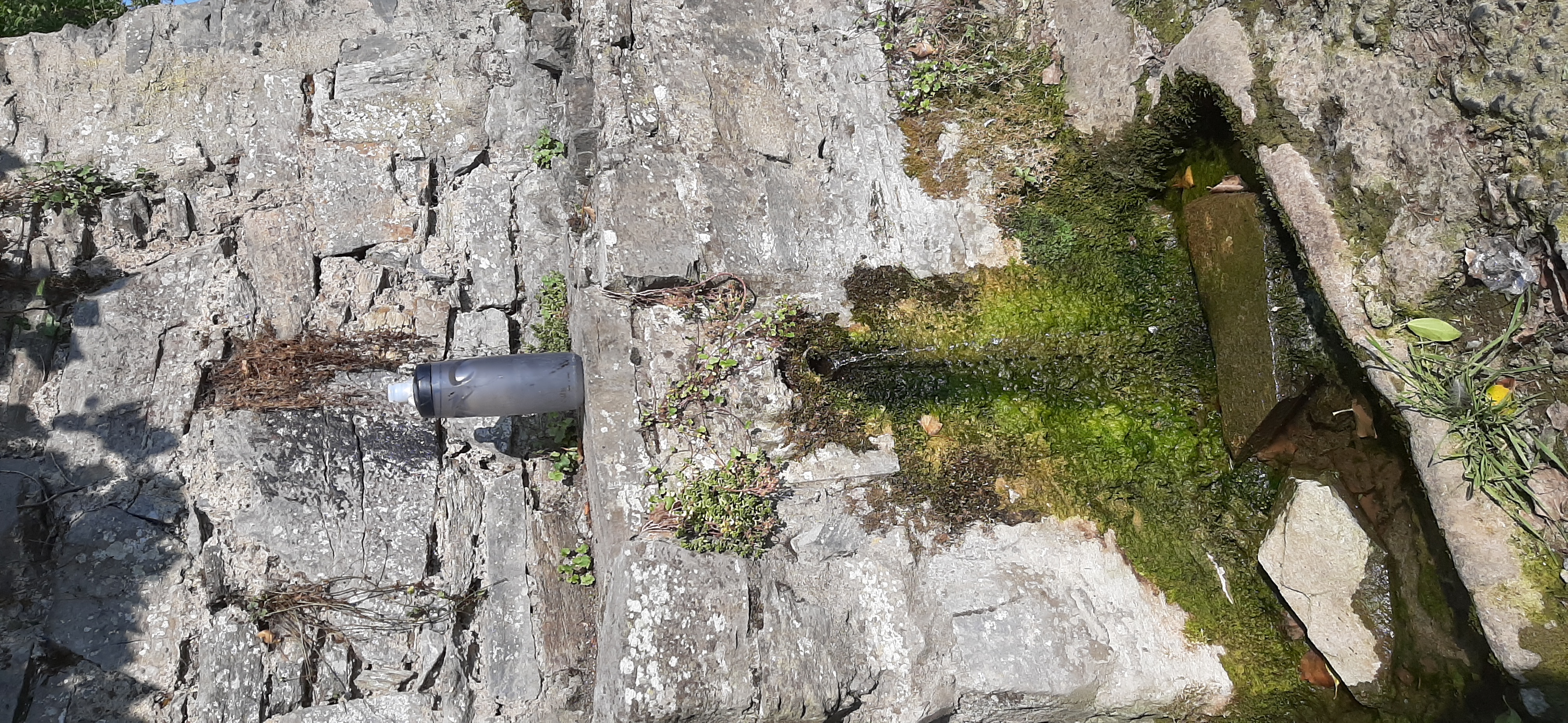 Regardless of my lack of energy on Saturday evening I pushed on with my plans and prepped my bike and gear for a 200K ride on Sunday morning. I woke early and felt tired but OK but quickly realised that my digestive system still hadn't fully recovered. The 200K was off the agenda and I wasn't even sure if I'd get out at all.
Eventually by lunchtime I was starting to feel a bit better and decided to risk an afternoon attempt at keeping the Metric Challenge rolling along. It was bugging me to break the streak this late in the year. I decided to repeat the route from April which was pretty straightforward, had minimal climbing, made the best advantage of the light breeze and allowed me to call and visit my brother at his coffee van.
All in it turned out to be a pretty good ride. It did take me about 40K before I felt comfortable and relaxed and lost any anxiety about taking ill while out on the bike but I managed to enjoy it and it was good to see my brother again and have a bit of a chat. He was very busy which reduced our ability to talk but it was great to see his business flourishing.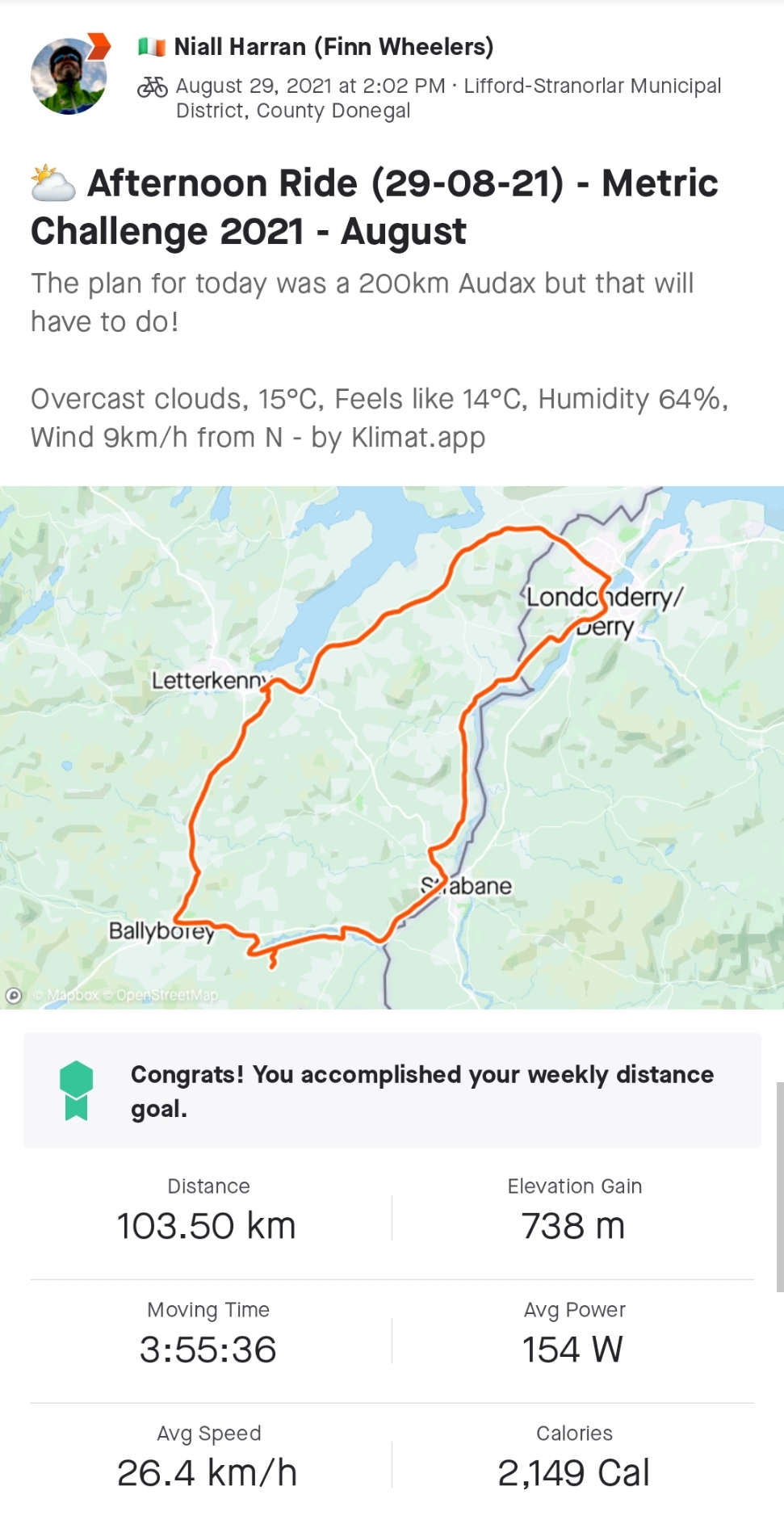 click here to view on strava
The Strava graphic above shows that it was a pretty fast spin for me. I wasn't trying to push things so was dead pleased how it worked out. As I was leaving Stranorlar I realised that I had approximately 8km to go for the 100K and it was possible to push hard and get there for 3hr45min which would be a very fast time for me on any day. I put the head down and concentrated on maximising power and speed. It was tough going and the traffic lights were with me in both Stranorlar and Killygordon but the 100K alert popped up on the Garmin just as I reached the junction in The Crossroads and the time was 3hrs44min! I was really chuffed, absolutely beat but delighted that I had that still to give. My last 5K was in a time of 9:21 which is very fast for me. The last few kilometres were done at a much slower pace especially having to climb the last 1.6km to home!
The downside is that my RRTY has now been broken once again and I'm back at the start. However, I'm determined to get right back at it again in September and have time booked off work in October/November to give me a chance to select the best weather days to get those two difficult months completed as easily as possible. It will still leave me finishing in 2022 in summer and hopefully with a string of good weather rides.