"À Tout Le Monde" by Megadeth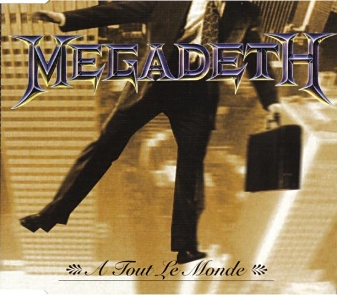 Genre: Heavy Metal
Single Release Date: February 1995
Album: "Youthanasia"
In my 20s I fell in love with the romantic notion of this track being my funeral song. At that young age death is only a distant concept but there is something poetic and comforting about both the music and the words that would suit carrying a coffin out of a Church to a graveyard.
Initially the video was banned by MTV for being "pro-suicide" but lead singer Dave Mustaine denied this in a 1994 interview and gave the inspiration behind the lyrics as how I also understood them:
It's not a suicide song. What it is, it's, you, it's when people have a loved one that dies and they end on a bad note, you know, they wish that they could say something to them. So this is an opportunity for the deceased to say something before they go. And it was my impression of what I would like to say to people, if I had say, 3 seconds to do so in life before I died I'd say to the entire world, to all my friends, I love you all, and now I must go. These are the last words I'll ever speak, and they'll set me free. I don't have to say I'm sorry, I don't have to say I'm going to miss you, or I'll wait for ya. You know, I'll just say I loved you all, good, bad, indifferent, I loved you all.

Arsenal of Megadeth DVD. Capitol Records. 2006
The track was re-released in 2007 as a duet with Italian singer Cristina Scabbia. I still prefer the original.
Lyrics
Don't remember where I was
I realized life was a game
The more seriously I took things
The harder the rules became
I had no idea what it'd cost
My life passed before my eyes
I found out how little I accomplished
All my plans denied
So as you read this, know, my friends
I'd love to stay with you all
Please smile when you think of me
My body's gone, that's all
A tout le monde
A tout mes amis
Je vous aime
Je dois partir
These are the last words
I'll ever speak
And they'll set me free
If my heart was still alive
I know it would surely break
And my memories left with you
There's nothing more to say
Moving on is a simple thing
What it leaves behind is hard
You know the sleeping feel no more pain
And the living are scarred
A tout le monde
A tout mes amis
Je vous aime
Je dois partir
These are the last words
I'll ever speak
And they'll set me free
(So as you read this, know, my friends
I'd love to stay with you all
Please smile, smile when you think about me
My body's gone, that's all)
(These are the last words
I'll ever speak
And they'll set me free)

Click here for a playlist of all the songs in this series on Spotify
Header image from 8Tracks.com