On Wednesday the day started later than usual with a decision late the night before to head for the Sperrins but not enough time before bed to get organised. It fell to the next morning to plot the route and pack the bag. Thankfully all the info I needed was on Mountainviews.ie and I left the house just before 11am.
The starting point was the car park just below Barnes Gap (the Tyrone version) and the official starting point for the 20km Craignamaddy Loop and the 11km Vinegar Hill Loop. Although I overlapped with both these routes I was aiming for the open hill and the actual summits of Craignamaddy and Mullaghbolig. This car park is also on the International Appalachian Trail and had a nice and unusual marker post.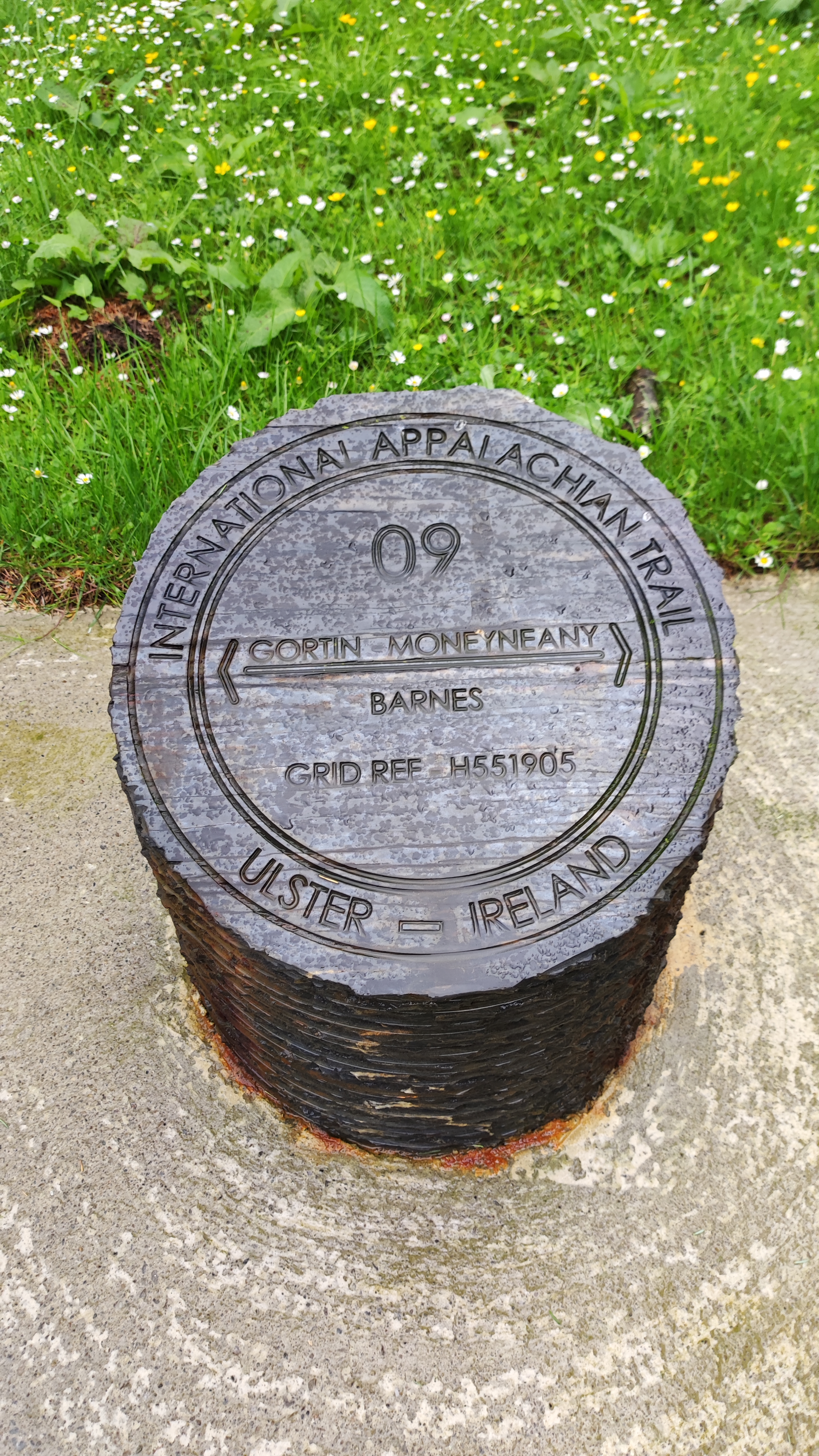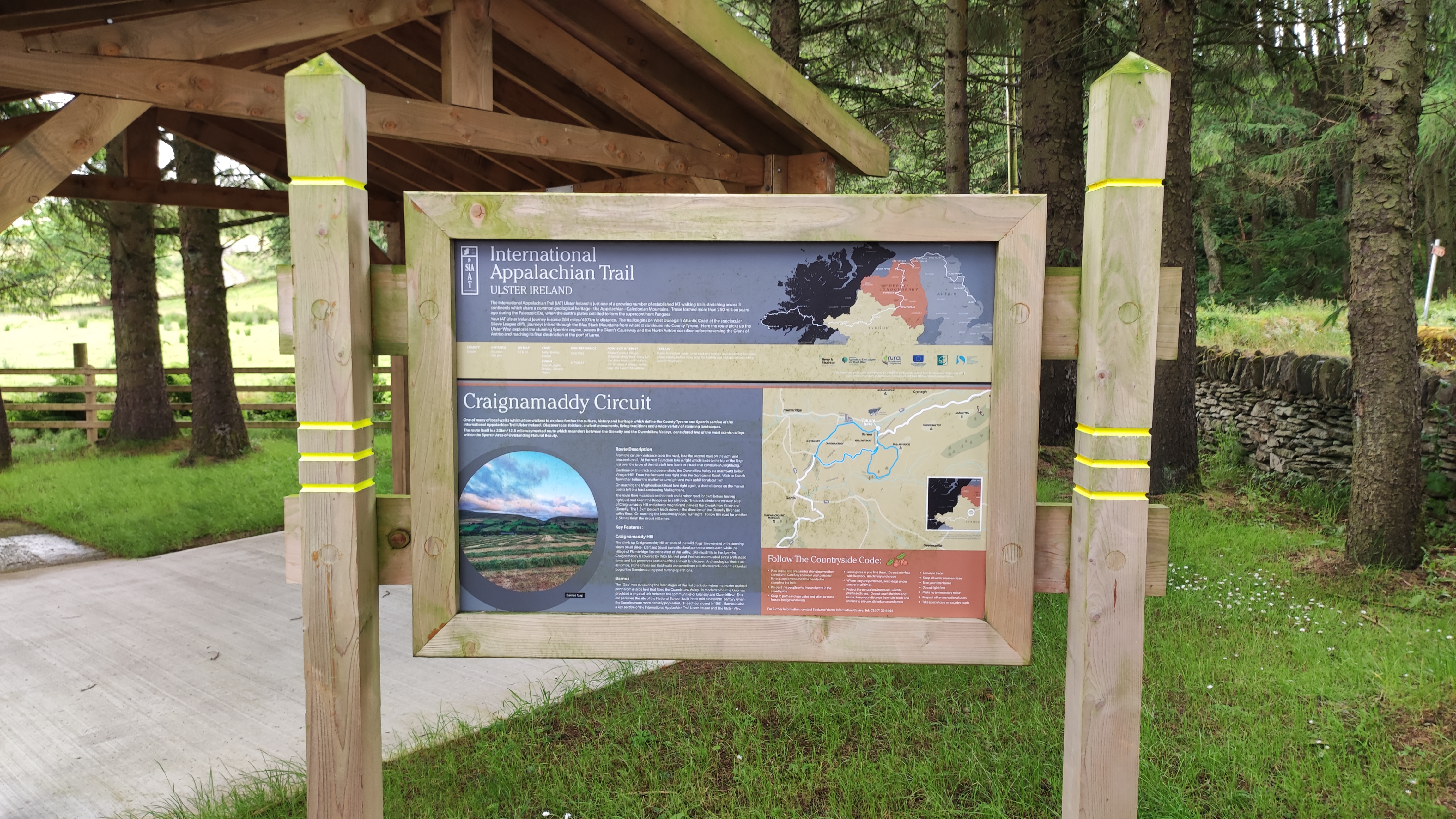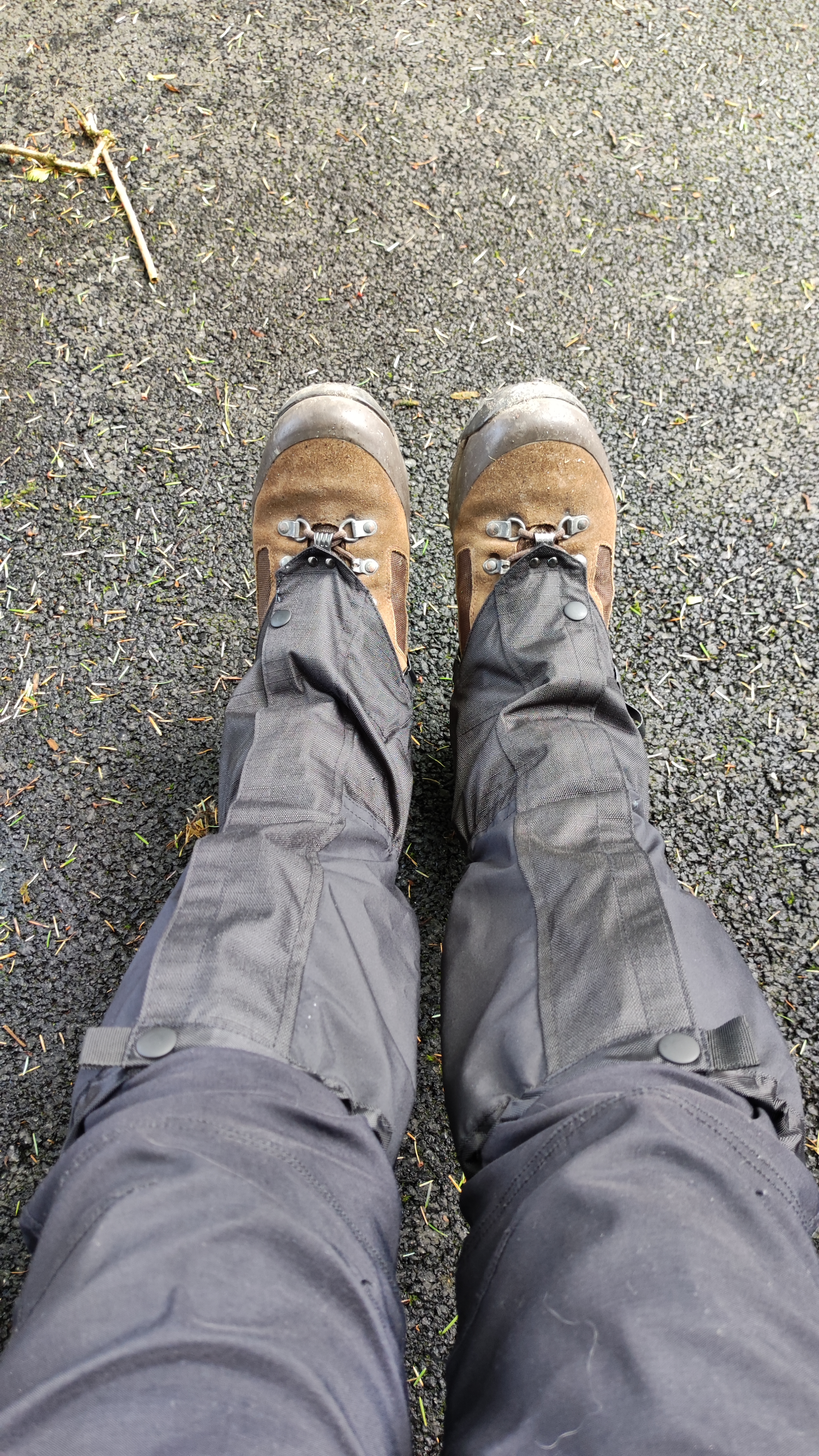 they didn't stay clean and dry for long!
As I arrived a friendly Dutch couple were just setting off and cheerily called hello as they left the car park. Heading up the higher and steeper of the two road options (waymarked for Vinegar Hill) I passed through a farmyard and its collection of noisy but harmless dogs. Once I stopped and they realised I wasn't going to rob the place they became quite friendly and were soon shoving each other to get petted. The farmer stuck his head out and we had a short chat about my plans for the day.
At the top of the road at the first junction I met the Dutch couple again looking lost. The many little roads had them confused but I soon had them sorted as they were following the same route as me for a short section. We had a very pleasant chat about their trip to Ireland and I answered some of the usual questions about living on the border. As I left them I was a bit concerned that they could get lost again but it was a good day and they seemed fit and well dressed so we wished each other well and went our separate ways.
Craignamaddy
After less than 1km I left the road for a gravelled lane with high hedges and a number of abandoned buildings. It was quite warm and with very little wind I had a very enjoyable walk as the lane wound its way around the side of Mullaghbane. I turned off this lane, over a farm gate and on to the now abandoned Central Sperrins Way. A dilapidated and overgrown stile with a very weathered marker told me I was on the right path.
This rougher track headed straight uphill and my puffing and panting was rewarded with lungfulls of air redolent with the heady aroma of sheep. The hills here are extensively grazed and it wasn't long until I was being carefully watched by a herd. With so many sheep and the dogs at the start I was glad I'd left Rosie at home today.
The rough track eventually petered out just below the crest of the hill and I used a handy grassy ramp to skirt the high banking created by years of peat extraction to unnamed Pt 366. Looking at the bank it seemed to have been hand-cut which was impressive.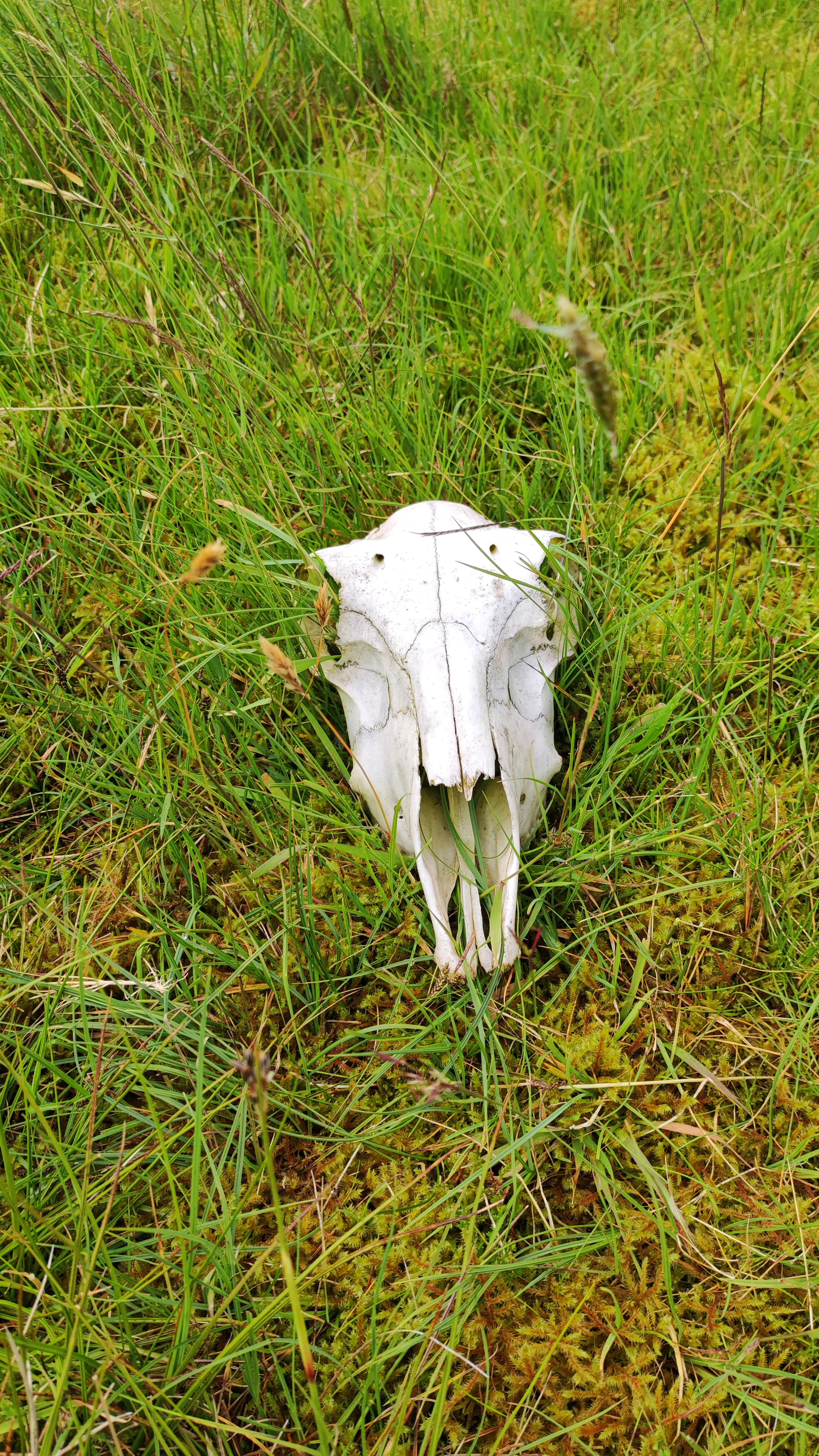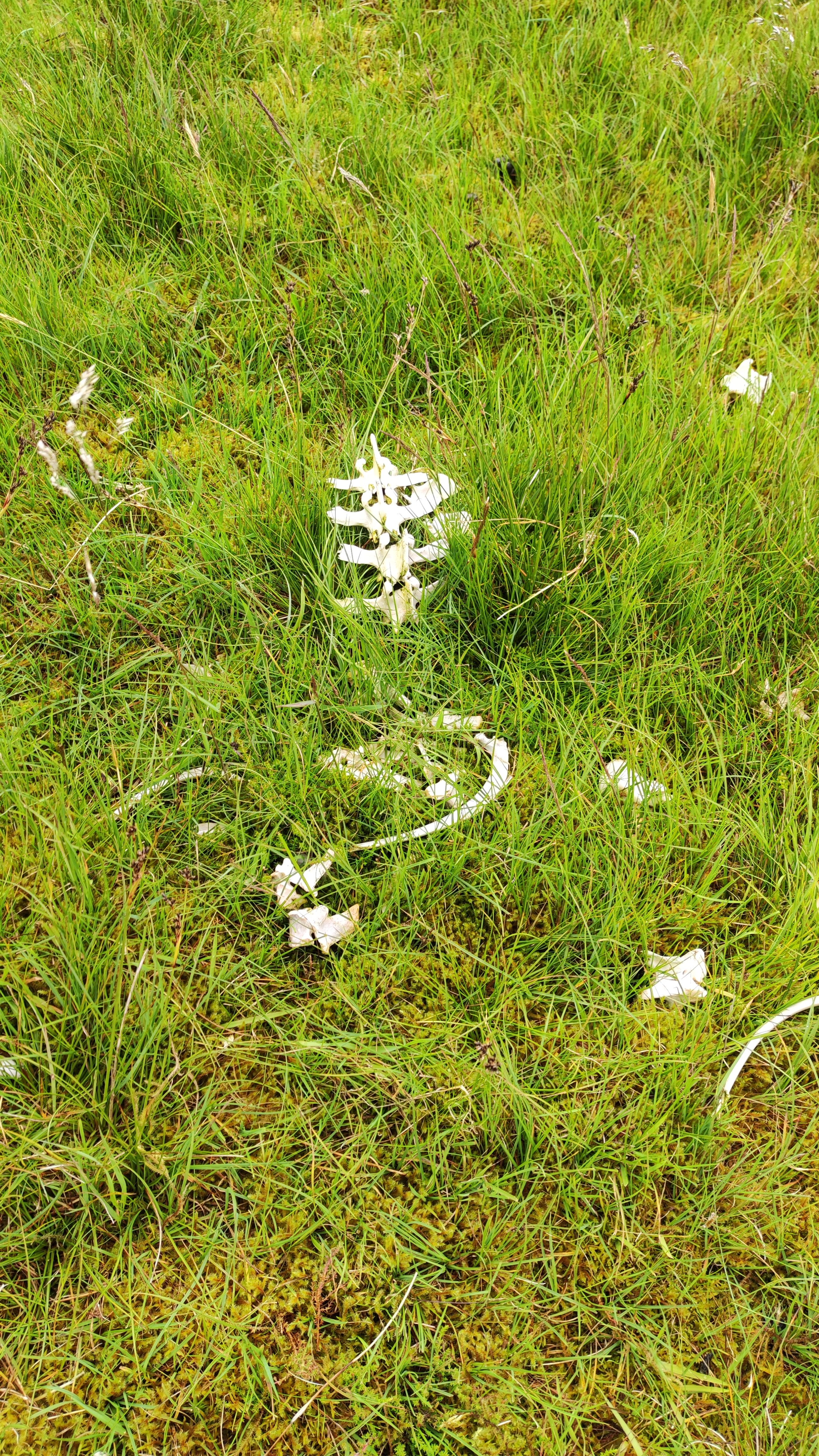 this poor sheep had a bad winter…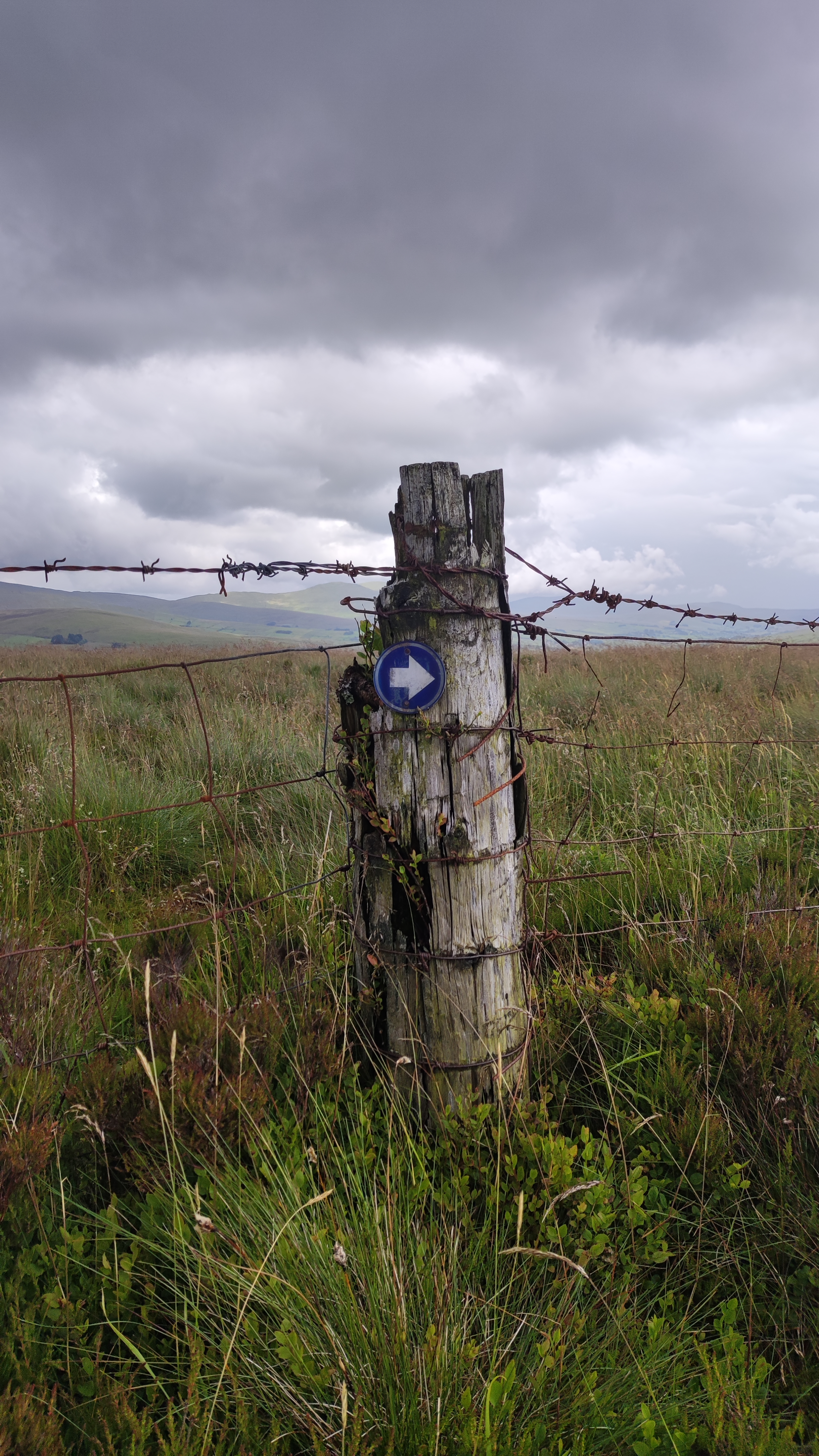 is it just in ireland that signs mysteriously end up pointing in the wrong direction?
At the top of the grassy ramp a fence follows the crest of the hill marking the boundary between two townlands. Ignoring the old marker and turning left, navigation became a piece of cake as the fence line runs all the way to the summit and beyond. On the way I had to skirt a couple of boggy spots and cross a few sheep fences. The first still had a stile in place before the old waymarked trail veered off to the right.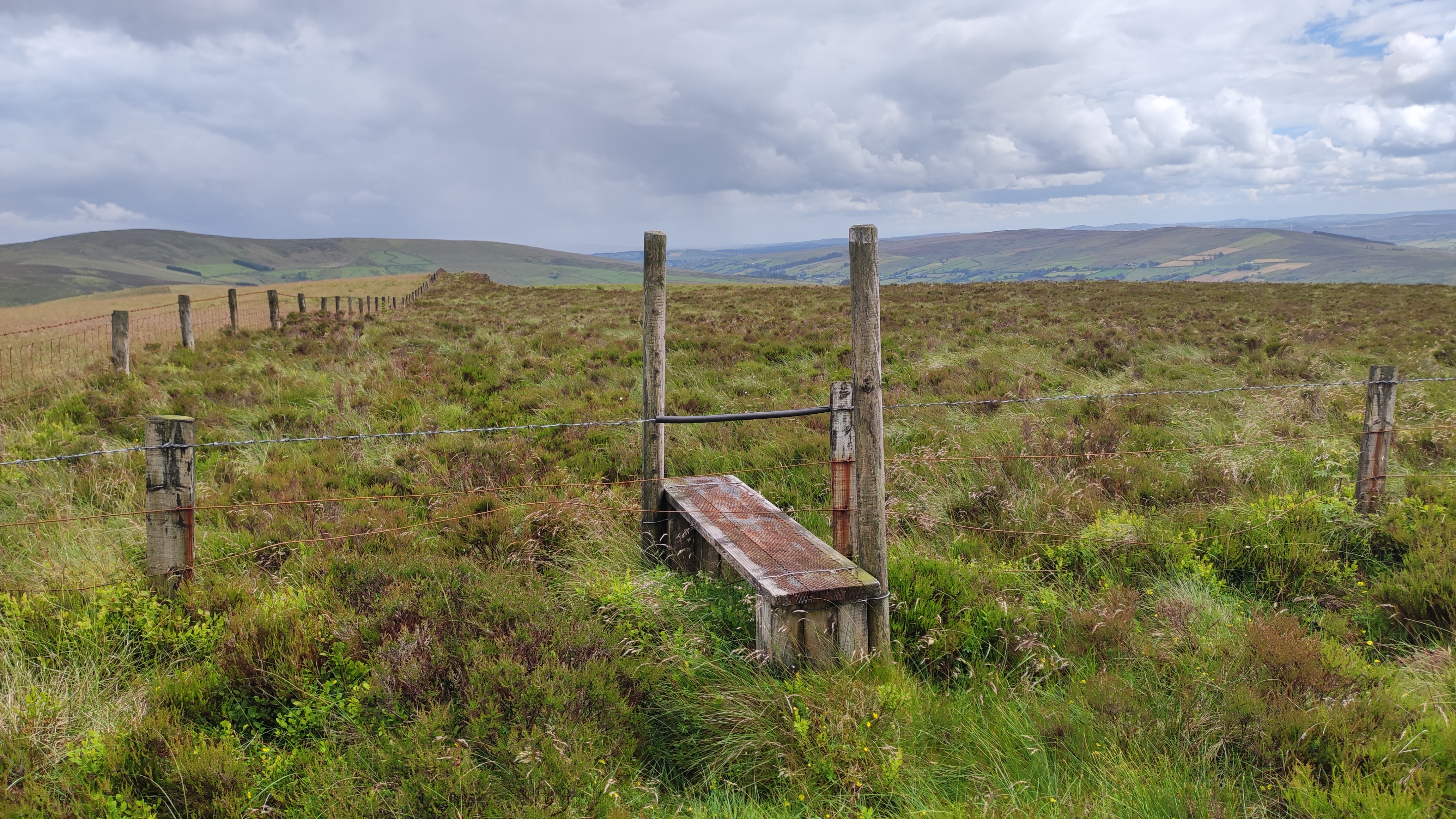 The remaining fences were a mix of easy to step over and gymnastics required to avoid unfortunate barbed wire injuries. The terrain was mostly soggy but easy following vague sheep trails through the short heather with only one short, steep scrambly section. Crossing the last fence I entered an area that hadn't been grazed for quite a while and the heather and grass was soon up to my knees. Thankfully I only had to wade through this for less than 1km before reaching the summit. The top of this ridge is so flat I actually walked over the official high point. A quick 360 and I began to retrace my steps back along the fence towards Pt 366.
On the way over a couple of drizzly showers and one heavier passed over. The day was so warm with little to no breeze that I didn't even bother stopping to put on a coat letting my light fleece absorb the rain and dry out quickly once it passed.
Halfway back I stopped for lunch in a small hollow. There was a rock formation that looked like it wasn't completely natural. To my eye it could have been a collapsed tomb which would make sense as the townland boundaries would have been ancient territorial borders and stone structures would have been traditionally used for navigation and boundary markers. Today it was a pleasant spot to stop for lunch and let my imagination roam.
The return to Pt 366 was uneventful but the rain had now cleared up. Passing my earlier track up I kept following the fence line East through the same heather and grass, still following faint sheep trails and crossing so many old fences I lost count. This area seems to have been abandoned for grazing which on one hand meant the fences were all collapsed and easily stepped over but also meant the heather was deep and more difficult to walk through. It wasn't long until my legs were soaked but once again I didn't mind as it was so warm and pleasant.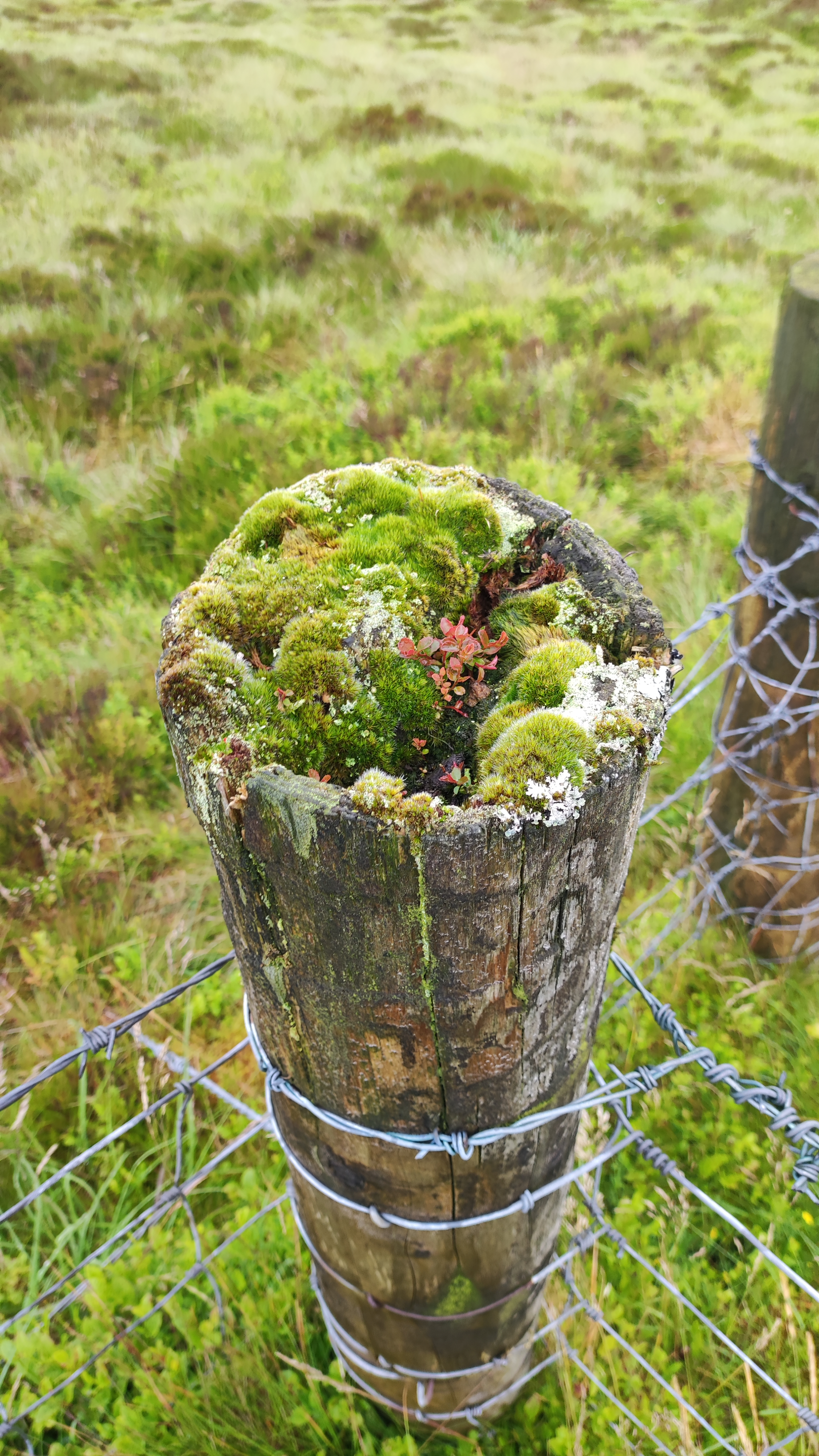 mini habitat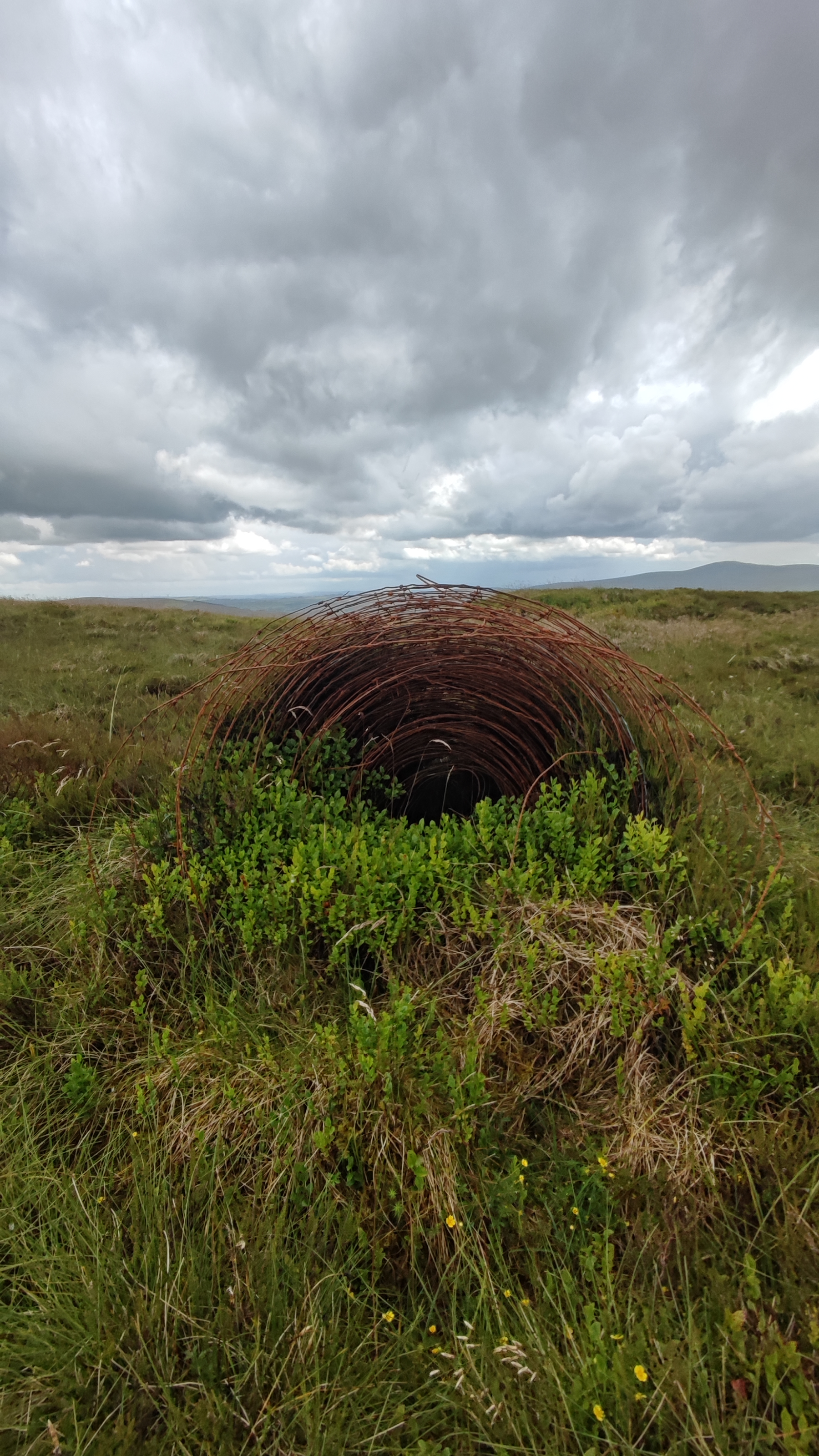 where fences go to die
Eventually I reached the summit of Mullaghbane (not significant enough to register on Mountainviews.ie lists) and began descending back towards Barnes Gap. Eventually the hill became very steep but manageable with care. One small cliff had to be skirted completely. The heather here was very deep with lots of knee high juniper starting to take over. I was pleased to see quite a few Mountain Ash gaining a strong foothold also. They looked to have been grazed a bit, possibly by deer, and weathered by the recent winters but still surviving.
Reaching the bottom a large area of grass just needed crossing back on to the road. Feeling relaxed I wasn't watching properly and ended up stepping into a hidden stream that was completely overgrown with a thick grass mat and bog. Before I knew what had happened I was in up to my unmentionables and still not feeling the bottom. Using my walking poles I was able to slowly turn and get enough purchase to drag myself back on to firmer ground. It gave me a bit of a fright but upon further investigation I was able to cross the boggy bit with a very large step and make my way up to the road.
10km completed and a decision to be made now whether to carry on to Mullaghbolig or pull the pin with boots that felt like concrete and soaking wet feet and legs…