Gallows Lane (Inspector Devlin #2) by Brian McGilloway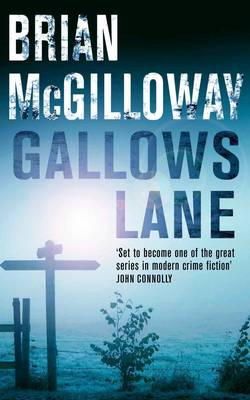 This post contains spoilers and affiliate links. If you use these links to buy something I may earn a commission.
Once again I'm brought back to familiar territory. Inspector Devlin is a Gardai based in Lifford just 20min down the road from where I live. The title of the book is taken from an area of Lifford that was associated with the hanging tree used for executing condemned prisoners from Lifford Gaol which sets the darker tone of this book. As a young child we were well aware of the associated ghost stories and its place in local mythology. Unlike the previous book (Borderlands) where local areas seemed a little jarring due to changes made in places and names I found this one much more familiar and less unsettling.
There are quite a few storylines running through this book. To my mind Lifford is a pretty sleepy and dull town but the author has created something very different. There's a serial abductor of young girls who is murdering them in a frustrated rage, drug abuse, burglary and gruesome, violent murders associated with an historical robbery. Throw into the mix some good old fashioned police intimidation and corruption and there's a lot going on. If that isn't enough for you there's a creepy old ex-terrorist priest floating around and Devlin is getting a bit too friendly with his attractive partner. There's still sub plots I haven't even touched on!
The complicated interconnecting plots is one of the negative aspects of the book. Another reviewer stated his desire to see less happening and more detail but then again maybe this is the unique style of this author and what sets him apart from others.
Some aspects of Devlin's character I find hard to accept. He's portrayed very much as a dedicated family man with a strong religious streak but he's had two different relationships with female characters that don't fit this and stoops to some illegal activity himself in this story. I find these different personas jarring and they don't fit together. I hope this settles more as the series progresses.
The author's depiction of women is weak also. Devlin's partner, Caroline Williams, is strong but she eventually succumbs to the pressure of the job after being injured and it looks like she is leaving. Devlin's wife Debbie is woefully ignored except as a bit of a nag (in fact I couldn't even remember her name and had to look it up!) and his ex-girlfriend is depicted as a shallow, scorned lover out for revenge for being rejected in the first book.
It does need to be remembered that this is still only the second book by this author. There are three more to come featuring Inspector Devlin as well as a second series with a female police officer as the lead character.
⭐⭐⭐⭐ (3.5 in reality)
Header image by Kaboompics .com from Pexels