I've read and listened to a lot of stories about long distance hikes over the last year or so. From Bill Bryson's adventure on the Appalachian Trail (AT) to Cheryl Strayed on the Pacific Crest Trail (PCT) and recently Reg Spittle's second book about trekking in the UK and Europe. I've just started yet another PCT themed audiobook, by Barney Scout Mann, entitled Journeys North.
In the opening chapters Mann mentions how some hikers walk long distance trails in sections rather than thru-hiking the entire trail in one go. This has been mentioned in every story so far but yesterday it seemed to have found more fertile soil in my brain and I started considering my own options for section hiking.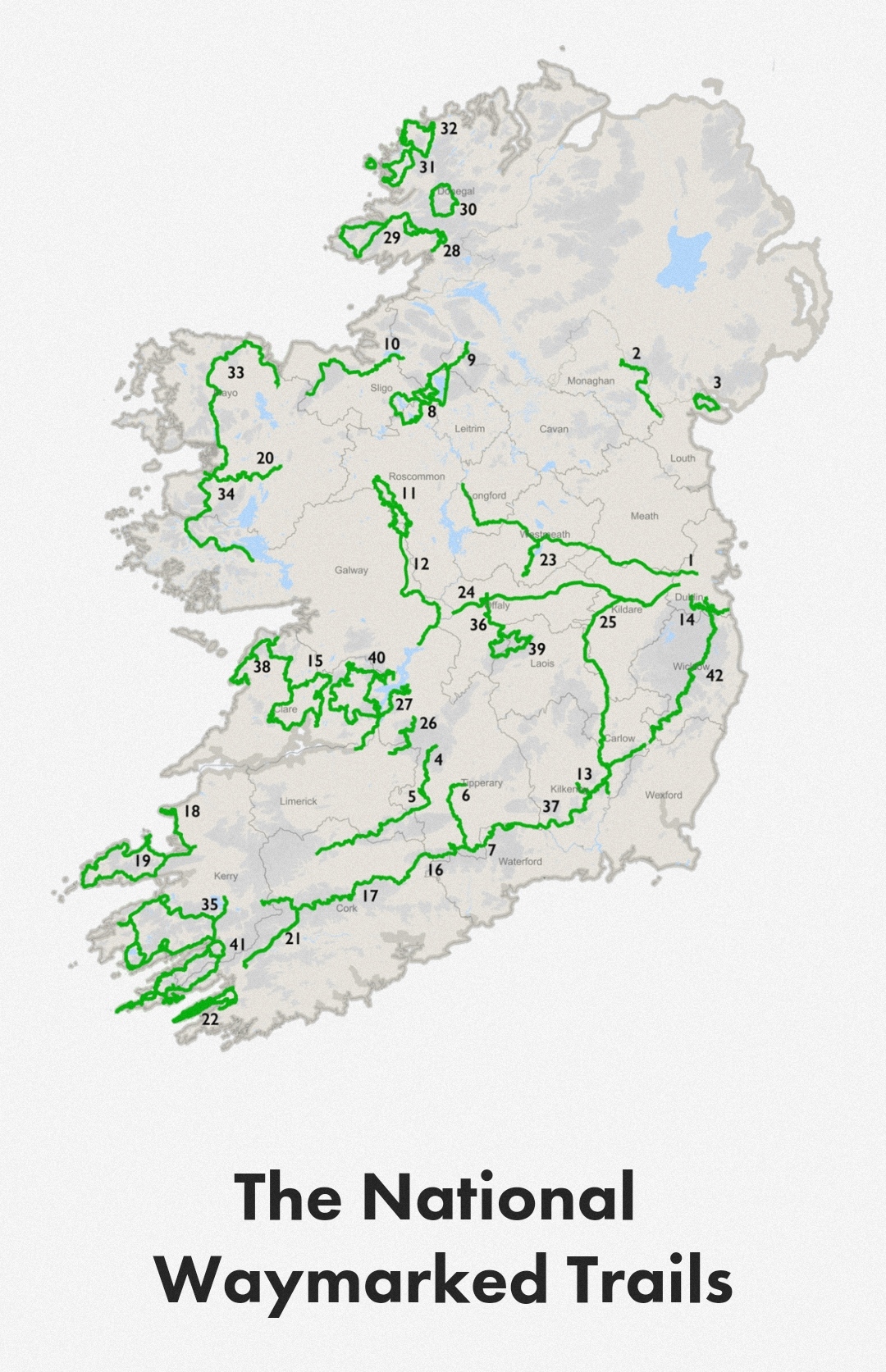 Close to home I have a number of waymarked walks. Of Ireland's 42 National Waymarked Trails there are 5 in Donegal. Of these the only one I've walked is The Bluestack Way. I walked the Glenties – Lough Eske section of this almost 10 years ago as a charity walk for the Bluestack Foundation, approx 30km in 9 hours was, and still is, my longest day's walking.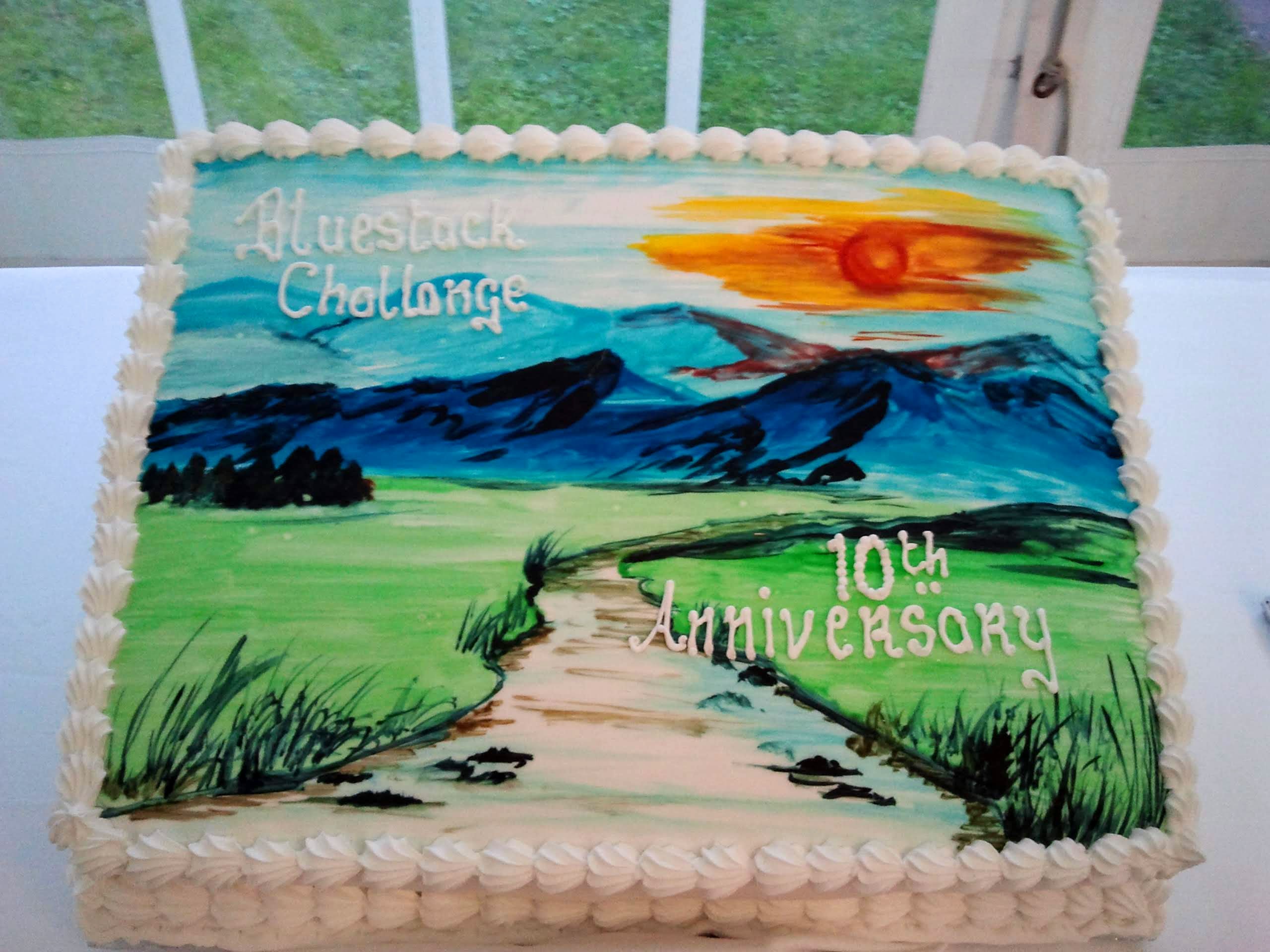 Three long distance walks also pass near my home. The Irish leg of the International Appalachian Trail (IAT) approx 450km from the Slieve League cliffs in Donegal to Larne in Co. Antrim, The Ulster Way, a looped trail just over 1,000km that circles Northern Ireland and The Ireland Way that is also 1,000km from Castletownbere in West Cork to The Giant's Causeway in Co. Antrim.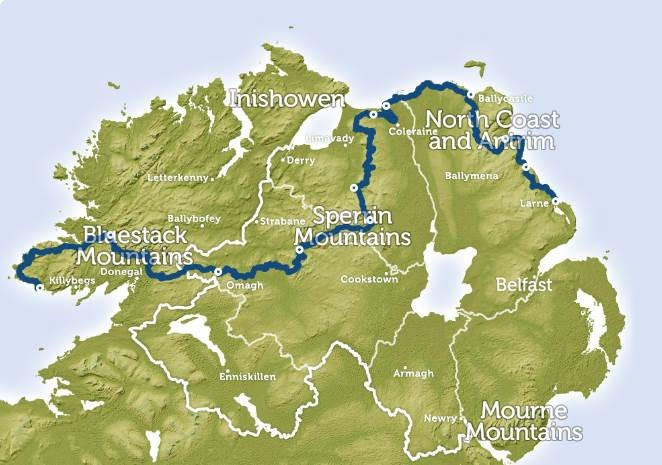 the international appalachian trail – ireland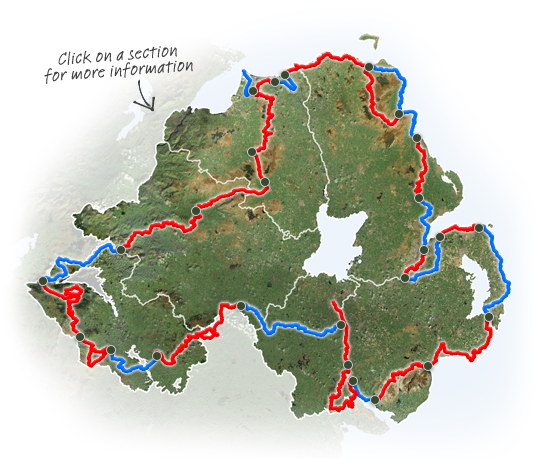 the ulster way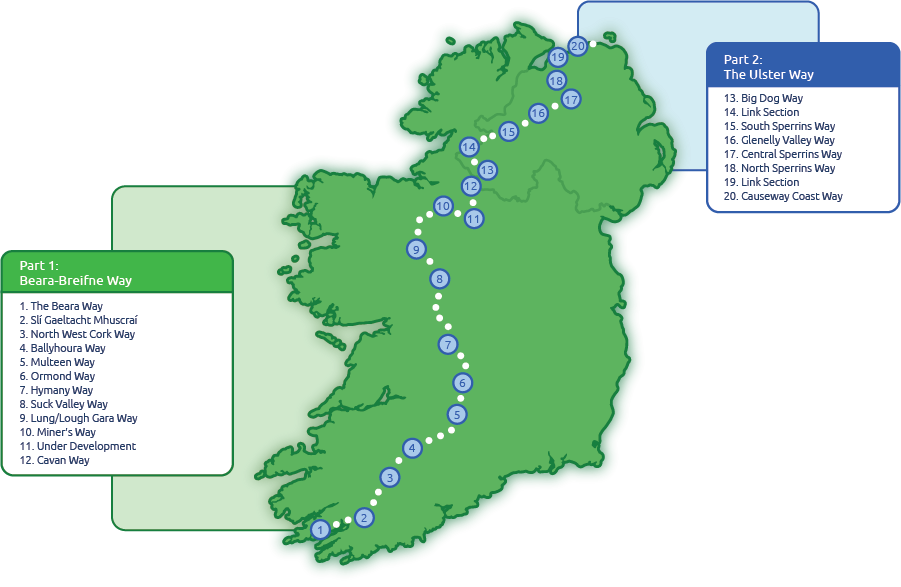 the ireland way
All three routes meet and overlap at the border between Donegal and Tyrone and follow the same route until The Giant's Causeway where The Ireland Way stops. The IAT carries on with the Ulster Way until Larne where it stops before skipping across The Irish Sea to Scotland.
Many years ago I read one of the few books on The Ulster Way by Alan Parker and first published in 1989. Alan was the first ever person to walk the entire Ulster Way in 1979. It's a really interesting read for more than just the walk itself. Alan was a real old school hiker and used B&B accommodation all the way. It's a fascinating glimpse of a different pace of life in Northern Ireland at the end of the 70s and surprisingly unaffected by The Troubles.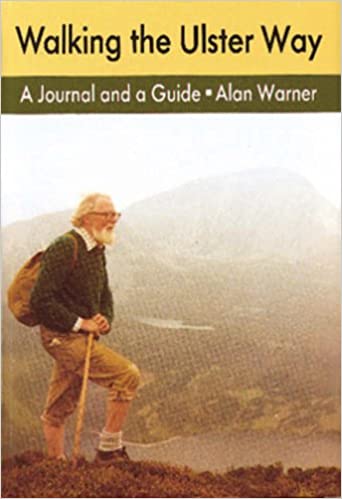 I was familiar with the Ulster Way having seen the signs on many occasions throughout Northern Ireland and reading this book gave me my first real desire to do a long distance walk. However, 30 days is difficult to fit into any life when work and family also need attention so unfortunately it never happened.
The idea though has never left me so it's unsurprising that it was The Ulster Way that I turned to today to investigate the possibility of section hiking. WalkNI have a very detailed section on their website that details a variety of different 1, 2 & 3 day and 1 week suggestions and there are 2 that really appeal.
Belcoo – Belleek: a 47km section including the optional Lough Navar loop. This is an area I'm very familiar with and Lough Navar has an amazing viewpoint looking out over Lough Erne. Possible as a day hike but more enjoyable over 2 days.
Lough Bradan – Gortin: 60km and recommended as a 2 day walk. Being close to home this is a very familiar area and although I've walked or cycled some of it, most of the route would be new to me.
In the middle of a very wet, cold and stormy February it's nice to look at these routes and dream of long days walking and camping in warm sunshine (ideally!).