Trippin' Through My 60s by Reginald Spittle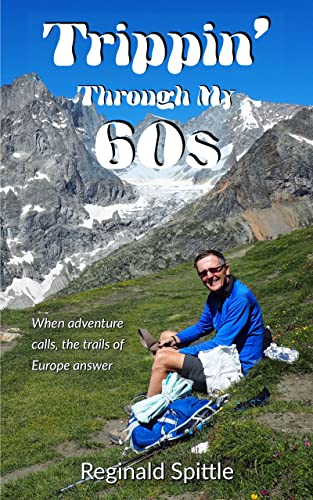 From Amazon:
As a child of the Sixties, Reg Spittle was no stranger to unrest and rebellion. So it was no surprise that, at age 60, when he closed his office door for the last time and left the working world behind, his restlessness would lead him to a path less traveled.

Trippin' Through My 60s is a lighthearted look at how Reg discovered and pursued his passion for trekking along four famed European long-distance trails:
Scotland's West Highland Way
The Alps' Tour du Mont Blanc
Italy's Way of St. Francis
England's South West Coast Path
Unexpected challenges, wrong turns, and humor evoke memories of life in the Sixties and create the backdrop for Reg's adventures as he tackles backpacking escapades that push him to the edge.
My Rating: ⭐⭐⭐⭐
I've been following Reg's blog for quite a while now (Books and my Backpack) and enjoy his reviews and recommendations of books by other authors. He mentions his own two books occasionally but isn't pushy with them. However, I've been meaning to check them out for quite a while now. Recently, I spotted this book, his second, on Amazon and added it to my reading list.
This book covers four trekking trips that Reg and his wife Sue undertook in their retirement. I was particularly interested as the first two treks were The West Highland Way and The Tour de Mont Blanc. I was interested to see how they coped with the challenge of these two tough trails.
Reg has a very casual and relaxed way of writing. Even when he and his wife are struggling to cope with the conditions and demands of the trail he seems to be able to retain good spirits and take the best from every situation.
I very much enjoyed those first two treks as I've watched some YouTube videos of walkers on the West Highland Way and canoeists on the Great Glen Way. My visit to Switzerland in 2019 to Pierre's house in Valais also involved a day trip to Chamonix which is where the Tour de Mont Blanc starts and finishes. Lots of the scenery and placenames were familiar and there was a real sense of adventure from their depiction.
The final two treks were also interesting but less adventurous than the first two. I also found the descriptions of these two trips a bit repetitive, especially the English trip which is why I dropped a star*
Overall I really enjoyed this book, Reg and his wife are inspiring to anyone considering long distance and multi day treks. They are living proof that age shouldn't be a barrier to your dreams and that it's never too late to chase them. I'd recommend this book to anyone with an interest in walking or the outdoors.
*I was very tempted to drop a second star due to his horrified reaction to eating smokey bacon crisps for the first time. My favourite flavour!
Header image by Kaboompics .com from Pexels