I may have mentioned it before (🤔) but RRTY stands for Randonneur Round The Year. It's an Audax Ireland challenge to ride at least one Audax route (minimum 200km) each month for 12 consecutive months. I've tried 3 times before but have quit for various different reasons. My longest streak so far was 4 starting in 2017, which derailed in December that year due to lack of motivation. My latest attempt was last year when I got frustrated by Covid restrictions and decided to park it until things had returned to normal.
My tentative plan through the first part of the year was to restart in June. I figured this would give me a number of months of decent weather and longer days to build some kind of momentum into and through the tougher winter months. It would also give me a chance to build my fitness to a level that would make this all possible.
I've been building my distances throughout June with an early 100km spin, a strong 165km spin and a hilly 87km ride to get the legs in shape and build my mental confidence. This, combined with work and family commitments meant it was going to be very late in the month to get this done. The weather forecast was predicting a great day for Wednesday and I took the reasonably safe gamble to leave it to the very last day of the month.
I have a choice of three nearby permanents; my own Donegal 200, the Fermanagh 200 and the Dark Hedges 200. I chose the latter as it's an easy drive to the start, a route I'm familiar with and easy to navigate and it has the least amount of overall climbing.
The sting in the tail is that it's very unbalanced with the climbing increasing towards the end. In the first 50km there is a total elevation gain of only 180m (the next 2km have almost 30% of that alone), 50-100km is 400m, 100-150km is 520m and the final 50km is 650m. In that last section 320m is gained between Moneyneany and Feeny alone at 150-165km.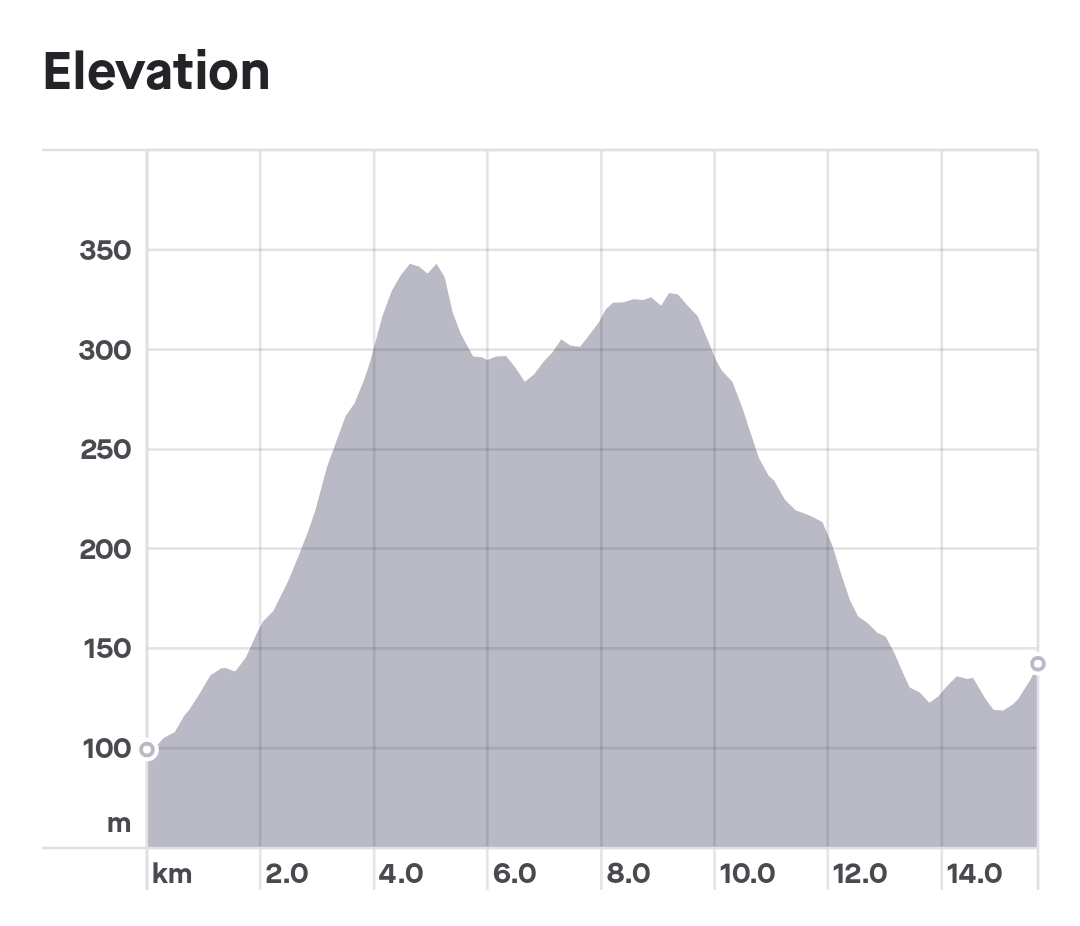 interesting elevation profile!
The weather didn't turn out as good as predicted but good enough. I started about 7:45am and expected a chilly start so was wearing arm warmers and my wind/waterproof gillet. This also gave me a higher degree of visibility in the early morning pre-rush hour Derry traffic. I really didn't expect to have to wear this for the first few hours. With dull, grey skies and very low cloud it wasn't until 1:30pm that I felt able to remove the gillet, followed by the arm warmers 20min later. It was quite warm when stopped but chilly when moving in my self created wind. The rest of the day was then a real scorcher which added a bit of extra bite to the climbs later in the day.
I changed my bag setup a little this time. For the first time I used the Podsacs frame bag I purchased back in January paired with the saddle bag and my usual top tube bag. On these longer runs I like to carry sandwiches, sweets, power pack and charging cables to keep me and my recording devices well topped up. The frame bag allowed me to carry much of this in the middle of the bike, keeping the centre of gravity low and retaining good stability. Bar bags and larger saddle bags inevitably introduce a measure of "swing" when standing but the frame bag didn't. In addition it is very accessible on and off the bike and gave me lots of space for storing my gillet and arm warmers when I was eventually able to take them off. Well worth the slight extra hassle involved in using my water bottles.
I gave a pretty detailed route description in my September post and it hasn't changed since. I felt a bit stronger this time though and the wind was a lot more favourable. It was very light and ended up on my back from Ballymoney to Maghera making it a lot less of a slog than normal. My 200km time was 7:56 moving and 9:50 total time bringing me home under both key time targets and giving me a huge confidence boost.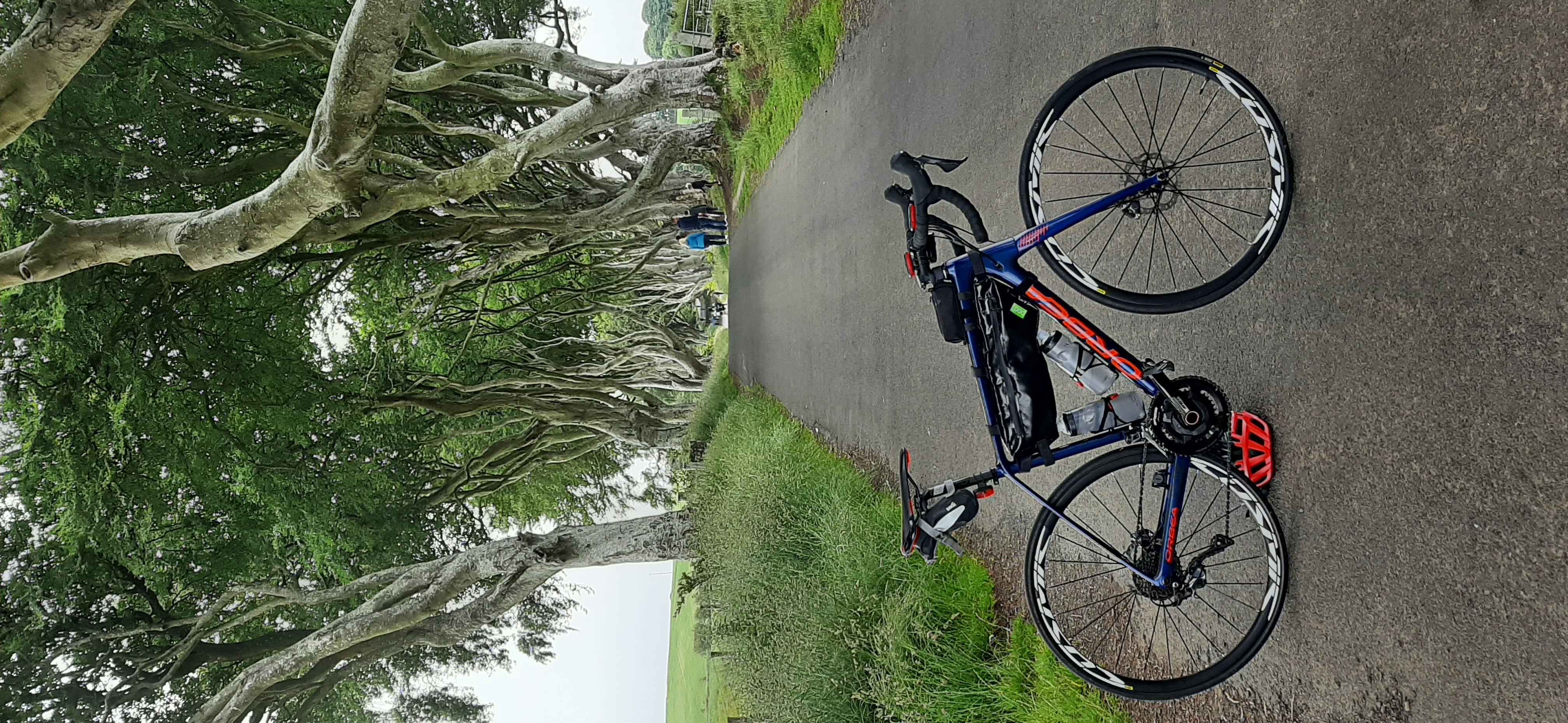 the dark hedges at 90km
Last time I took a nutritional gamble on a cowboy supper in Ballymoney at 105km. I was delighted to see this still on offer despite the renovations under way at the shop. This is now my traditional mid way feed on this route 😊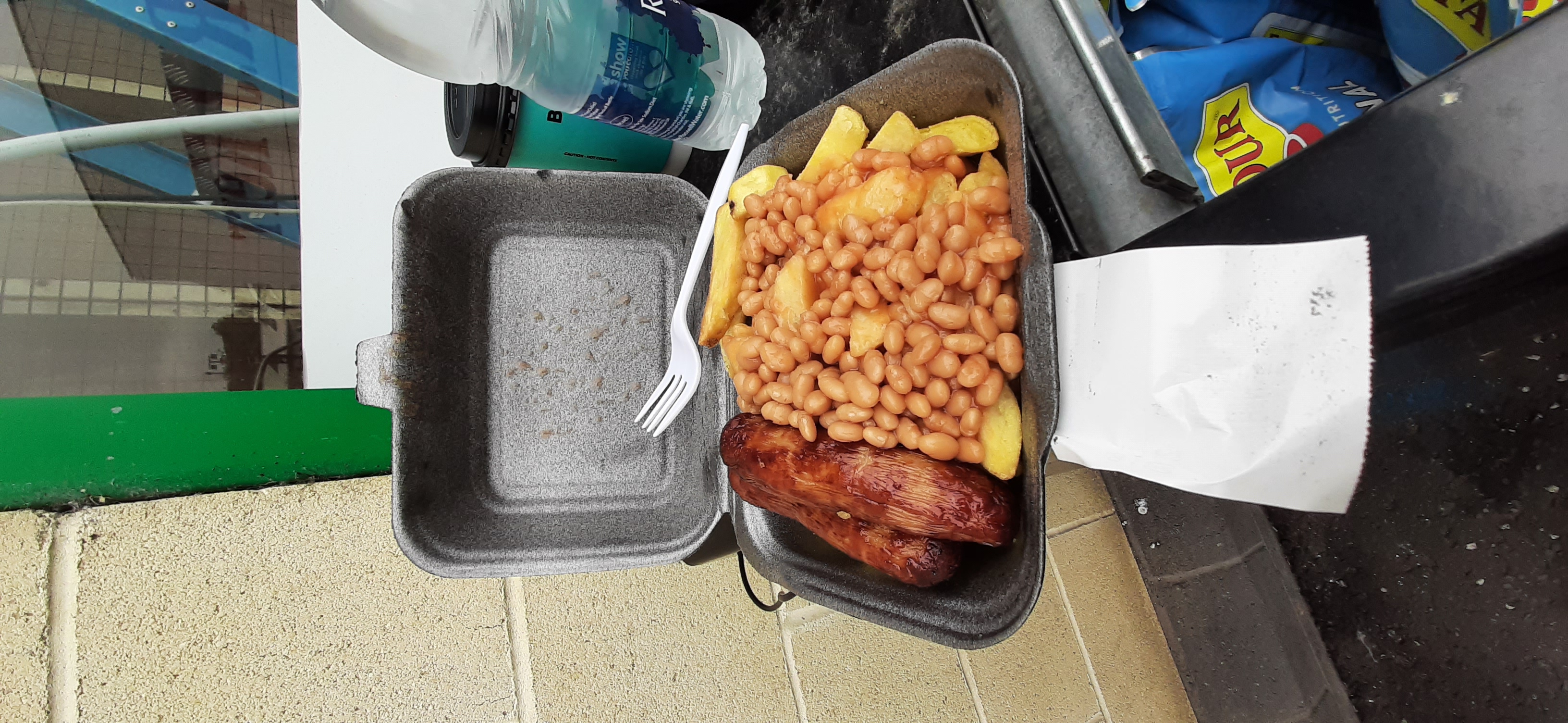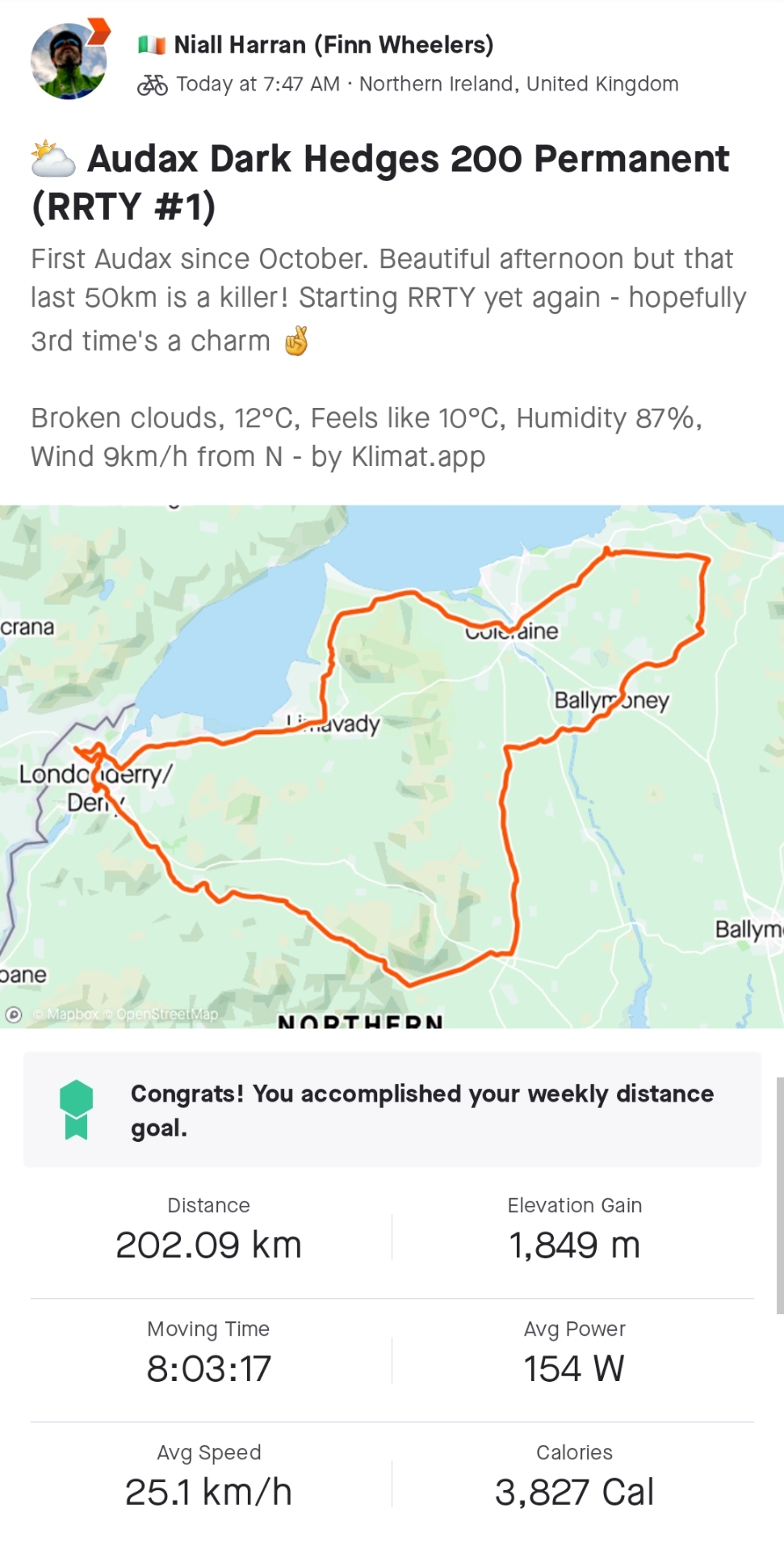 click here to view on strava