"Mud, Rock, Blazes" written by Heather Anderson and read by Chelsea Stephens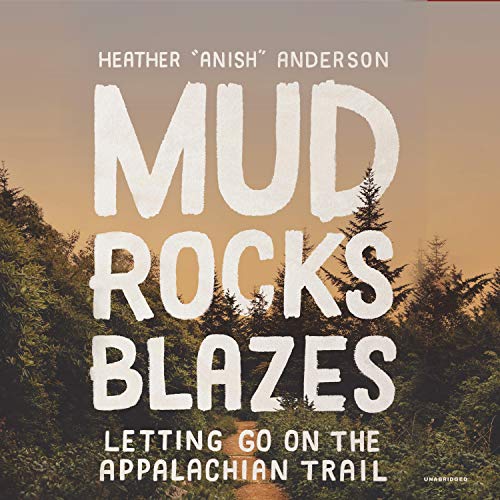 This post may contain spoilers.
This was a fascinating insight into the mental challenges faced by an endurance athlete. Unlike all the other books I've listened to and read on the Appalachian or Pacific Crest Trails this walker was trying to set a record. Heather Anderson (Anish) already held the Fastest Known Time (FKT) for self-supported completion of the PCT in 2013 but riddled with self-doubt and insecurity she had herself convinced it was a fluke. With incredibly low self esteem and a failure to set an FKT on the John Muir Trail she decided to give herself one last chance and aim for an FKT on the AT in 2015. Not content with the female record she set herself a huge challenge of the overall FKT requiring an average of 50 miles per day to complete in just over 50 days. An average of 3-4 miles per hour meant sleep deprivation, no rest days and a constant battle to keep fuelled and hydrated while fighting exhaustion as well as the mental torment of having set a daily target that simply wasn't achievable.
Unlike all the other AT and PCT stories this is all a personal journey and a story about her personal battles. Don't read this if you want to know about the trail itself or about the characters that you might encounter. However, if you want an insight into the mind of an endurance athlete and what it takes to keep going day in, day out this is the book for you. In today's world of airbrushed and sanitised perfect lives depicted on social media this was incredibly frank and honest and dealt with her negative self image as much as the achievement of battling through conditions that most people can't even contemplate.
The difference here between 4 and 5 stars was the narrator. She reads at the start in a kind of breathless and over dramatic way that kind of trivialised the author's achievements and feelings. I don't know if she moderated this as the story progressed or if I stopped noticing it but it definitely became less of an issue later in the book.
This is the second audiobook I've listened to that came from recommendations on Splodz Blogz weekly blog Episode 110. There's a third one in there that is next on my list.
My Rating: ⭐⭐⭐⭐
More on Goodreads and Audible.
Header image source: fossbytes.com