Death Without Company (Walt Longmire #2) by Craig Johnson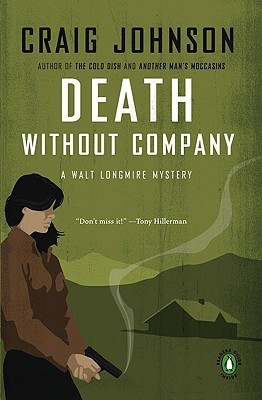 From Goodreads:
Walt investigates a death by poison in this gripping novel from the New York Times bestselling author of The Cold Dish and Dry Bones, the second in the Longmire Mystery Series, the basis for LONGMIRE, the hit Netflix original series
Fans of Ace Atkins, Nevada Barr and Robert B. Parker will love Craig Johnson, New York Times bestselling author of Hell Is Empty and As the Crow Flies, who garnered both praise and an enthusiastic readership with his acclaimed debut novel featuring Sheriff Walt Longmire, The Cold Dish, the first in the Longmire Mystery Series, the basis for LONGMIRE, now on Netflix.
Now Johnson takes us back to the rugged landscape of Absaroka County, Wyoming, for Death Without Company. When Mari Baroja is found poisoned at the Durant Home for Assisted Living, Sheriff Longmire is drawn into an investigation that reaches fifty years into the mysterious woman's dramatic Basque past.
Aided by his friend Henry Standing Bear, Deputy Victoria Moretti, and newcomer Santiago Saizarbitoria, Sheriff Longmire must connect the specter of the past to the present to find the killer among them.
My Rating: ⭐⭐⭐⭐
This was a cracking good read. It's one of those books that was just so easy to read and I flew through it. After the first book I've now gotten over the differences between the book and TV show and just enjoying this new version of the same characters. I still picture the actors faces though when reading.
The standout from this book is the humour. Walt is very self-deprecating and has a very wry attitude to everything that happens to him – the bad and good equally! Vic also adds to this considerably. I'm definitely looking forward to the 3rd installment.
Header image by Kaboompics .com from Pexels