"ABCDEFU" by Gayle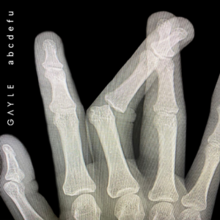 Genre: Pop Rock/Pop Punk
Single Release Date: August 2021
EP: "A Study of the Human Experience Volume One"
This has been released for quite some time now but for some reason I'm only hearing it recently. It must have just hit the Irish charts though as it's on a lot. When you read or listen to the lyrics it won't be a surprise that there is an alternative radio version!
I simply love the anger in this song and it starts from the very first word. So many breakup songs are moany, winging, sad pieces of drivel but this just says it as it is…
Fuck you and your mom and your sister and your job…
She's going for the full on Rock and Roll chick too. She intentionally broke her middle finger in March 2021 and the hospital x-ray image is used as the cover art for the EP.
Lyrics
Fuck you and your mom and your sister and your job
And your broke-ass car and that shit you call art
Fuck you and your friends that I'll never see again
Everybody but your dog, you can all fuck off
I swear I meant to mean the best when it ended
Even tried to bite my tongue when you start shit
Now you're textin' all my friends asking questions
They never even liked you in the first place
Dated a girl that I hate for the attention
She only made it two days, what a connection
It's like you'd do anything for my affection
You're goin' all about it in the worst ways
I was into you, but I'm over it now
And I was tryin' to be nice
But nothing's getting through, so let me spell it out
A-B-C-D-E, F-U
And your mom and your sister and your job
And your broke-ass car and that shit you call art
Fuck you and your friends that I'll never see again
Everybody but your dog, you can all fuck off
Nah, nah, nah, nah, nah, nah, nah, nah
A-B-C-D-E, F-U
You said you just needed space and so I gave it
When I had nothin' to say you couldn't take it
Told everyone I'm a bitch, so I became it
Always had to put yourself above me
I was into you, but I'm over it now
And I was tryin' to be nice
But nothing's getting through, so let me spell it out
A-B-C-D-E, F-U
And your mom and your sister and your job
And your craigslist couch and the way your voice sounds
Fuck you and your friends that I'll never see again
Everybody but your dog, you can all fuck off
Nah, nah, nah, nah, nah, nah, nah, nah
A-B-C-D-E, F-U
Nah, nah, nah, nah, nah, nah, nah, nah
A-B-C-D-E, F-U
And your mom and your sister and your job
And your broke-ass car and that shit you call art
Fuck you and your friends that I'll never see again
Everybody but your dog, you can all fuck off
Header image from 8Tracks.com