This is a long walk and I've decided to break it up into two posts. The first is below and the second will follow in a day or two.
A few weeks ago I came up with an idea to head to the Mourne Mountains for a day hike. Up until now the closest I'd gotten to this was an aborted plan from at least 5 years ago, to do the same, that was cancelled due to poor weather and never revisited. In fact it may have been this event appearing in my Facebook memories that triggered a renewed interest.
I reached out to a couple of friends for advice and did a bit of research on Mountainviews.ie and came up with a route that was 16km in length and with an intimidating 1200m of elevation gain. By complete coincidence I found out afterwards that this is one of Paddy Dillion's recommended Mournes routes! It was probably good that I found this out after, rather than before, as the actual distance was 18km which might have put me off!
The route can be viewed on Outdoor Active but essentially takes in 5 summits including Slieve Donard (849m), the highest summit in Ulster, and Slieve Commedagh (767m) the second highest summit in the Mourne Mountains range.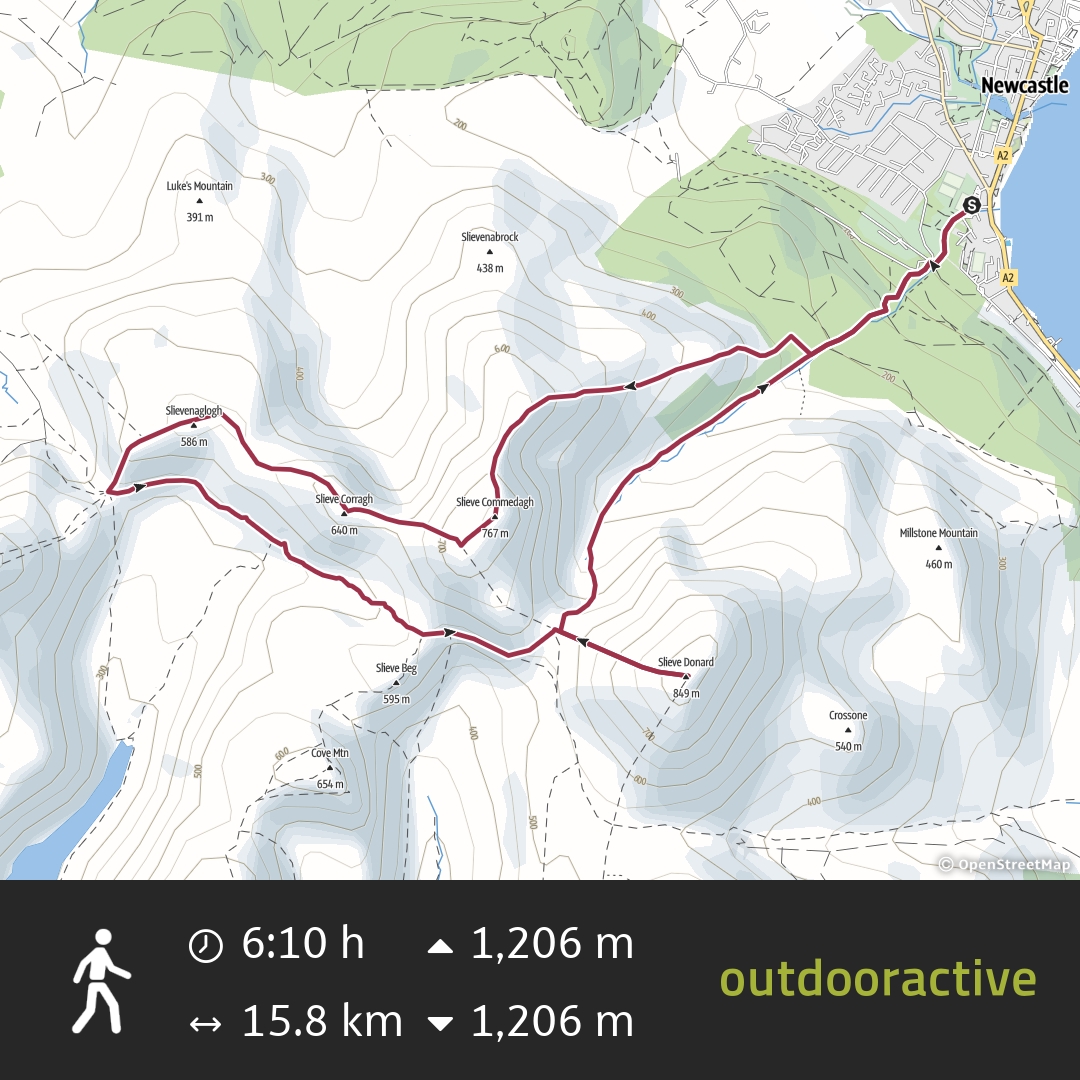 From home to the start of the walk is approximately 2.5hrs driving and the estimated time for the walk was 6-7hrs. Allowing for breaks I estimated 8-10hrs so decided it made more sense to drive up the night before and sleep in the back of the van overnight to get a decent sleep and still get an early start to get home at a decent time. This made even more sense as my original plan for the walk was on a Sunday so I'd be finishing work in Omagh on the Saturday night and already 40min closer to Newcastle. In the end up that date was cancelled due to a bad storm on the Sunday. With the sudden death of Queen Elizabeth I ended up having a two-day weekend due to the Bank Holiday on Monday for her funeral. This worked really well as I was able to organise and pack on Sunday, leave home about 4:30pm and get to the parking spot before dark.
Vanlife
My initial idea was to try and park up in Newcastle at Donard Park which is where the route starts. However, advice from some friends was not to park in the centre of town and instead to use one of the actual camping spots. The two recommended were Meelmore Lodge and Tollymore Forest. The former came recommended by a number of people but £10 for a simple park up seemed a little bit expensive and reviews on TripAdvisor about a pushy owner, dirty facilities and noisy groups put me off. The latter was £20 for a night and at 20mins away didn't seem like good value this time. The last recommendation was the one I went with. It was a car park in Kilbroney Forest, on the outskirts of Rostrevor, and only 25 min from Newcastle according to Google. My friend stayed there a couple of times in a car and had no problems so I figured that was good enough for me.
I arrived just before dark and only one other car was there, at the far end of a very large car park totally surrounded by a mature forest plantation and with a nice view out over Rostrevor town. Loads of picnic benches made it an ideal spot for parking and cooking my dinner.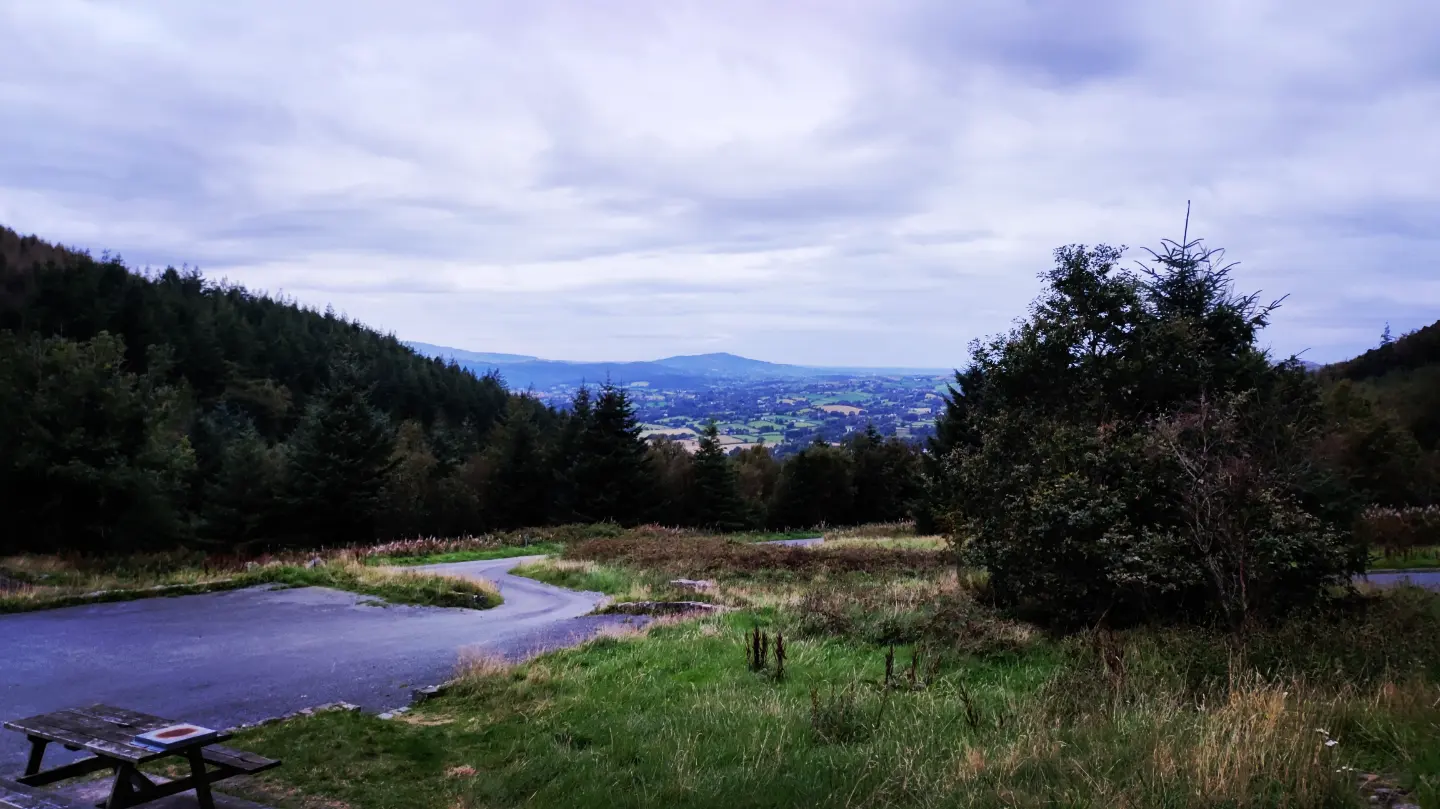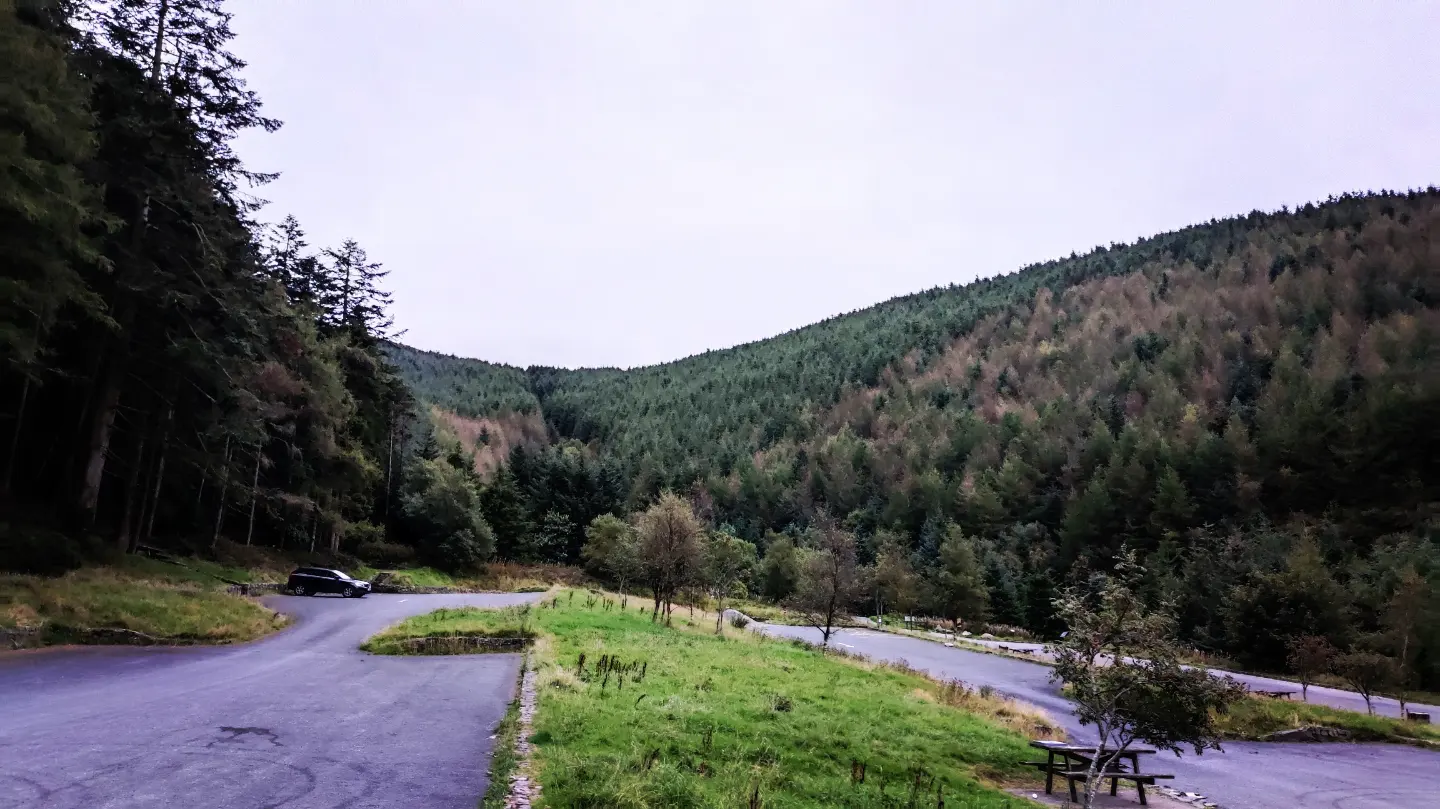 As darkness fell a number of cars came and went and one car stayed around while a few others came to speak with him for a period of time. I have a feeling it may have been the local dealer but they were well away from me and paid me no heed so I ignored them also.
Despite nerves in the days leading up to the weekend I slept well. A noisy car woke me briefly at 1:30am and my bladder again at 3am but I had a good night's sleep despite parking on a bit of a slope! There is a good surface in the back of the van, plenty of space and my sleeping mat and sleeping bags were plenty warm enough. The alarm woke me at 6am and I decided to head for Newcastle, have breakfast in the car park there and use the toilet facilities before starting my walk.
For some reason Google decided to send me by the coastal road which took almost 45min but I was fed, changed and ready to go by 7:30am. Unfortunately I had to delay my start until 8am for the timer locks on the toilet block to open and allow me in.
On the way over I passed another car park at a place called Bloody Bridge. I was specifically warned against using this place to overnight but passing by there were at least 3 campers there and the toilets seemed to be open at 7am. If I go back again I may consider using this spot as it is much more convenient but not as quiet, being on a busy road. In Donard Park there were also a couple of tents pitched up but I don't know if this is officially permitted and chargeable as there were no signs either way.
While waiting for the toilets to open a few other vehicles arrived and some people were heading up the trail to the hills already which didn't help my natural impatience. When I eventually got started the trail headed along the edge of Donard Park (past the aforementioned tents) and straight into the forest. The trail follows the noisy Glen River all the way to the col between Commedagh and Donard and this is a very picturesque scene with multiple waterfalls, narrow ravines and bridges. The trail is heavily travelled with many tree roots visible above ground, polished and hardened by thousands of feet. Exposed rocks combine with the roots to make footing tricky as the trail starts to rise pretty much straight away.
Commedagh
At the first large bridge the main trail crosses and heads up the left side of the river towards Donard but I took the right side into the trees and towards Commedagh and the trail gradually becomes a track. At a tumble down wall in the woods the track bears right and steepens considerably, showing evidence of bicycle tracks from what must be maniac MTB riders descending through the trees. At the edge of the trees an old wall is climbed by a rickety looking stile. Thankfully the gate was gone and I didn't have to risk my neck climbing over it.
Out of the trees and I was on the side of the hill proper climbing along fairly clear tracks that headed straight up draining energy from my legs, leaving me breathless and my heart rate rocketing. The climb to the fairly flat Shan Slieve at just over 670m was brutal. It was approximately 2km with 400m of climbing and took me the best part of an hour. Climbing up this slope was a real shock. I knew the day was going to be hard but I didn't really expect it to be that tough and definitely not so soon. I was seriously worried about my fitness and ability to continue the rest of the day. I'd only come 4km and it had taken me almost an hour and a half! Resting at the top and trying to bring my heart rate to something more reasonable it suddenly dawned on me to check the elevation on my GPS. It sounds stupid now but I had forgotten that I was climbing from sea level to that height of 670m and that this first 4km was over 50% of my total elevation gain for the whole day. As my heart rate slowly dropped below the red line and I sat enjoying the view out over Newcastle I began to feel better about the rest of the day.
The approach from the flat top of Shan Slieve to Commedagh was amazing. It's another 100m of elevation but on a much more gentle incline and along a narrow feeling ridge with views across to Donard on one side and deeper into the Mournes on the other. The ridge curves around gently before rising to the large dome of Commedagh and is known as the Pot of Pulgarve. The Glen River and the trail to Donard is clear to be seen and on such a still day I could hear walkers on this path as they talked to each other over the sound of the rushing river.
As you climb the side of the hill the large cairn (reportedly an ancient burial cairn) slowly appears on the top of Commedagh and I also got my first real view of The Mourne Wall and a clear view of the top of Donard across the col. Time for a proper rest and a chance to soak in the views.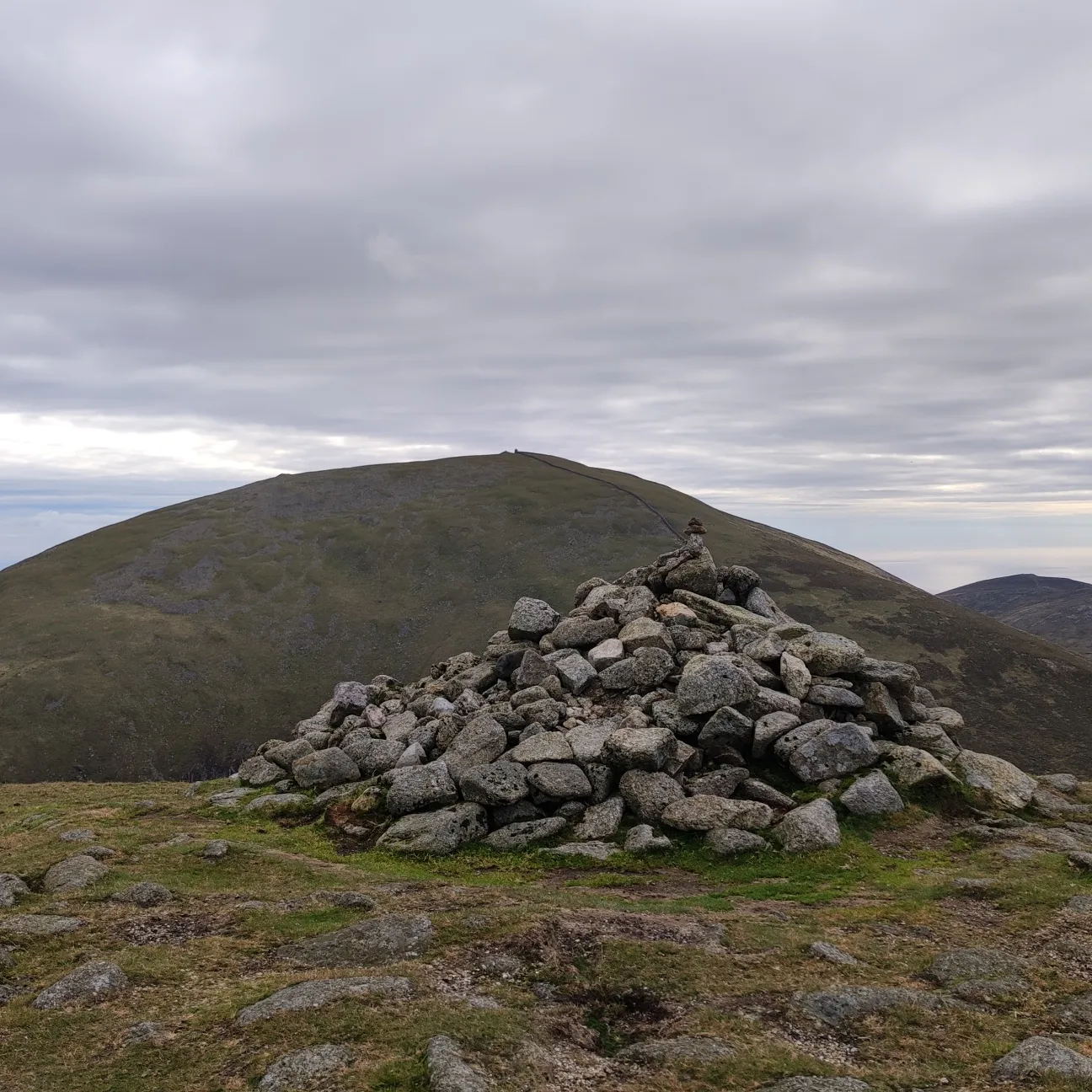 Walking the Wall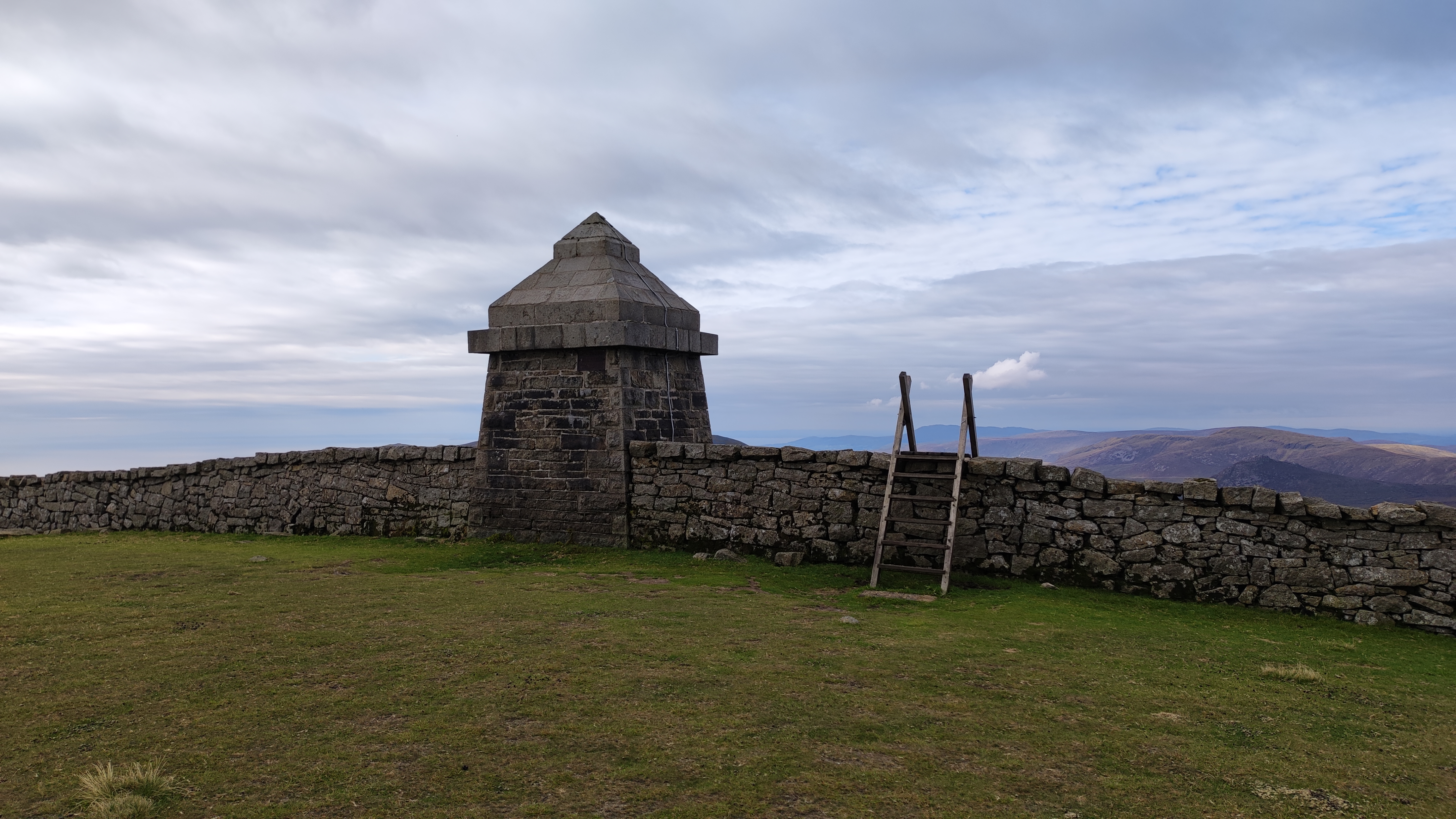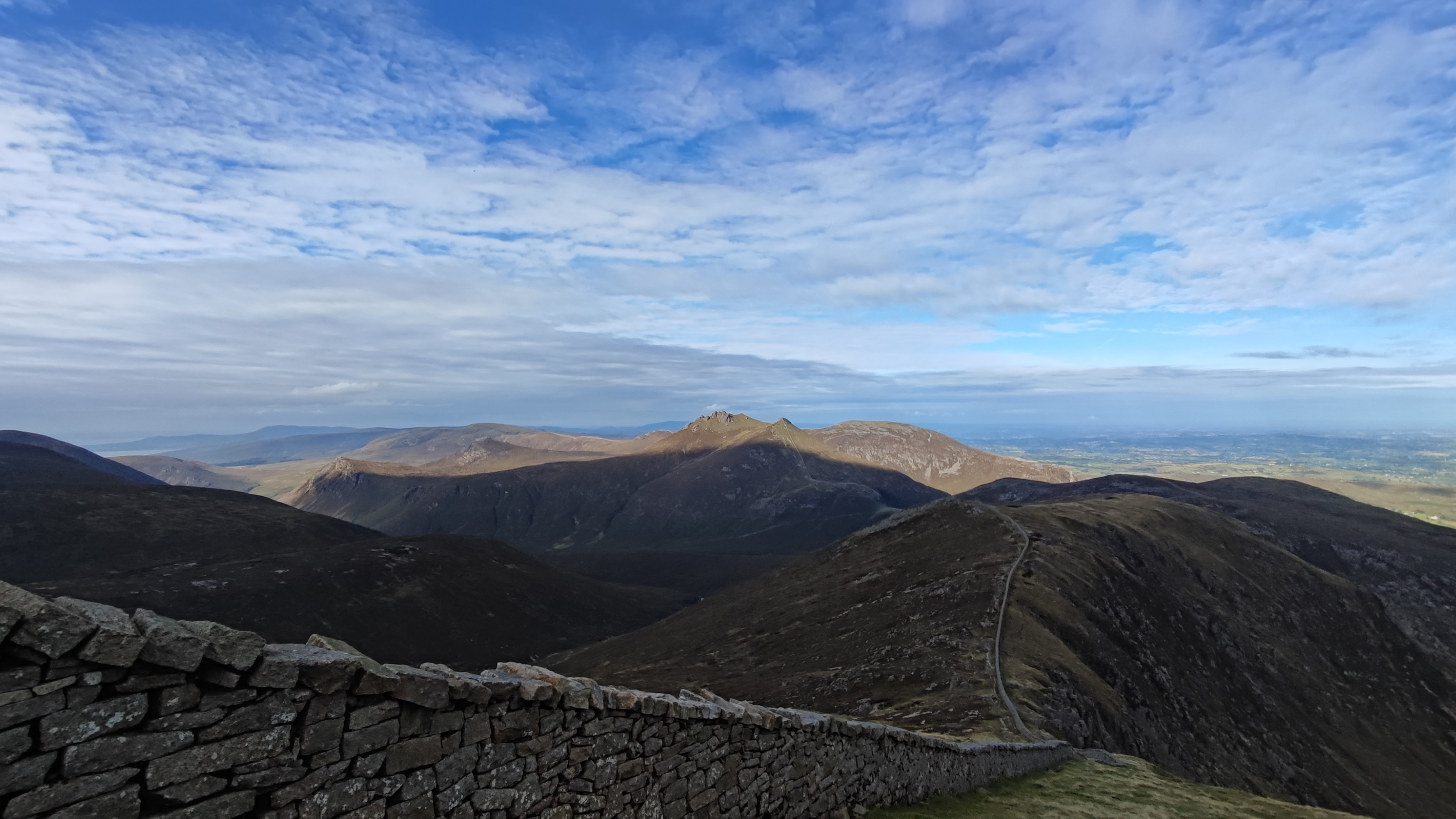 I've heard a lot about the Mourne Wall and seen plenty of photos of it but I wasn't prepared for just how amazing it was in real life – it's huge! I was aware of the length (31km) but wasn't prepared for just how substantial it is. It's 1.5m tall and almost 1m wide. It's constructed from large square cut granite stones, crosses 15 of the highest summits in the area and took approximately 18 years to build from 1923! It's mind boggling to be truthful.
The wall was now to be my handrail for the rest of my journey as far as Hare's Gap. As I approached from the cairn on Commedagh there was a large crossing stile but seeing a group of walkers this side of the wall I decided not to cross and followed it along and off the steep side of Commedagh. Along the way I passed some amazing rock features above the Pot of Legawherry and the sun started to appear.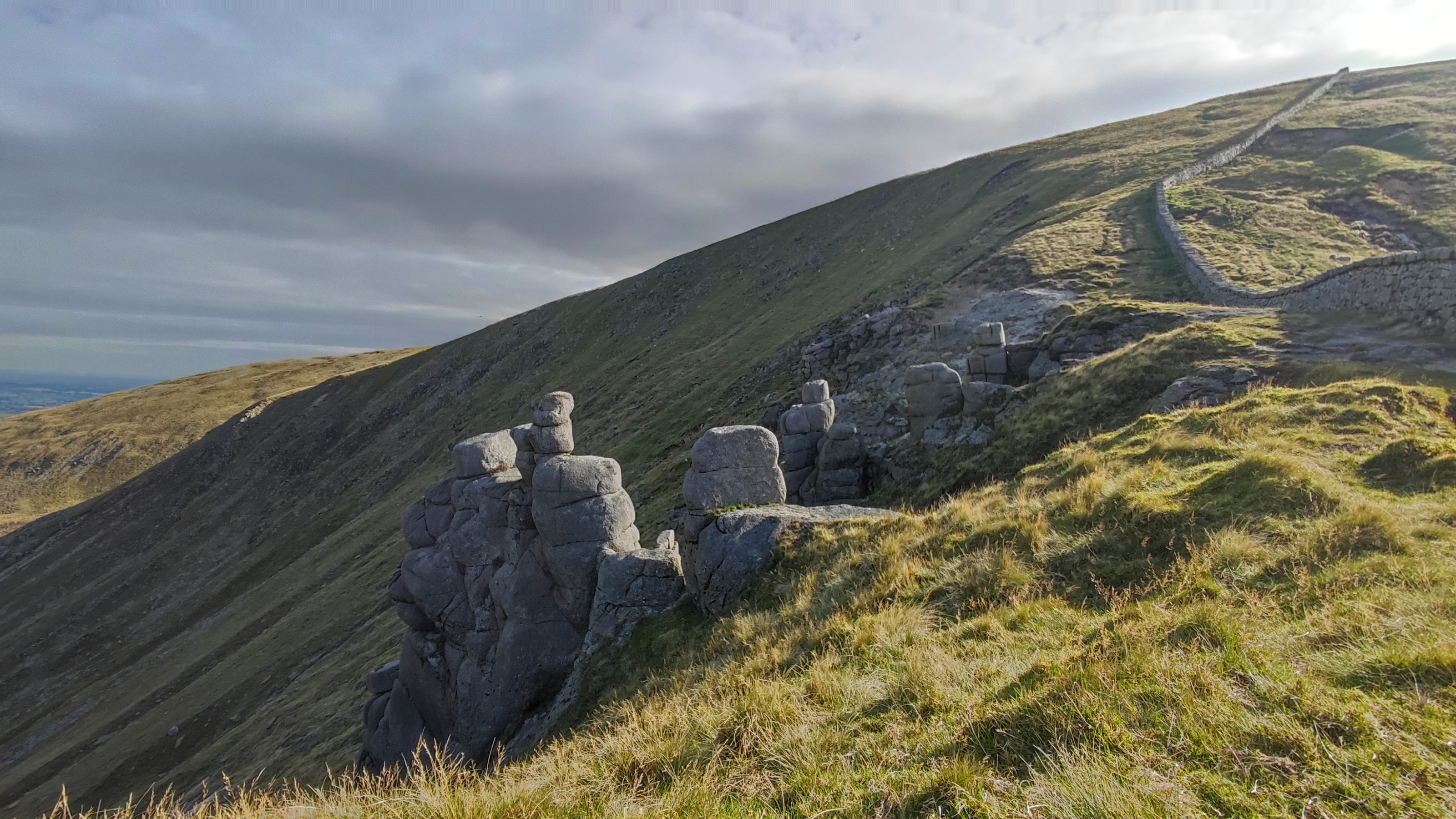 After the steep descent there was a short climb back up along the wall leading towards Slieve Corragh. Trying to locate the summit on the ground from the location on my GPS I realised that I should have crossed the wall back on Commedagh! With my toe wedged in a nook in the wall I was able to peer over and see the summit cairn about 30m away. Thankfully nobody was around to see my undignified scramble up, and over the 1.5m wall. It wasn't pretty and that granite is unforgiving on bare skin! After all that, the summit cairn was simple. No burial site this time as it was a much smaller collection of stones to mark this 640m summit that seemed small with its bigger neighbours looming all around. The top of Corragh gave me my first views of the mirror calm Ben Crom Reservoir that I've seen many a time in a Gerry McVeigh YouTube video as well as a good impression of the rest of the circuit around to my destination above Hare's Gap. Off in the distance was the hugely impressive and craggy summit tors of Slieve Bearnagh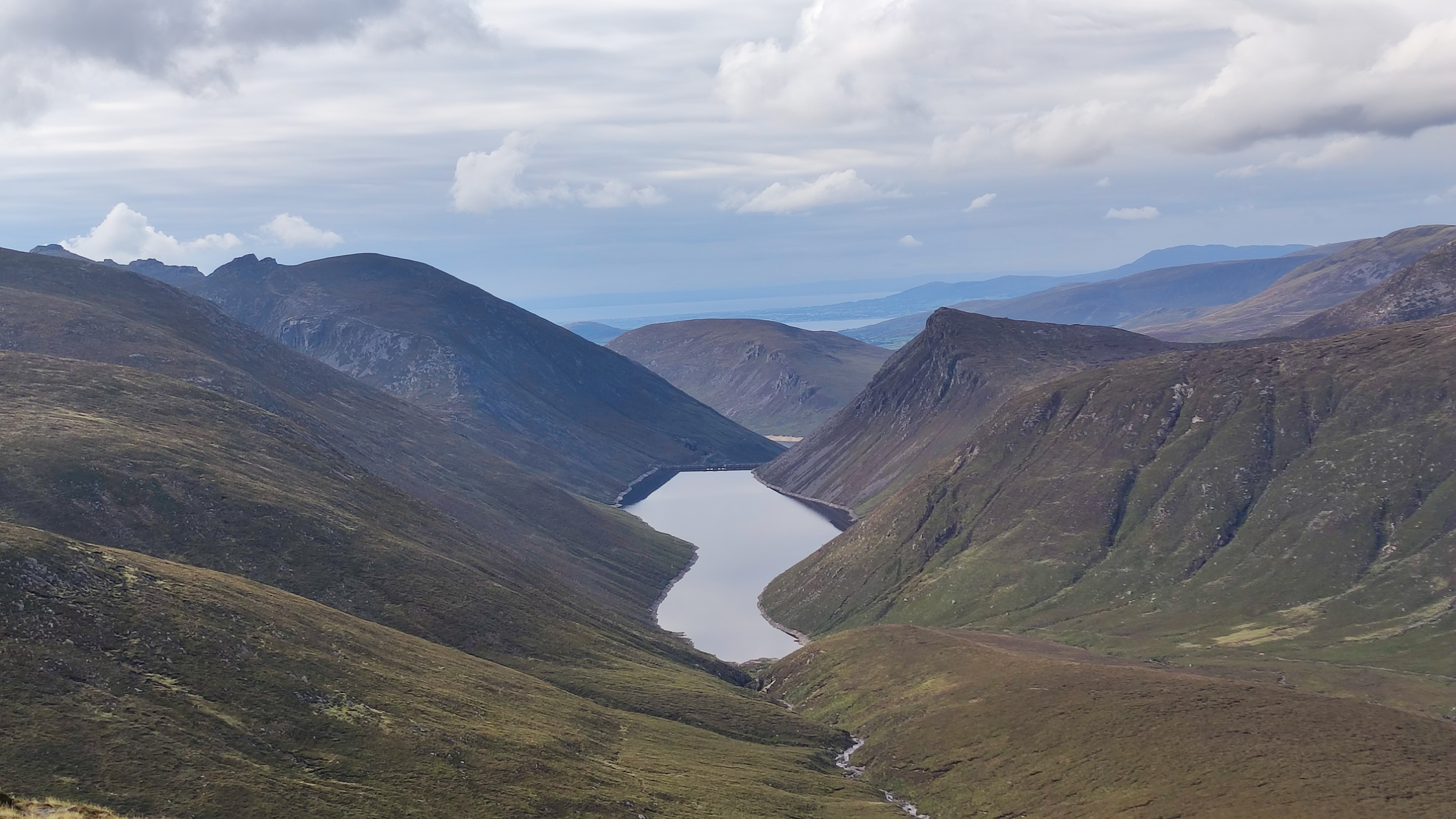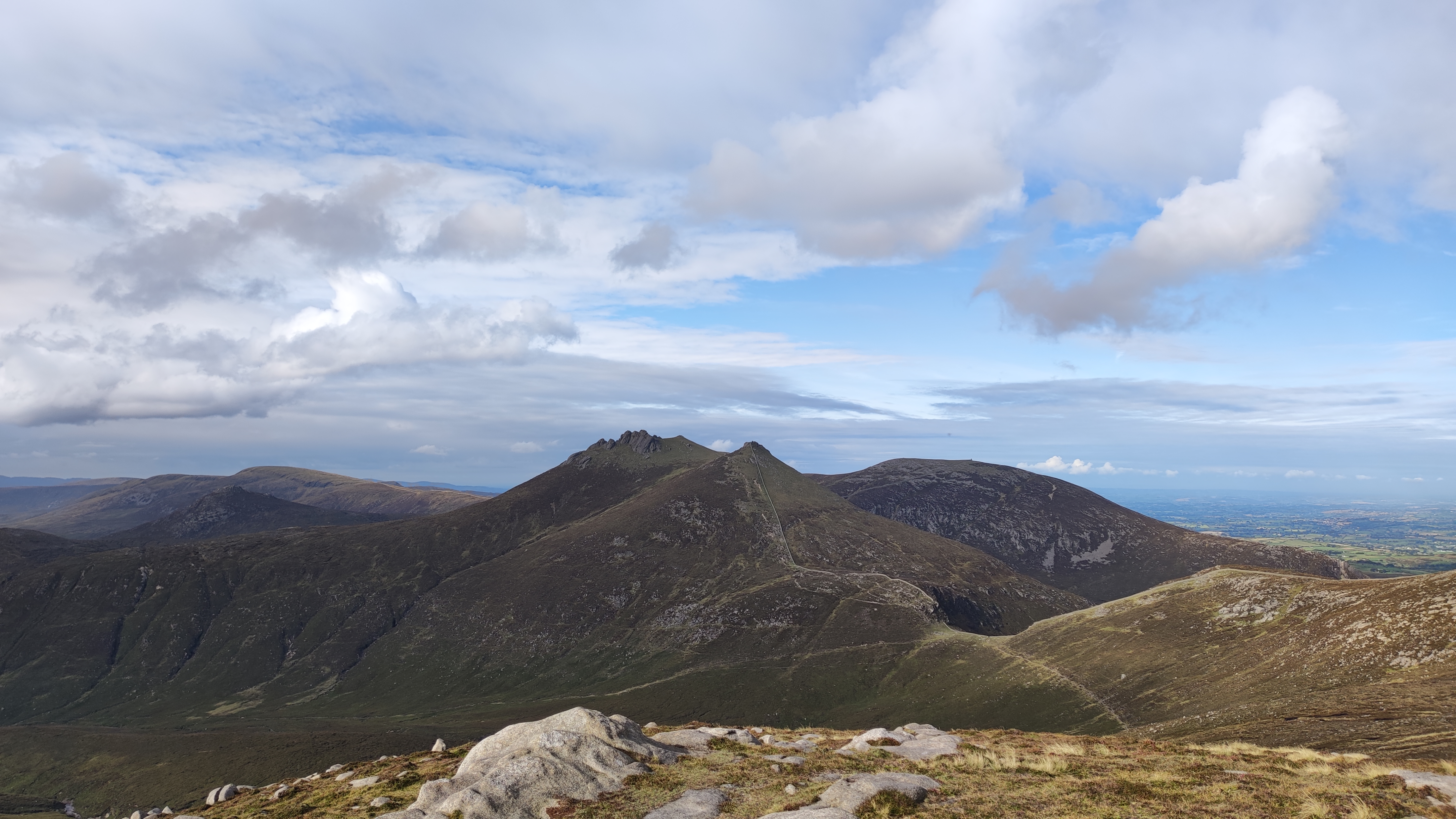 Leaving Corragh the clear path undulated along the wall before dropping down into a small col. The ground remained dry but significantly eroded in sections with the odd damp spot but nothing like what I'm used to at home. Climbing back out of the col I came to the first of two summits – Slievenaglogh East Top (575m). This is a reasonably undistinguished rock outcrop just beside the wall. Unfortunately it was once again on the other side of the wall! Not being a purist I decided that at less than 10m away and on the same elevation I was close enough as it was obvious that if I crossed the wall I would need to cross back again for the main summit. Mentally I ticked the box and mosied on.
One last small push was to bring me to the top of the main summit of Slievenaglogh at 586m and marked by another substantial cairn where two other walkers were having a lunch break. The summit of Slievenaglogh is covered with extensive rocky areas which give the mountain its Irish name of Sliabh na gCloch 'mountain of the stones/rocks'. In one of these rocky areas I got enough shelter from the slight breeze that had appeared to set up my stove for tea and a much deserved lunch break at what I figured was almost the halfway point. Sitting looking across at craggy Slieve Bearnagh I couldn't imagine a better spot.
Part II to follow….