The Heretics of De'Ath (The Chronicles of Brother Hermitage #1) by Howard of Warwick.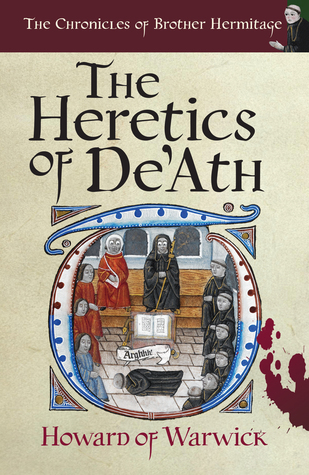 This post may contain spoilers.
This was recommended to me by my best friend who has read of number of the series and really enjoyed them. I really wanted to enjoy it too and tried really hard, especially as he recommended it, but I just couldn't get it. If it hadn't been for him I think I would have given up part way through and not have pushed through to the end.
The author has a very good style, reminiscent of Terry Pratchett and his humour. In fact I've seen this author compared to TP but there's absolutely no comparison. TP created a rich world full of diverse characters and detailed storylines. This, unfortunately, was incredibly dull!
Hermitage is a monk in a very weird monastery in medieval England. During a long and pointlessly obscure theological debate another monk apparently drops dead. Suspected of murder, tasked to report to the Bishop and eventually marked for execution Hermitage finds himself embroiled in a bizarre plot of political corruption to swindle money from a building project. Befriended by Wat, a weaver and dealer of pornographic tapestries, they attempt to find the truth.
It sounds interesting but that's about as deep as the story gets. The writing was humorous at times but infantile on many occasions. The lack of a story created a need for bizarre and incomprehensible situations to move the book along but it was ponderous with. When the cause of death is finally established and the political plot finally exposed it was simply ridiculous and I've actually forgotten what it was already.
A book with the potential to be very good and one I tried hard to enjoy but couldn't. I will try the next one to see if this was just a poor start but I won't be in any great hurry. There are 23 books in the series and the author has a loyal following so maybe I'm just missing something?
My Rating: ⭐⭐
Header image by Kaboompics .com from Pexels