On Sunday last week I went for my second guest walk with the Bluestack Ramblers Walking Club. My first was out to Inishbofin Island a few weeks ago. Before joining the Club I wanted to try a mountain walk to see if the group dynamic would be any different.
Turning up at the meeting point it was nice to see some familiar faces from the first day, to be recognised by some and to see some new faces also. The group demographic was quite similar but tilted more towards the older 60+ range. This surprised me as I expected a younger group on the tougher walk. There was also a good few more men this time and the mix worked well for socialising.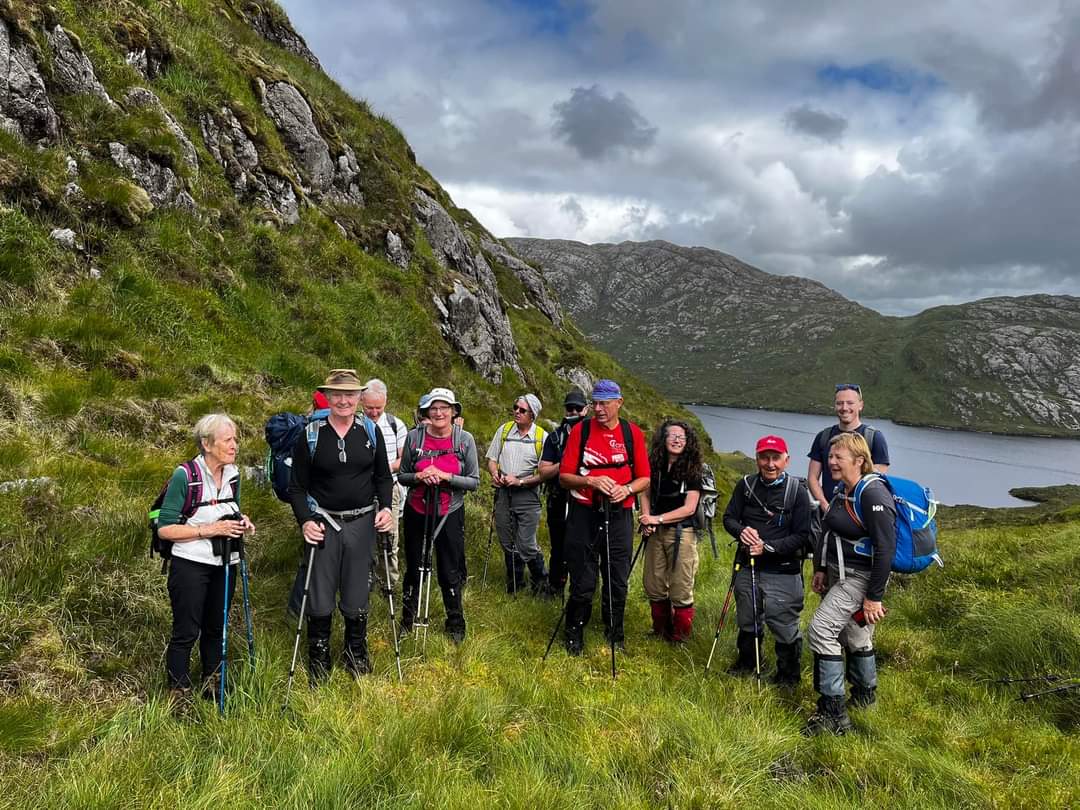 from bluestack ramblers facebook page
The walk started high above Lough Eske just outside Donegal Town. It followed part of the Bluestack Way before heading off into the lower slopes of the Bluestack Mountains. The initial terrain was gravel track before changing to a grassland and bog mix. Ground underfoot was damp and boggy at times but easily manageable. I was surprised how much easier going it was in comparison to the terrain on Barnes Gap. I think this area has been used much more for sheep grazing which has kept the heather at bay and kept the grass at a shorter length.
On the way up we were following a faint track that was either a reasonably well established hiker track or a sheep highway. Either way it was a convenient guide to a small river crossing with a waterfall, that must be impressive in Winter, and a climb up a small gully that brought us to the first of many small lakes.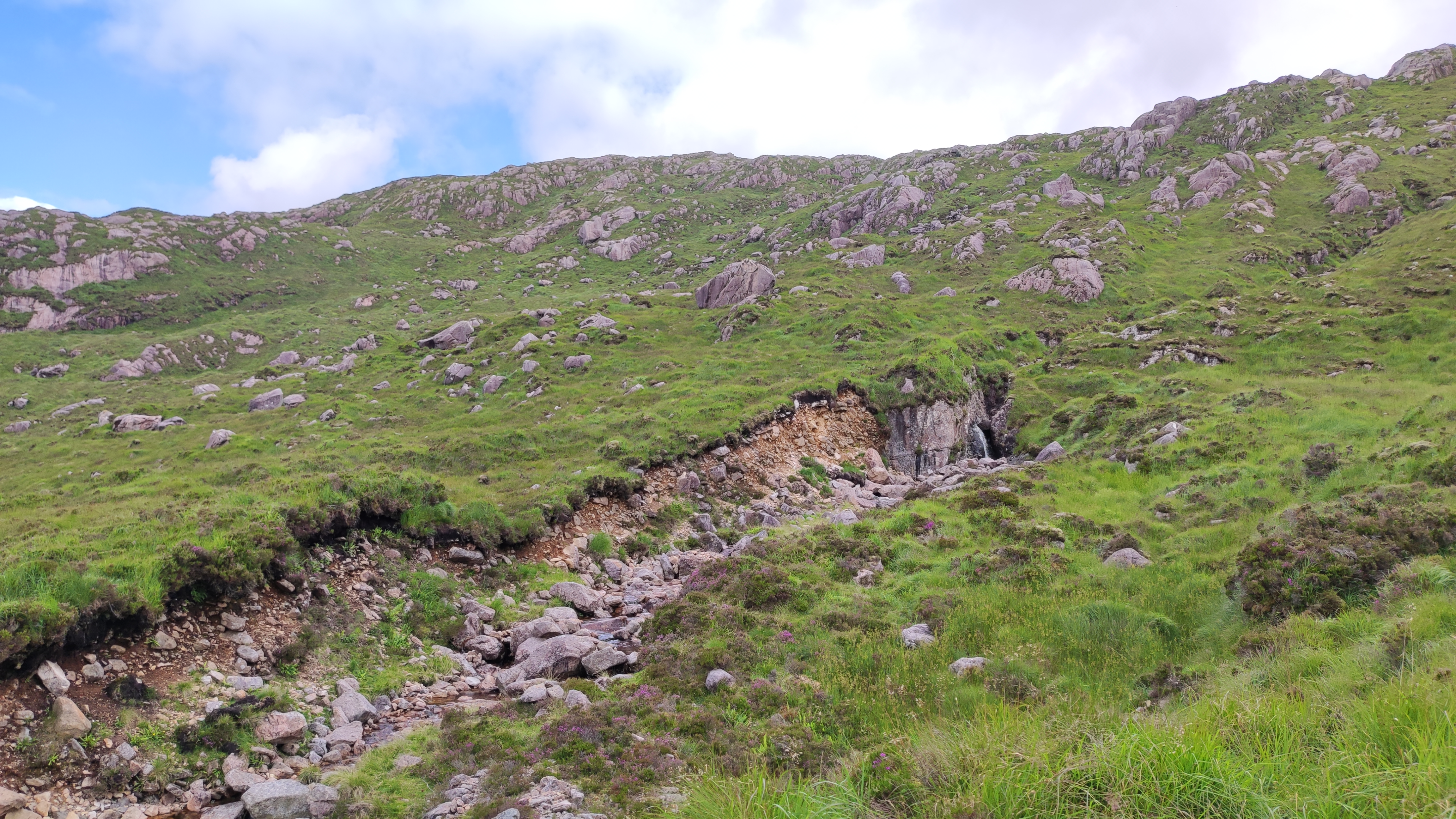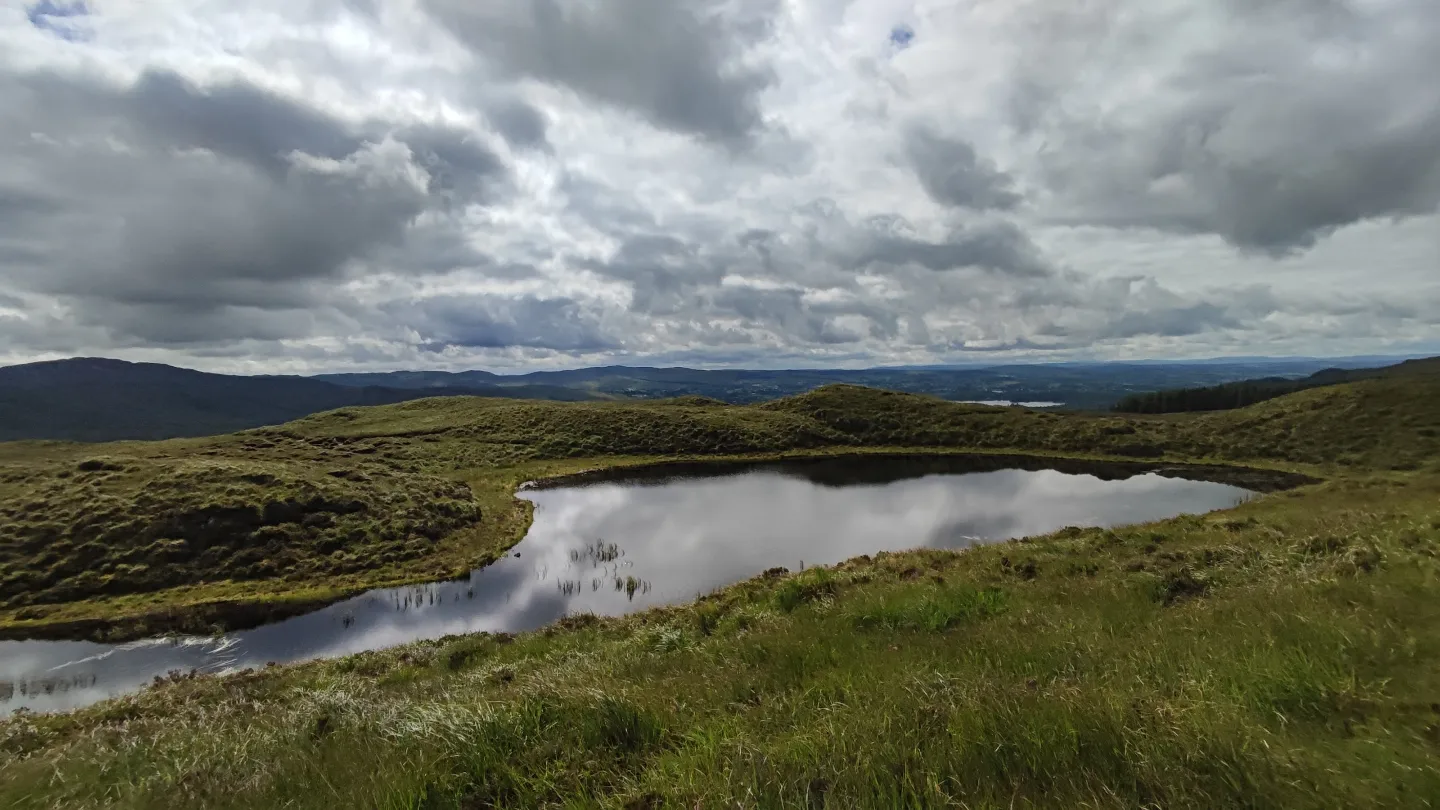 lough nacollum
Retaining the height we had gained we continued along the lower slopes of the main Bluestack ridge and were soon at a great viewpoint high above Lough Belshade. We had a great view of the basin the lough sits in and a great feeling of the surrounding higher hills.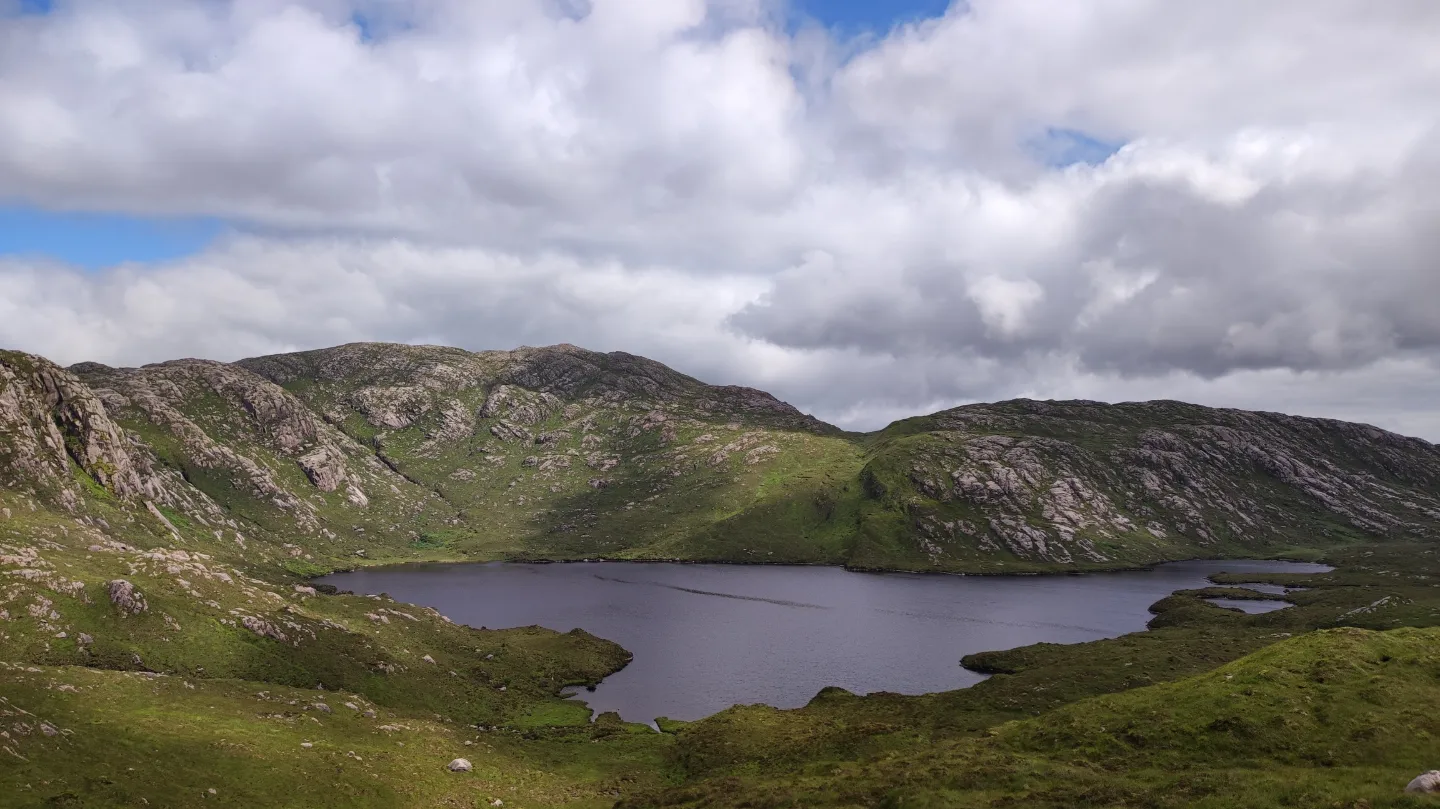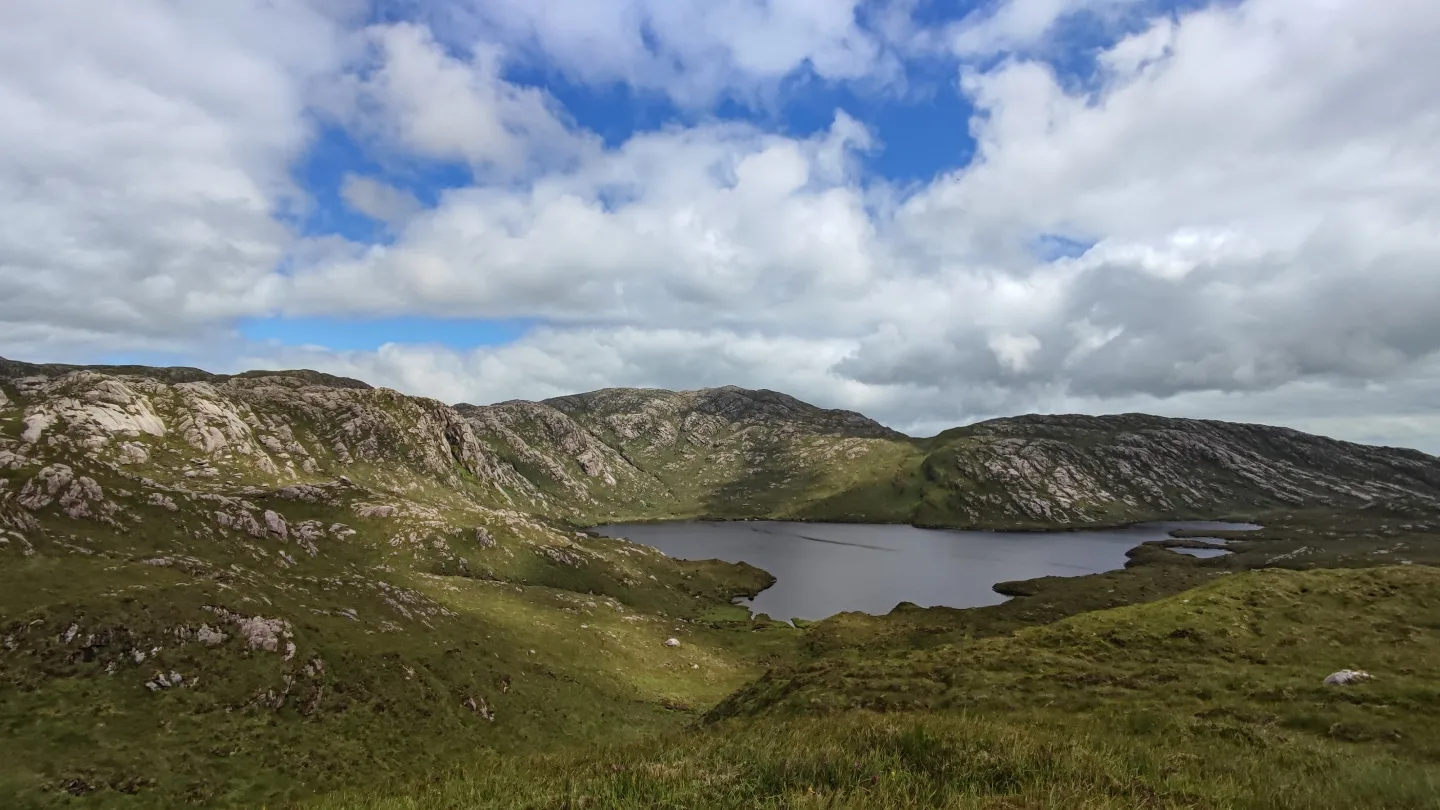 wide angle view
With a slight breeze and a great view this was to be our halfway point for lunch. However, the breeze quickly dropped away allowing the dreaded midge to rise, resulting in a very hurried lunch break and putting us quickly back on the track.
The way back was slightly different. We dropped down to a slightly lower level to wind our way among a few of the other small lakes and streams. This was a really nice walk back and I was surprised at the number and variety of little loughs as well as the small waterfalls and streams wending between each of them.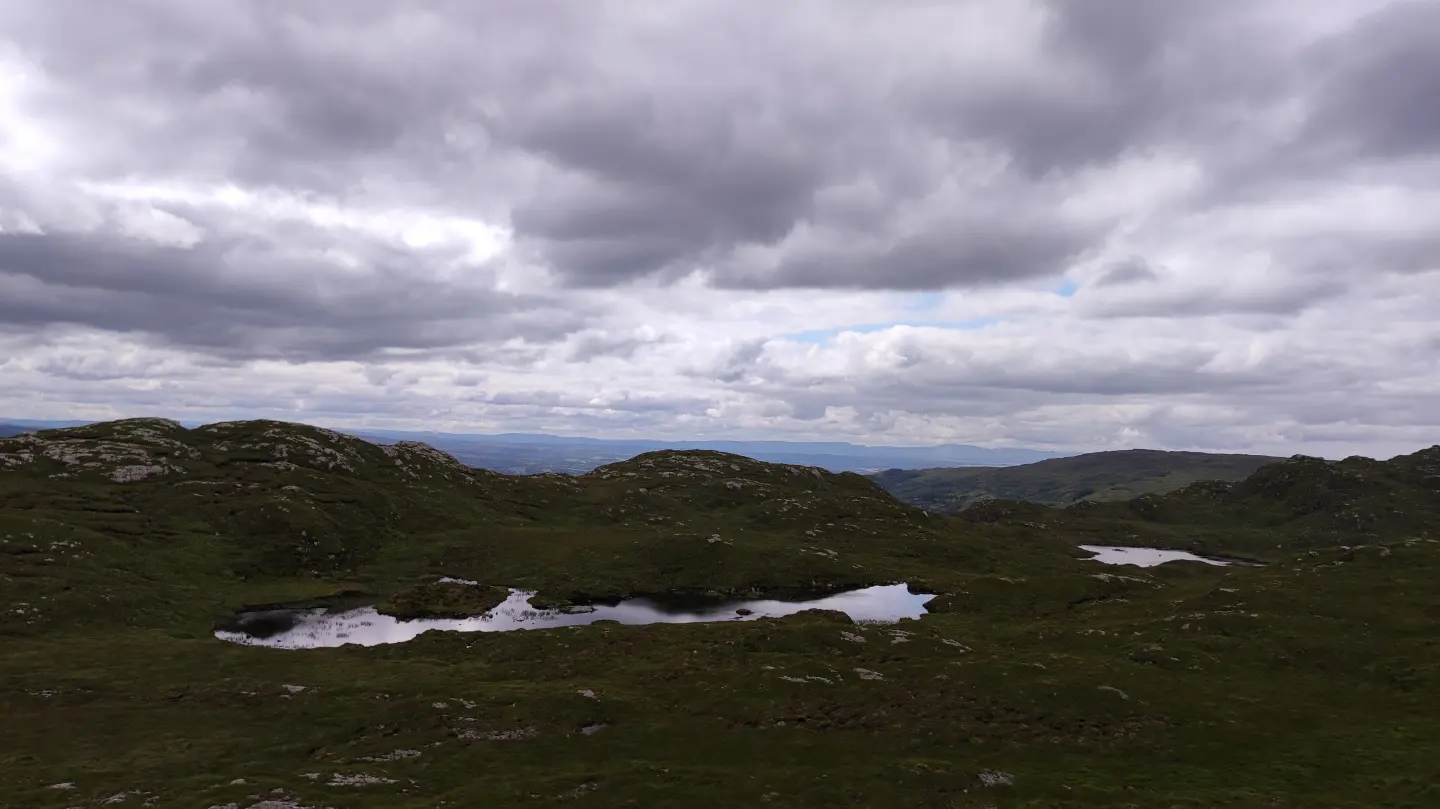 lough fad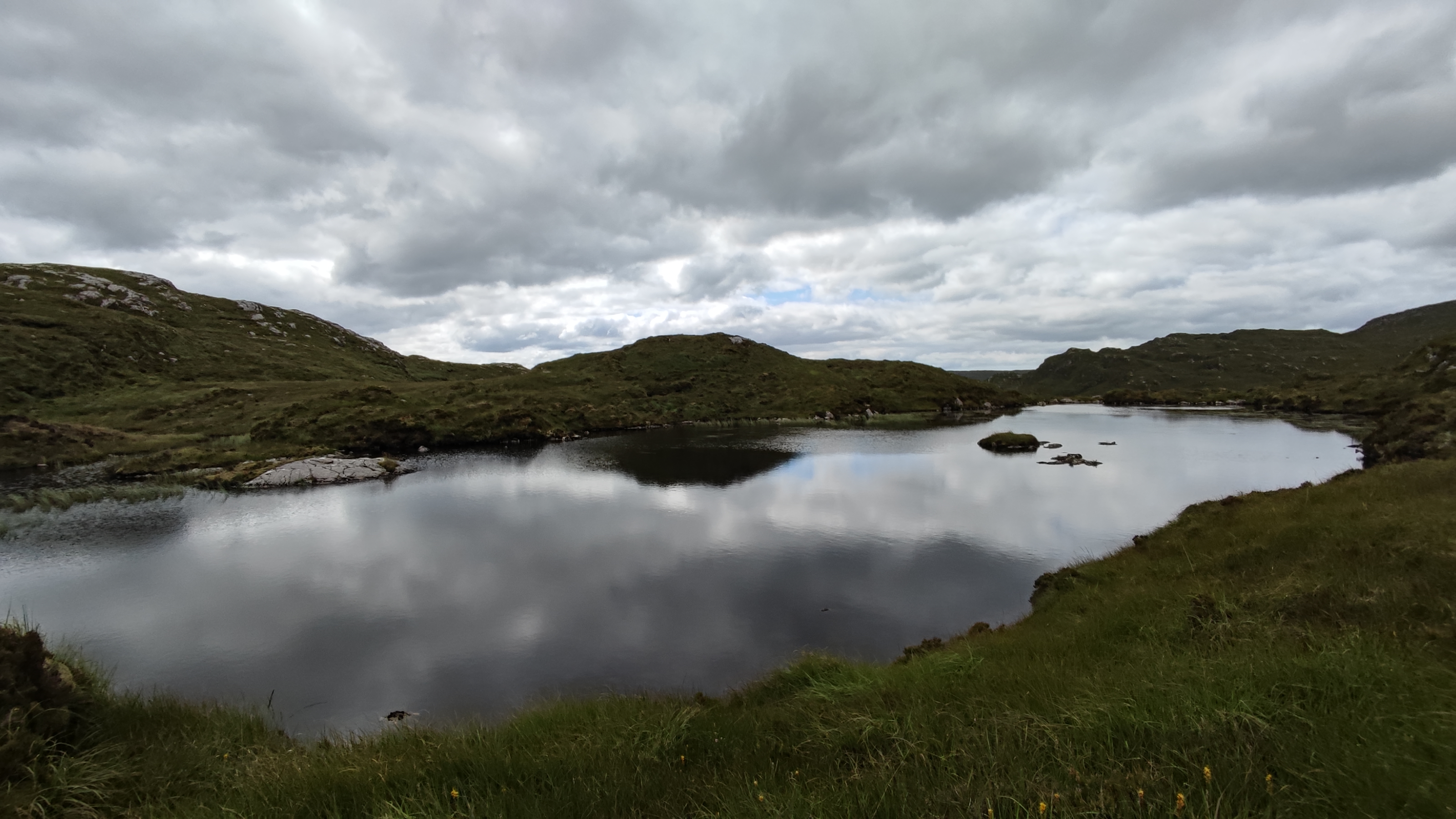 loughinisland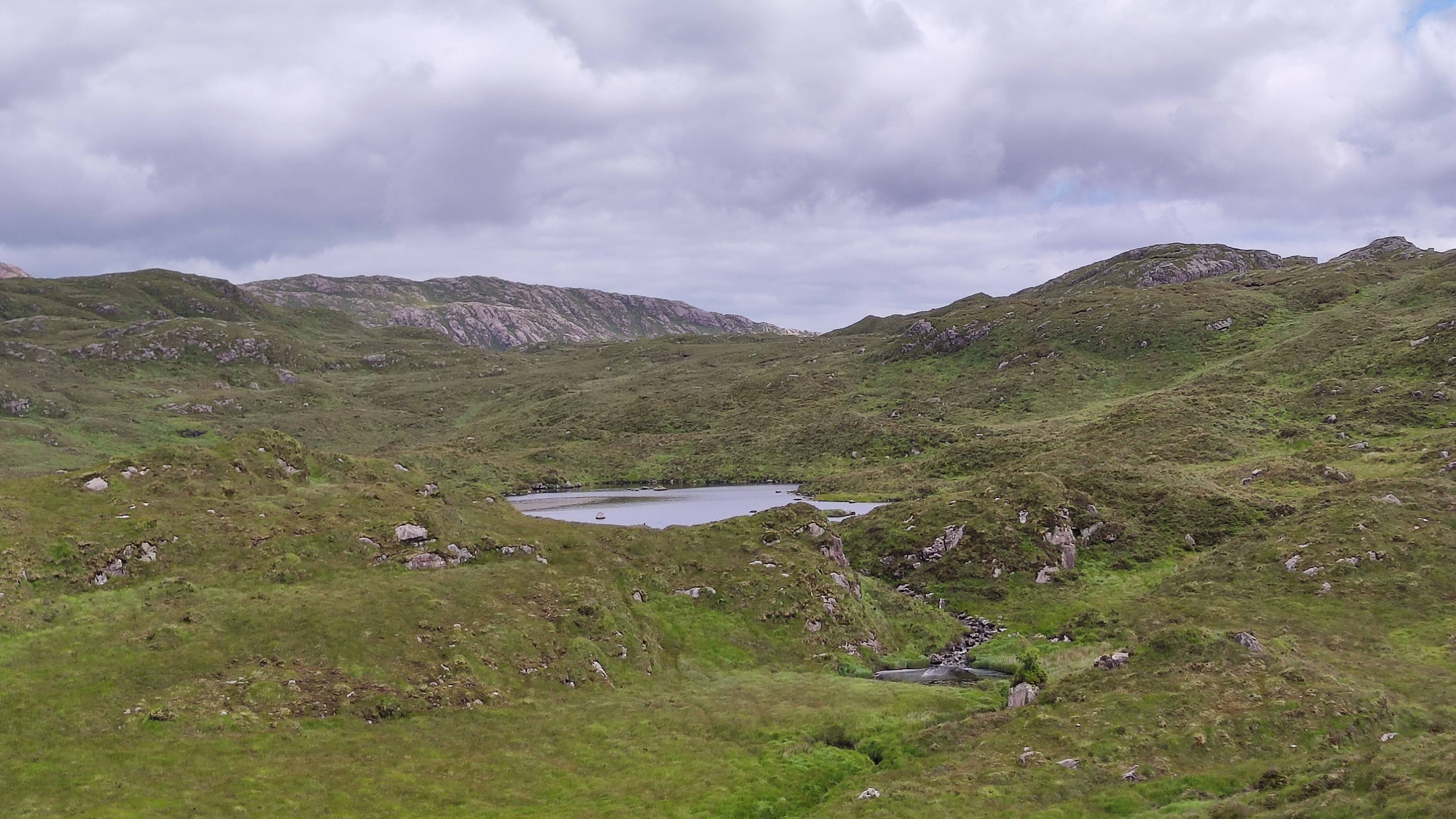 lough anabosin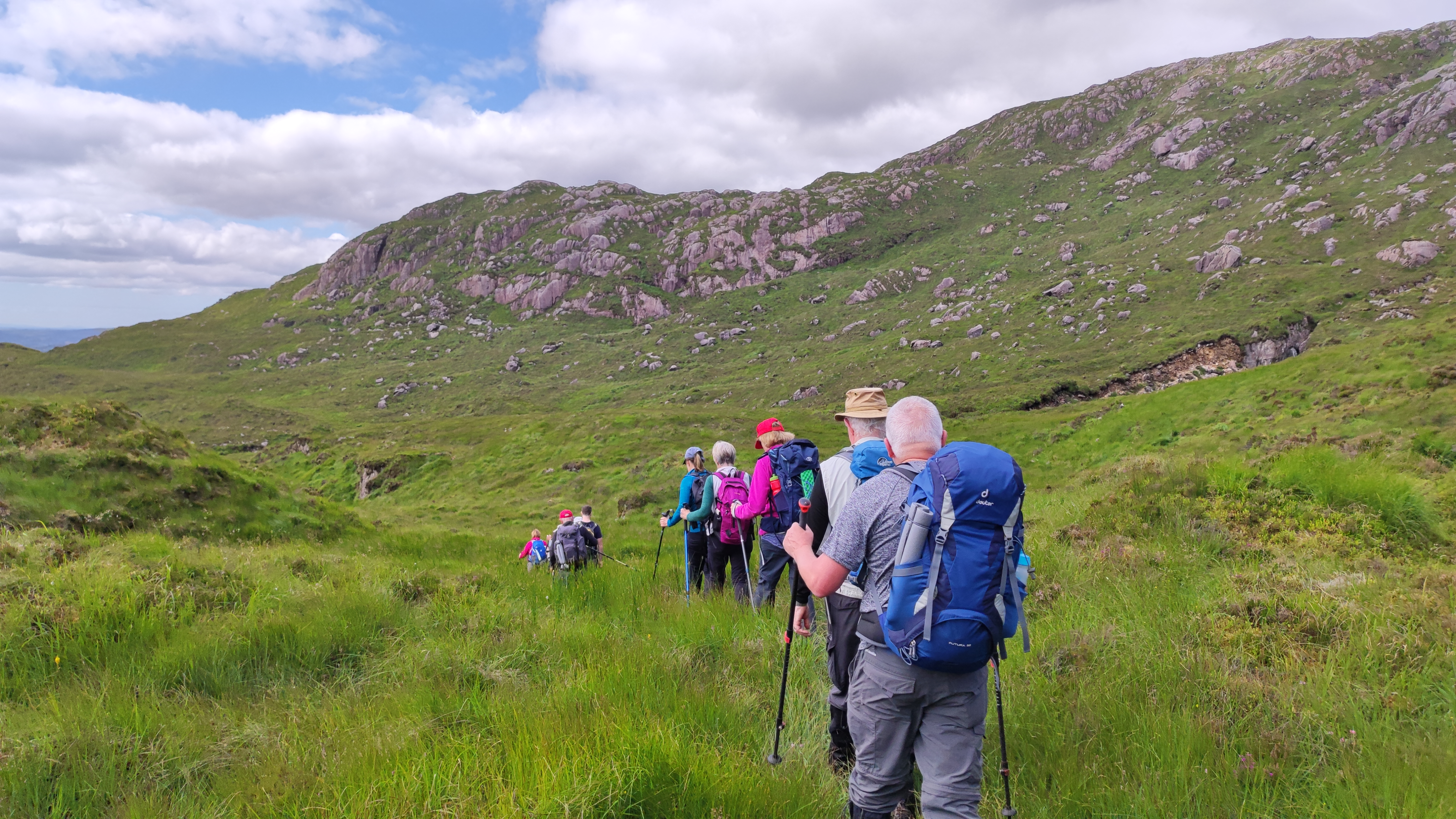 We soon arrived back at the gravel track and dropped down to the parking area where we started and I took the opportunity to enjoy the great views of Lough Eske that I missed getting ready to hike earlier in the day.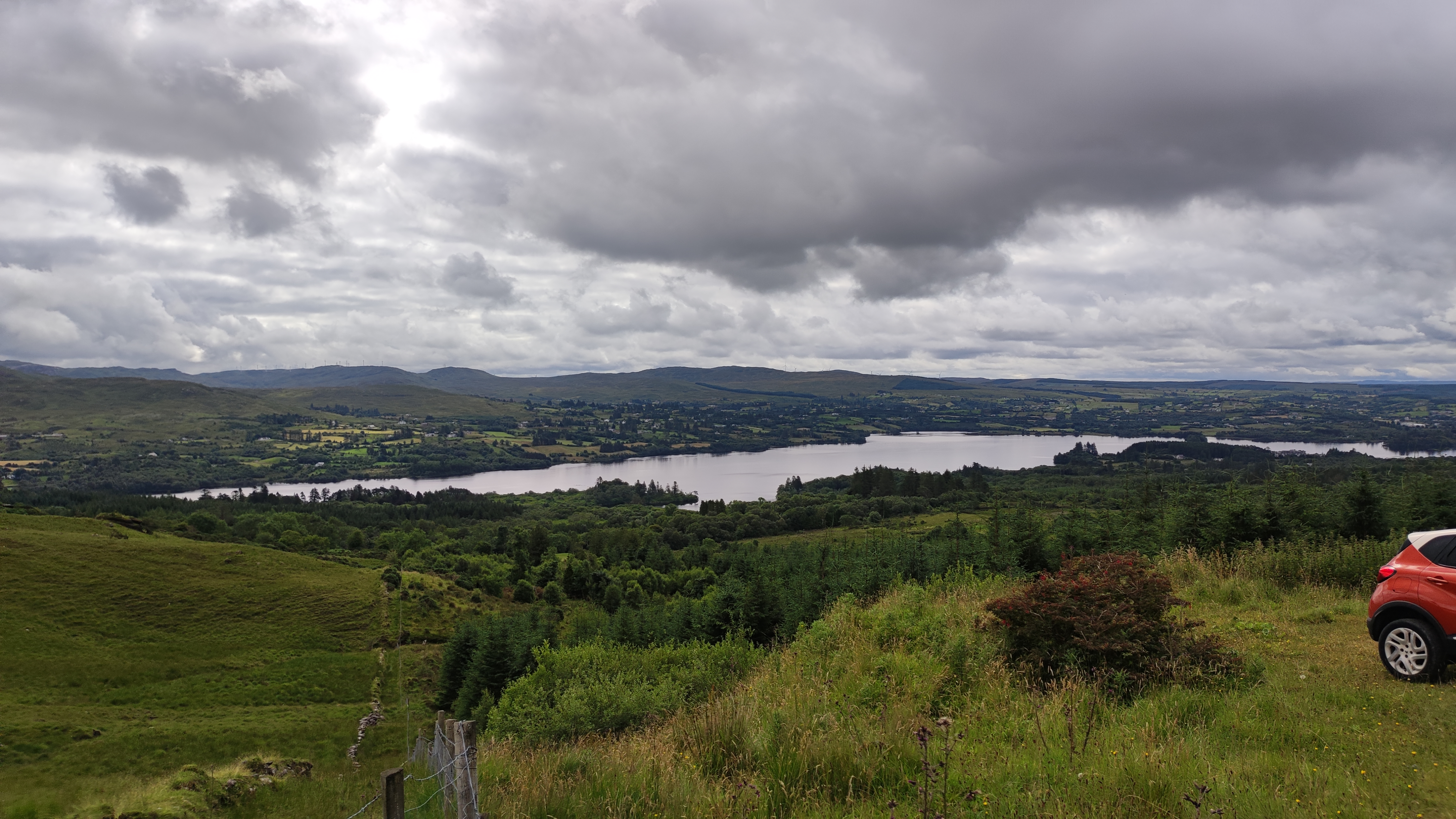 This hike was a very different experience for me. With it being a guided walk all the concerns about route and navigation were removed. While I was equipped and aware of my location, in case I got separated from the group, I didn't have to worry at all about where we were going and I was able to relax, enjoy the scenery and chat to other members of the group.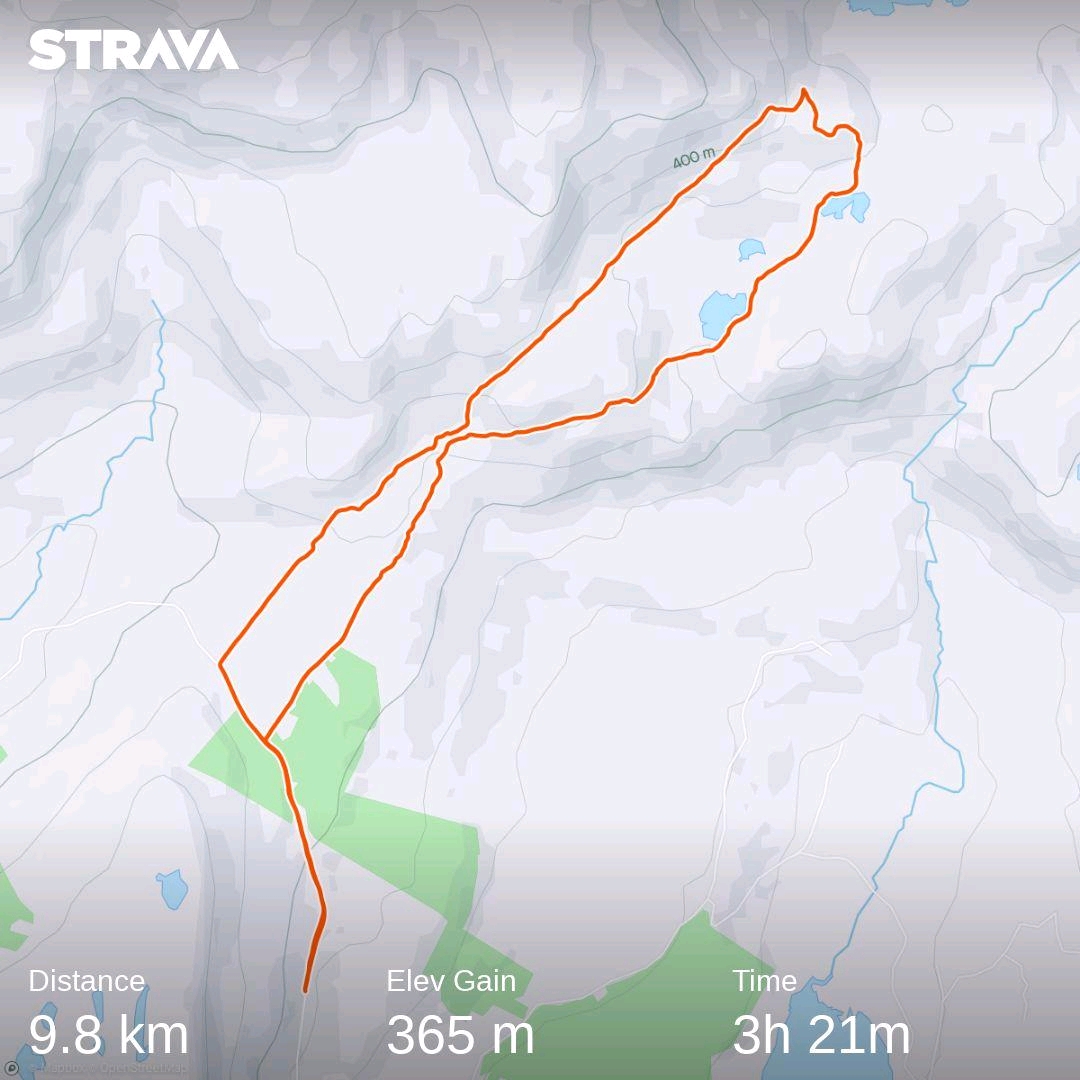 While I won't give up solo walking I've decided that I'm going to enjoy being a member of this club and have already signed up. There's a hike every Sunday and I'm planning to go on a more challenging walk next week up Dooish in Glenveagh.