Wit'chstorm (The Banned and Banished #2) by James Clemens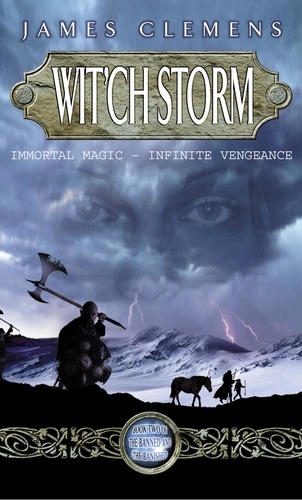 From Goodreads:
Elena bears the mark of the wit'ch upon her palm, the crimson stain that testifies to the awesome power of unimaginable potency: wild seductive, and difficult to control. Only a mistress of blood magick can stand against the foul minions and all-corrupting evil of the Dark Lord. But Elena is not yet the mistress of her magick. Protected by an ageless warrior and a band of renegades, she quests for a lost city where prophecies speak of a mystic tome that holds the key to the Dark Lord's defeat. But if the Dark Lord finds her first, Elena will become his most fearsome weapon.

A different form of power touches Sy-wen, girl-child of an ocean-dwelling clan that bonds-mates to the terrible and majestic sea dragons. But bonds more ancient still tie Sy-wen to the land she does not know, to a man she has never seen…and to a legend asleep in stone deep beneath A'loa Glen-a legend beginning to wake.

Now, as Elena and Sy-wen converge on A'loa Glen from land and sea, will the forces they unleash lead to a future of freedom-or an eternity under the Dark Lord's yoke?
My Rating: ⭐⭐⭐⭐
This picks up directly from the first book and after the first quarter I was starting to wonder how the story was going to last through 5 books without getting repetitive and potentially boring. Then there is a massive injection of new characters and storylines that really ramp up the complexity. Particularly liked how everything was brought together at the end of this chapter and looking forward to seeing how it develops further through the rest of the books. Although I read this series a long time ago I remember very little about the story except that it was good.
The section of the story with the Swamp Wit'ch reminded me quite a lot of Shota and Richard from the Sword of Truth series. The characters and stories are different but it just felt very familiar for some reason.
Header image by Kaboompics .com from Pexels