White Nights (Shetlands #2) by Anne Cleeves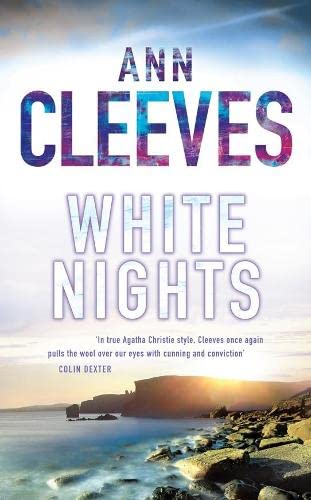 This post may contain spoilers.
We're back on the Shetlands once again with DI Jimmy Perez thrown into the midst of an apparent suicide that quickly becomes a murder investigation. It's set against the backdrop of Jimmy's developing relationship with Fran and the complex relationships between the small community in an isolated area of Shetland called Biddista. The people living there include an eccentric, high flying but now reclusive artist, her nephew who is a celebrity fiddle player and a fantasy author.
The author does a great job of building a very enjoyable plot as Jimmy wends his way carefully through the complex and historical relationships in this small community discovering many long buried secrets along the way. I've seen one review describe this as more of a murder mystery than a detective thriller and I can see why.
The standout of this book is the wonderful depiction of the relationship between Kenny and Edith, how they started their relationship and how it developed over the years. I also particularly liked how she described how Kenny dealt with the grief of his long missing brother.
Roy Taylor, a senior detective from Inverness, also returns in this story. I thought he was a good addition to the first book but struggled to see how he fit in here. He didn't add much to the story for me apart from a reason for Jimmy's insecurity which I found jarring. Jimmy's insecurity with Fran, a constant worry about how their relationship was developing, also felt wrong to me. It was these two elements that stopped me from giving it 5 stars.
Like all good murder mysteries there is a great final reveal. Many authors struggle to avoid a "Scooby Doo" type ending but Cleeves provides a fantastic surprise at the end of this story and one for me that I found very sad. There are no happy endings here but a wonderfully enjoyable book.
My Rating: ⭐⭐⭐⭐
Header image by Kaboompics .com from Pexels