In order to rebuild a good cycling habit and also build fitness I need to be cycling regularly through the week and spread out to allow for recovery between rides. As I have to fit this in around my full-time job it means I have no choice but to cycle at least 2 evenings a week. At this time of the year that means riding in the dark.
I've done a bit of night riding before but this has mainly been off road with the Club MTB group. There's a definite sense of security riding in the dark on chunky tyres and with company that is absent when riding a road bike solo.
To make things easier on myself I've chosen a route that is mostly on quiet country roads or with a good hard shoulder when I can't avoid the busier sections. The downside of this is that the roads are narrower and rougher. Meeting traffic can be difficult if they have bright lights or don't dip but so far I've had very few issues. In fact cars are often confused by my lights at night thinking I'm a much larger vehicle and holding back giving me space to pass safely.
Getting set up for night riding can be reasonably expensive but over the years I've already invested in good headlights, helmet light, tail light and reflective harness. I'm probably more visible to many drivers at night than during the day!
The most significant difference riding at night so far has been visibility. While my headlight is pretty bright and gives good coverage it is limited and I have to be careful that I'm not blinding other road users. Unless you have a floodlight style light with a high capacity battery it's never going to be as good as a car headlight so the limit of visibility will always be restricted and you have to ride to the limit of what you can see. This is where the rougher nature of the roads comes into play and speed is reduced as you have to keep a good eye for potholes or gravel deposits to avoid taking a spill or damaging a wheel. Apart from one heart-stopping wobble last night I've managed to avoid all of that so far too.
Last night was my 3rd night ride having lost last week to the snow and ice that covered most roads for 5-6 days. The first two were wet nights but last night was dry. I was pleasantly surprised how much this improved visibility. Not only did my light have better penetration, showing me more of the road, but the road itself was easier to see and read. When wet the road is a uniform black at night but it dries out to a much lighter grey with potholes and cracks showing up as darker patches. Much easier to identify and avoid. Gravelly patches are still difficult to spot though.
Reduced visibility means a reduction in overall speed. This suits me right now as I need to concentrate on building fitness rather than exhausting myself. With cycling you often need to go slower to get faster so that's my excuse for now! The need for less speed is most evident on downhill sections. It's just not possible to tuck in and fly down those descents when you can't see enough of the road ahead. It also has a pronounced impact on cornering. Normally on corners you need to look well ahead and the bike will naturally follow where you are looking. Only being able to see 4-5m ahead means I'm often looking at the wrong section of the road on a corner meaning the bike flows differently forcing me into corners at a different angle and having to scrub off a lot of speed.
Overall I'm enjoying the night rides so far. The roads are quieter and it's definitely adding a bit of variety. Last night was particularly enjoyable with a dry, mild night, less bulky clothing and that little bit of extra visibility. Having lost last week to what is hopefully the last gasp of winter, it's given me a new boost to keep going.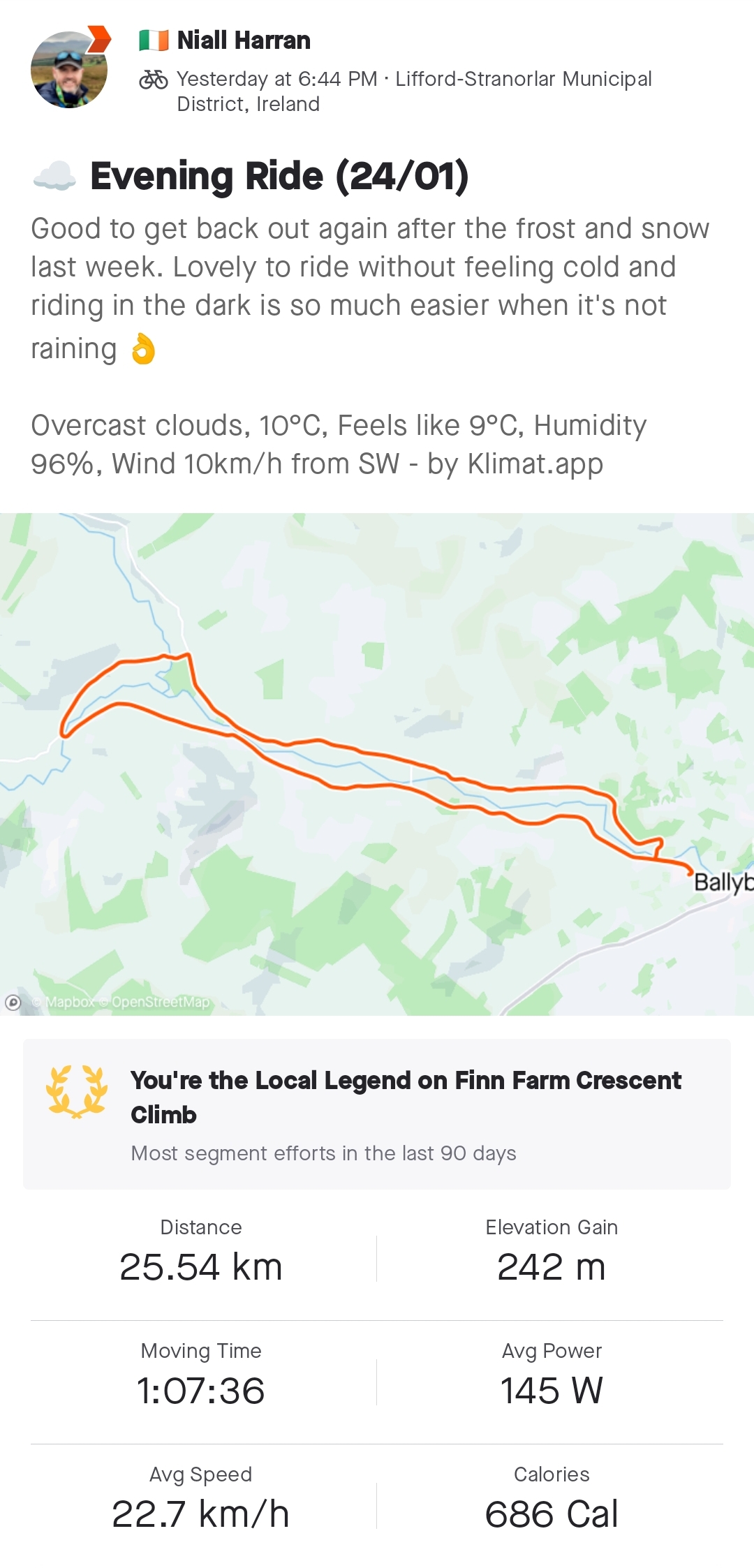 Header image by Reactual.com