Summer Knight (The Dresden Files #3) by Jim Butcher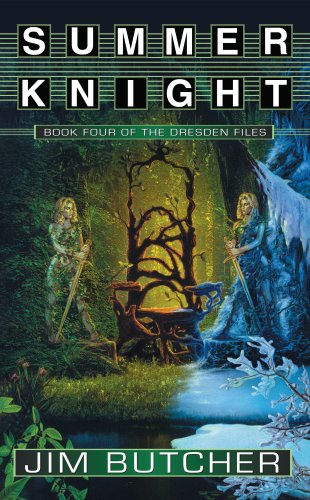 From Goodreads:
HARRY DRESDEN — WIZARD

Lost items found. Paranormal Investigations. Consulting. Advice. Reasonable Rates.
No Love Potions, Endless Purses, or Other Entertainment

Ever since his girlfriend left town to deal with her newly acquired taste for blood, Harry Dresden has been down and out in Chicago. He can't pay his rent. He's alienating his friends. He can't even recall the last time he took a shower.

The only professional wizard in the phone book has become a desperate man.

And just when it seems things can't get any worse, in saunters the Winter Queen of Faerie. She has an offer Harry can't refuse if he wants to free himself of the supernatural hold his faerie godmother has over him–and hopefully end his run of bad luck. All he has to do is find out who murdered the Summer Queen's right-hand man, the Summer Knight, and clear the Winter Queen's name.

It seems simple enough, but Harry knows better than to get caught in the middle of faerie politics. Until he finds out that the fate of the entire world rests on his solving this case. No pressure or anything..
My Rating: ⭐⭐
Although I managed to get to the end I really struggled with this book. The storyline just didn't work for me. The blend of fantasy and crime investigation just didn't work, it was just too outlandish and unbelievable. The fantasy element was way off the scale and the frenetic pace of the story hampered my ability to get to grips with anything that was going on. I was just reading it on auto pilot most of the time!
According to Goodreads reviews the series improves a lot from the fourth book so I will keep going with it but after this I would be tempted to give it up.
Header image by Kaboompics .com from Pexels