For some reason I've recently had a real hunger for hiking and walking rather than cycling. I've signed up for a fundraising 310,000 Steps in March Challenge (more info below) to give me something to work towards and to keep my motivated through the month. My hope is that consistent walking will build strength in my legs that will give me a head start when I rediscover the urge to get back on the bike.
After a terrible couple of weeks of storms and heavy rain we have had a wonderful week of calm, bright weather. Watching the forecast all week it was clear that today was to be one of the best.
Through the week my half marathon walk from last year had been tickling away at the back of my mind and I had a plan for an early start and a long walk which somehow became known in the house as "the big walk" – I may have been talking about it a bit too much!
I woke shortly after 5am and had an unsettled couple of hours which delayed my early start until 10am. Probably a good thing as we had a hard frost overnight but the sun was well up by 10. Throughout the day it was chilly but beautifully sunny and calm. Out of the sun though it was cold with ice still in the puddles at 3pm in the shaded spots that hadn't seen sun all day.
My previous big walk was slightly over 21km but I had an urge to top that. At the 19km mark I veered off my previous route into the forest, overlapping my route from last Sunday. Close to home I realised that I was going to finish at about 24.5km so I overlapped part of my earlier route from the morning before doing a U-Turn and heading home. I finished with 25.15km, tired and sore legs but feeling great. My longest walk ever was 30.5km and I hope to be able to beat that by the end of March 💪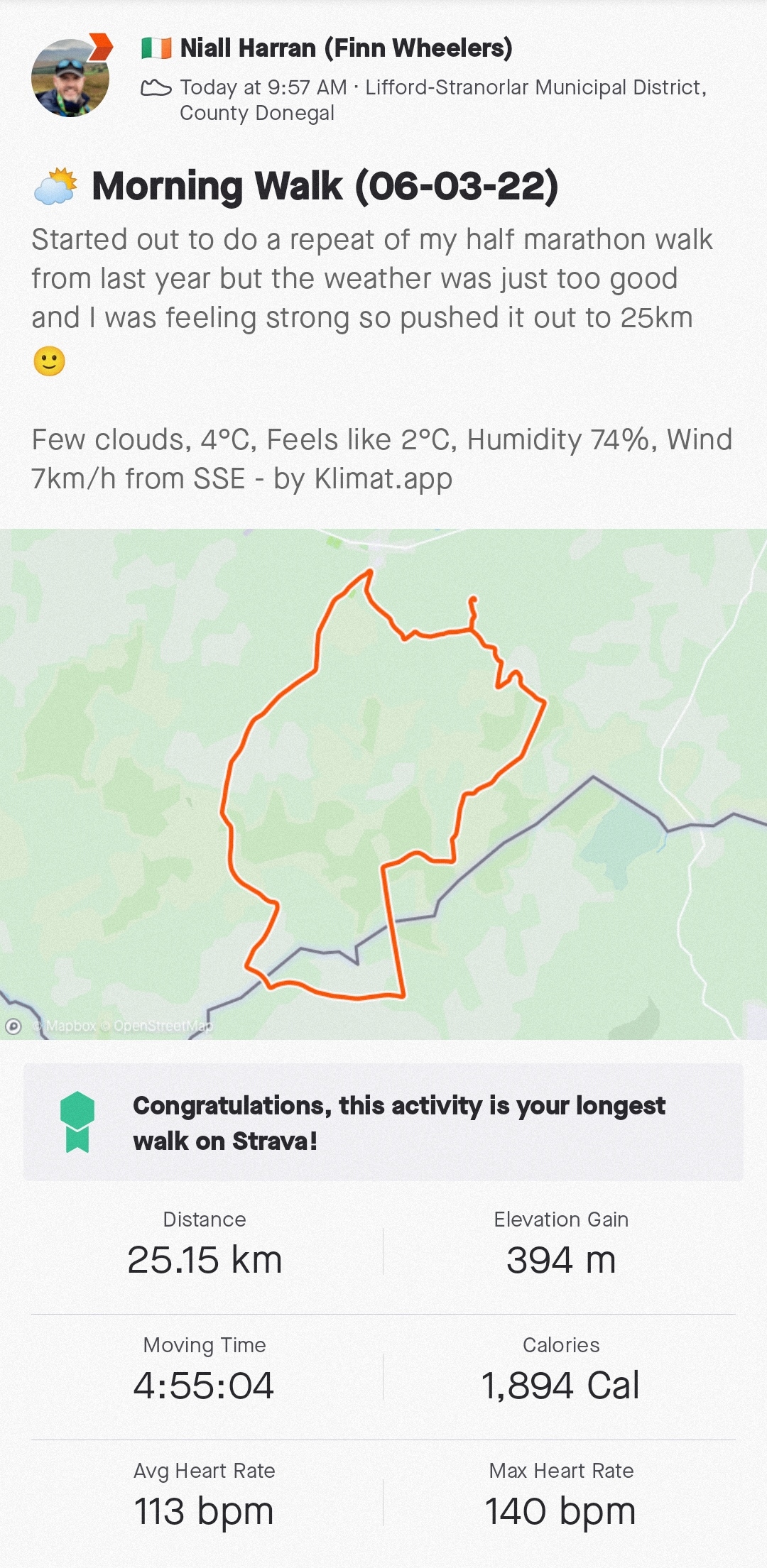 310,000 Steps in March
This is a fundraising challenge for Irish Community Air Ambulance. The challenge is to walk an average of 10,000 steps per day for a total of 310,000 for the month while raising money.
No pressure but if you want to support this fantastic charity please follow the link below. Big thanks to those that read this blog and have already donated, it really is very much appreciated.