I'd given over today to getting some chores done. A couple of household jobs I'd been putting off for a while and giving my MTB a good clean and lube as well as changing the seat. I'm planning to MTB at least once a week with the club group but needed to make sure the bike was in good shape.
I'd everything sorted by 4:30pm and with a lovely mild and bright afternoon I felt the need to get some fresh air and stretch my legs. Croaghan Hill was my target as it's a decent effort, less than an hour and not too far from home.
croaghan hill
I've climbed Croaghan before and when I checked my records I was shocked to see it was almost 9 years ago!
a very young rosie at the summit trig nov 2012
The start location is up a very minor road off the main N15 close to Lifford. The road surface deteriorates considerably for the last 400m but it's manageable with care. The suggested parking location is beside a field entrance gate where the verge widens enough to squeeze in a single car.
The route to the summit crosses a number of fields and fences requiring careful navigation of barbed wire and considerable flexibility. Once over the final fence the route goes through a section of scrub thick with brambles and gorse along the line of one more fence. Last time I went along the downhill side of the fence but this looked more overgrown now and I decided to go uphill today. This was a mistake as the downhill side quickly thinned out whereas I continued to work through knee high heather, brambles and gorse. Eventually I was able to cut left and make for the summit.
The top of the hill is an ancient hillfort and the unmapped trigpoint is built slap bang on top of what is believed to be a burial tomb. It's believed to be the tomb of no lesser being than Ithe who was the uncle of Milesius, the first of the country's legendary invaders. He was killed in the Battle of Mag Itha (Finn Valley), the first recorded battle in Ireland, against the Tuatha De Danaan and buried inside the Bronze age hill fort on top of Croaghan Hill. He was buried in the highest point in this area so that even in death people would still have to raise their heads to look at him. His tomb is known as the Foyde.

It's also believed that one of the stones of nearby Beltany Stone Circle was sourced from Croaghan Hill and transported the 5km to Beltany.
For such a short walk (approximately 20min) and a modest height of 217m this hill has fantastic views in all directions. I could see across Strabane to Knockavoe where I was last week and further into the Sperrins, west to Barnes Gap and the Bluestack Mountains with the sun setting behind them, north west to Mongorry Hill sitting above Raphoe with Beltany Top and stone circle in between and finally north to Inishowen. The weather this evening was perfect for enjoying this beautiful view of my local area.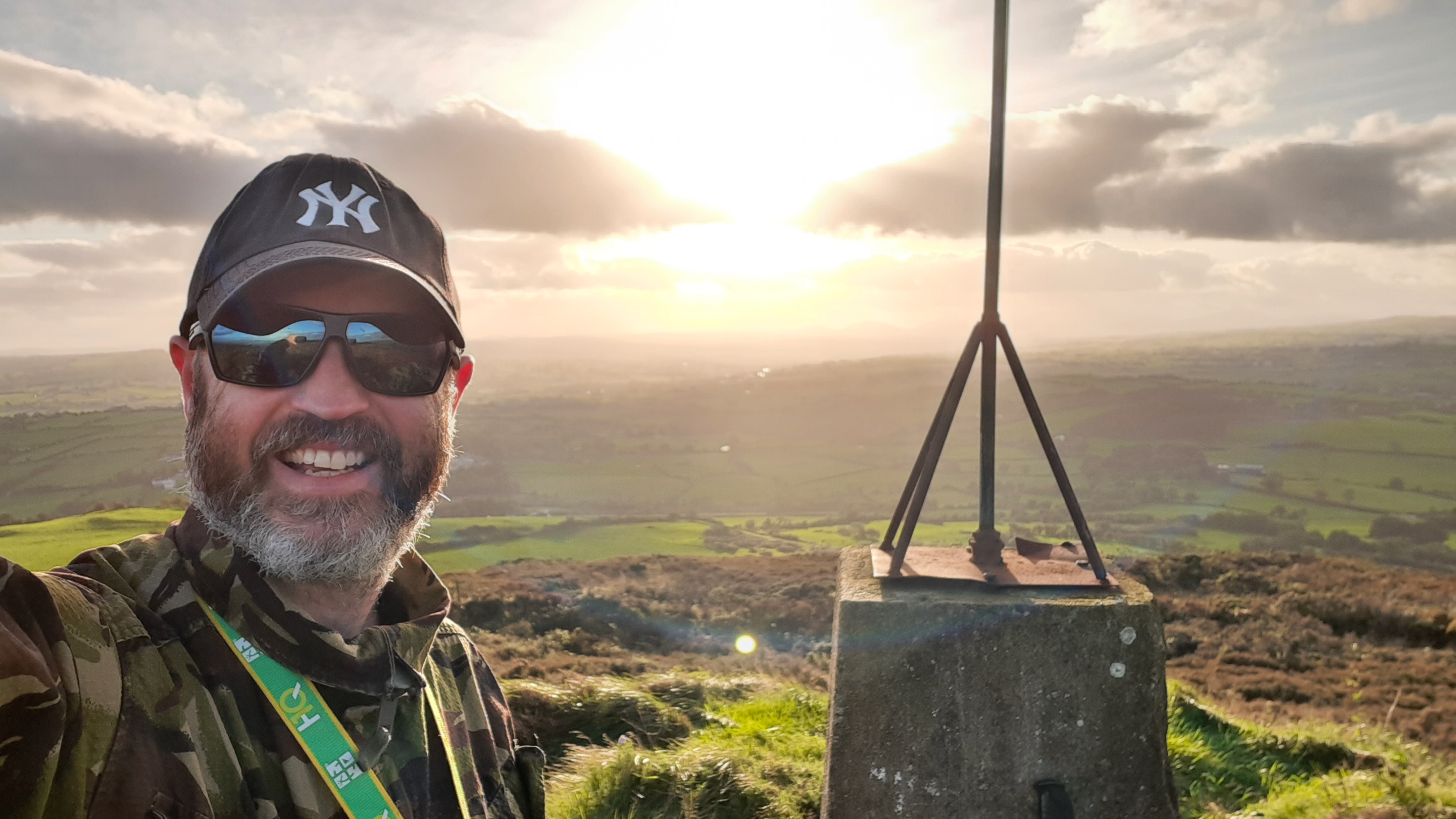 summit selfie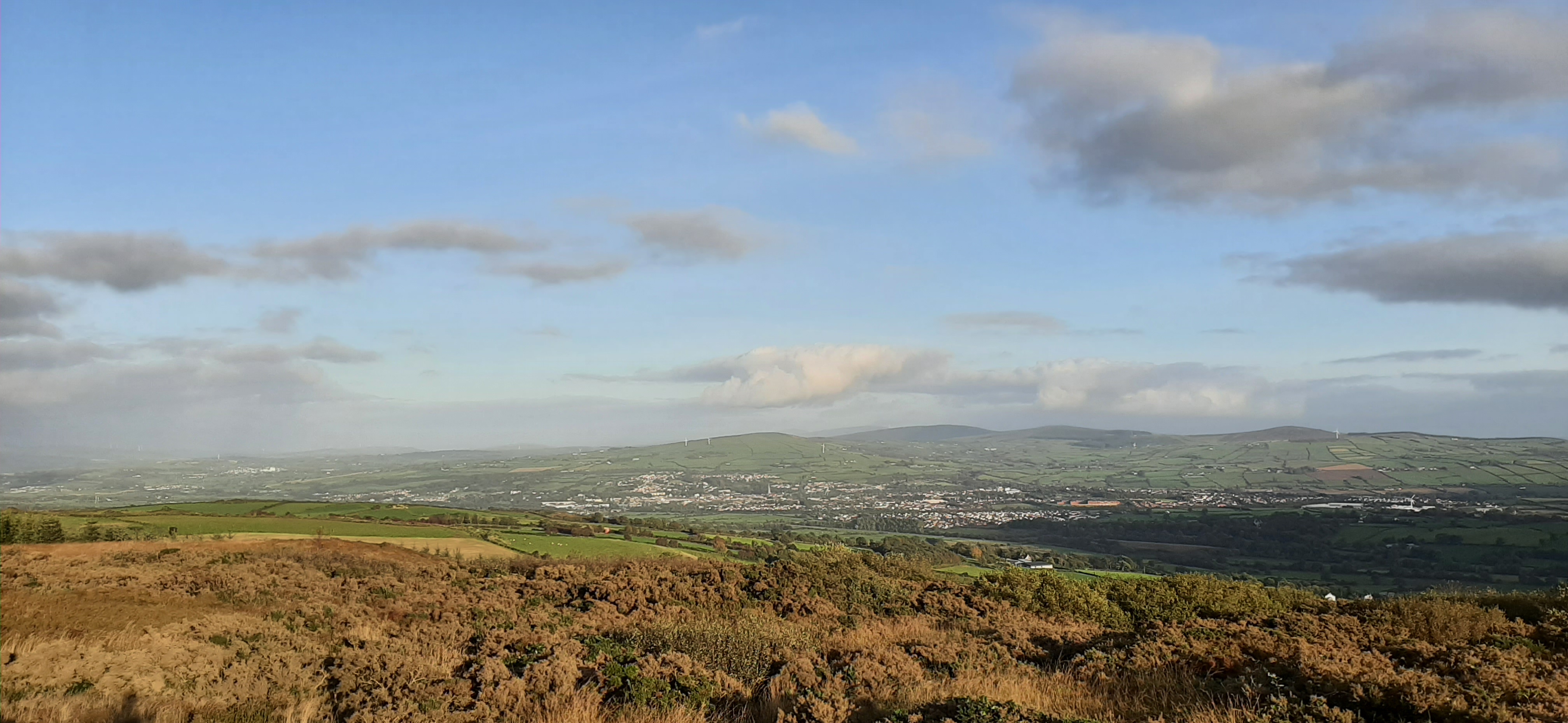 strabane, knockavoe and sperrins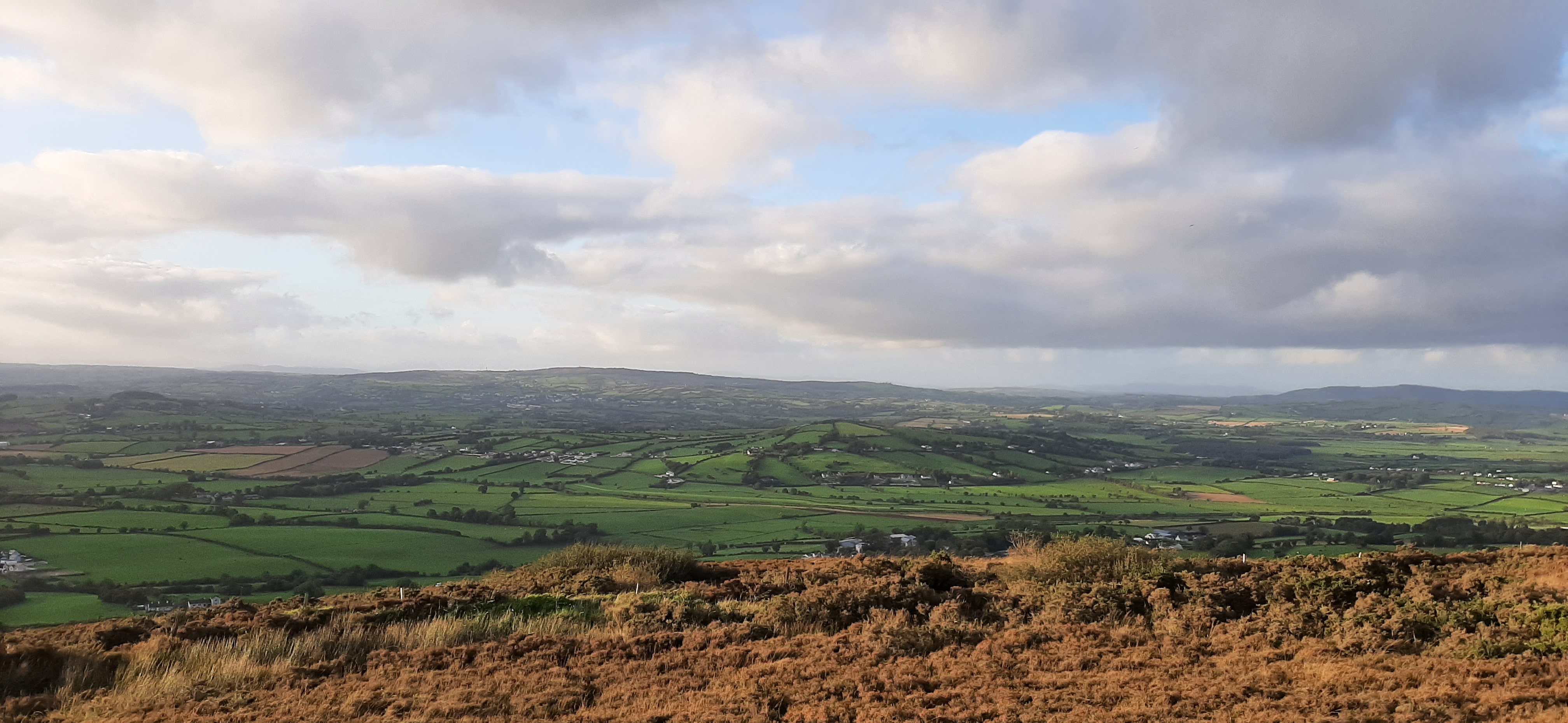 mongorry hill and beltany top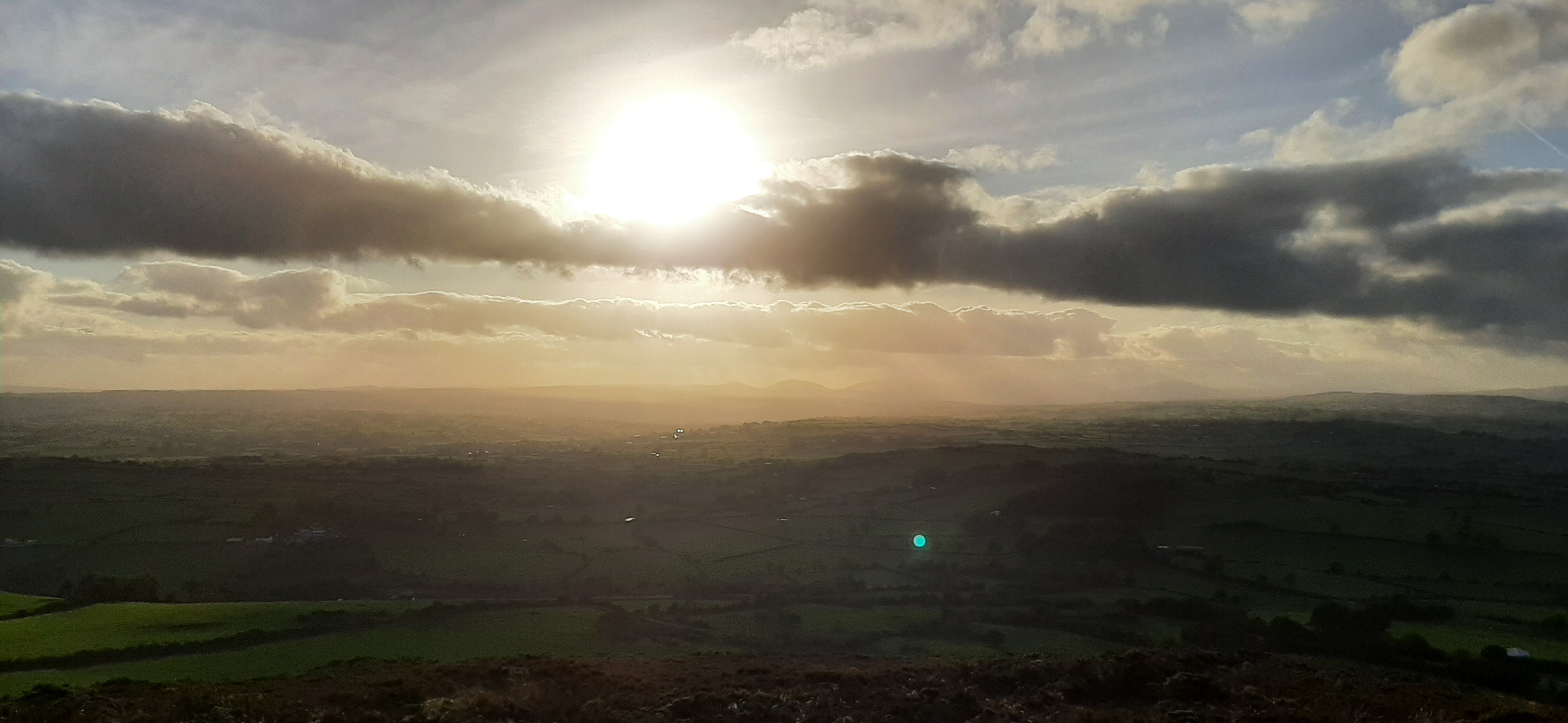 bluestacks and the setting sun
On the way down I followed the surprisingly obvious track off the summit to the fenceline. I was able to cross easily and follow the fence back to the fields. The track also seemed to go left and down a different route but I didn't want to waste time exploring as I had another plan in mind.
The path back downhill was much better but care was required as there's only a thin layer of soil over rock and it was very slippery in sections. The last 20m was a jungle of brambles and gorse making me regret the thin leggings I was wearing.
On my last visit I managed to partly dislocate my left knee when crossing one of the fences (previously dislocated and weakened and still gives me problems). I was relieved to get across this hurdle and back to the car in one piece today. At just under 2km and 45min in total it was a great mini hike to cap the day.
Croaghan Hill on Mountainviews.ie
fearns hill
My initial plan was to head straight home but with more time than expected I decided to make a slight diversion on the way home and tick another small hill off the list.
Fearns Hill is only 231m, a short walk from the road and the second closest hill to home on the MountainViews list.
Although it's had a good few visits only one other member has written a log. Not having much daylight left I decided to follow his directions rather than trying to plot my own route. These directions brought me to a very minor road and a tiny parking spot at yet another field gate just 275m from the summit coordinates.
I climbed over the gate, which is part of a cattle holding pen and headed across the field following the GPS arrow and bringing back memories of my geocaching days. I soon encountered the field boundary with a single strand barbed wire fence and a second fence higher up. I soon discovered that the first fence was electrified as the mild tingle kicked up my fingers and into my lower arm so I decided it was prudent to duck under rather than step over!
The second fence sits atop an embankment with a dry ditch on the other side. The hill rounds off above this. It brought to mind a hillfort and looking at the OS map at home it's marked as an ancient Rath.
The top of the hill is now a farmer's field with a few nondescript humps, one of which is the highest point. Close by on an exposed rocky outcrop is the remains of what appears to be a small concrete building. It's unclear what it was but it may have been a forerunner of the nearby communication masts.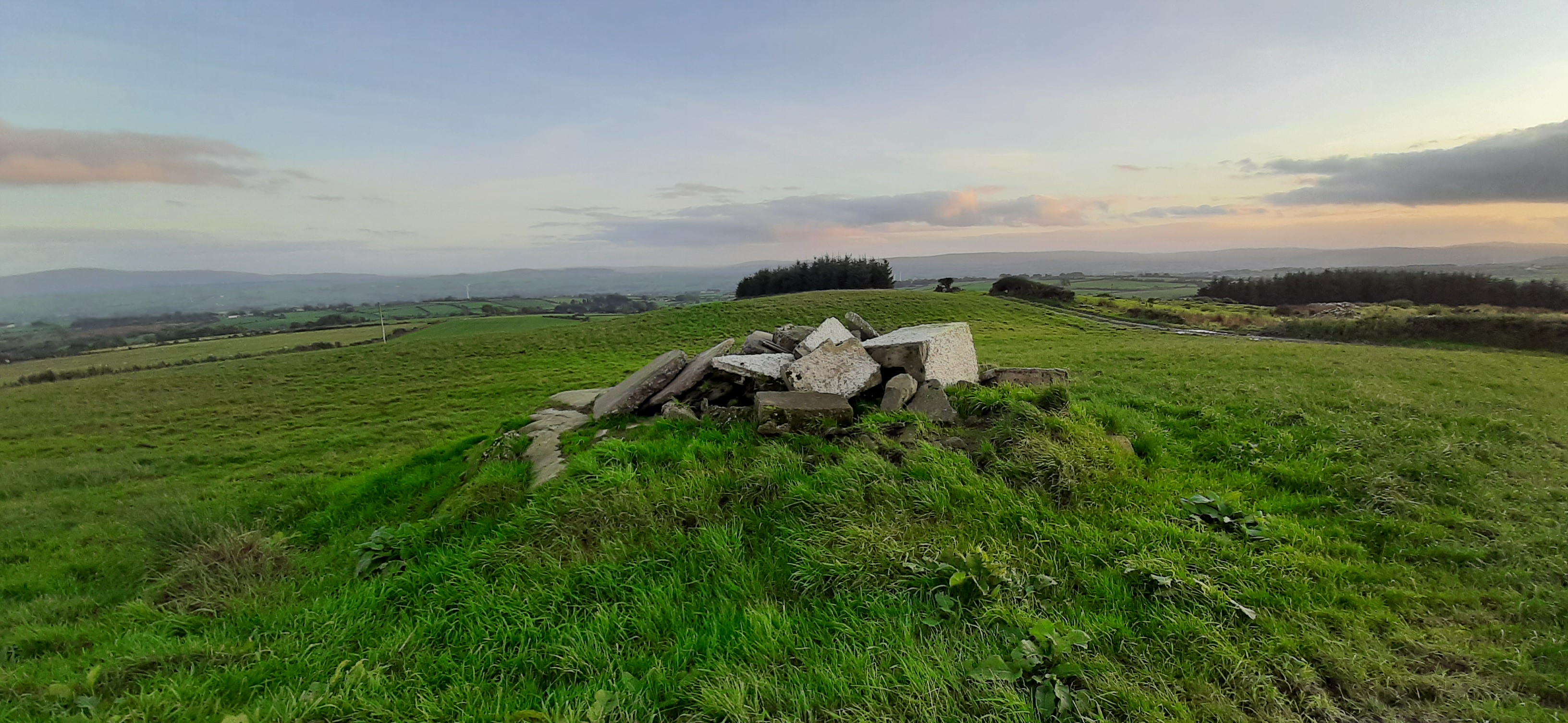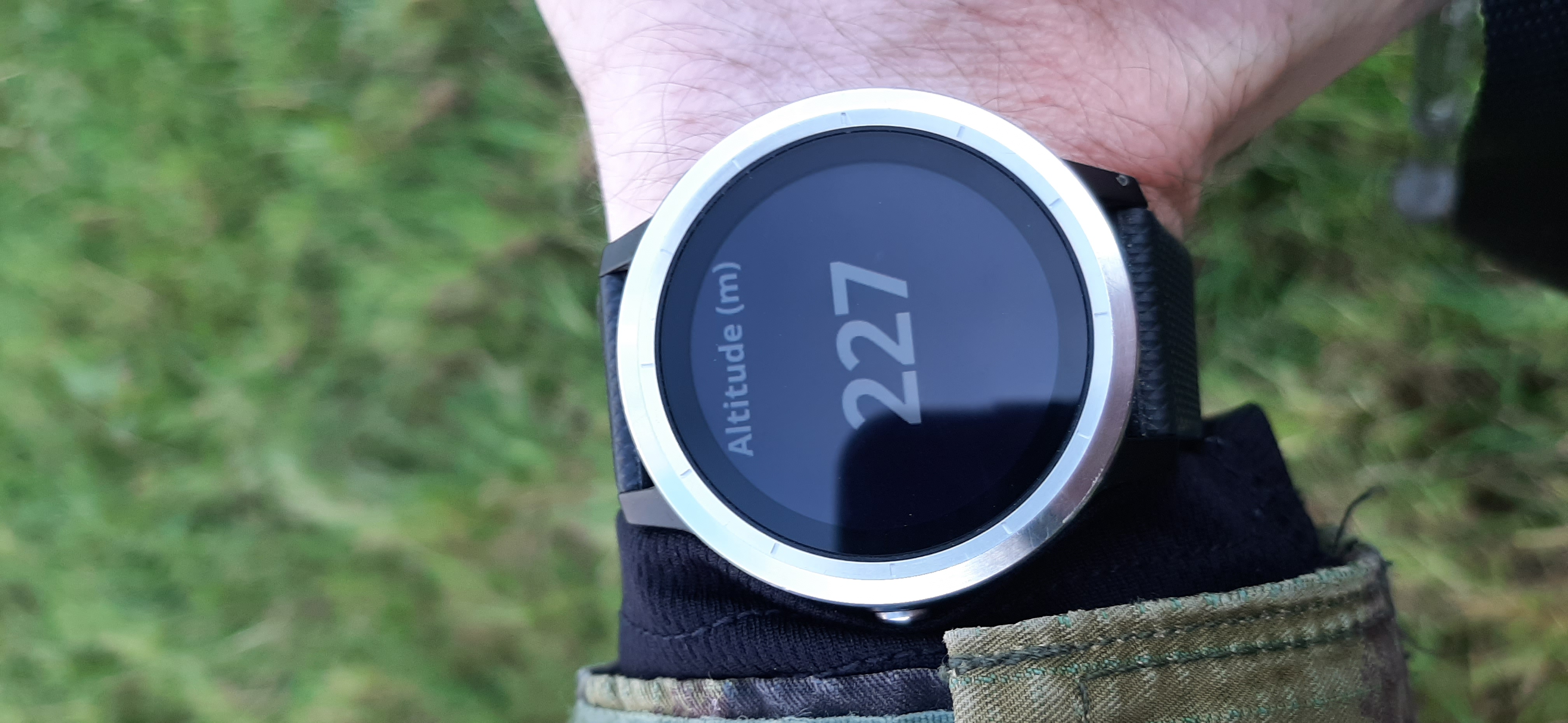 watch altitude is pretty accurate
Just like Croaghan there are brilliant views despite the low elevation. These include a cracker view back towards Croaghan itself. However, I felt uncomfortably like I was on private property and didn't want to hang around very long. I was back at the car less than 20min after leaving and home in time to make dinner.
Fearns Hill on Mountainviews.ie
I'm fairly rattling through the closest 50 hills but it's misleading as most of them so far are short and easy and the closest to home. It will soon get more difficult and hopefully more interesting too.