On Saturday night I finally went wild camping. The weather forecast was grim with heavy rain and a thunderstorm warning for the afternoon and early evening but with the worst of it to pass by 6pm I decided to plan for the best. Thankfully the forecast was right for a change and it dried up shortly after 6.
Taking my cue from a successful way to plan a bike ride I got all my gear sorted the day before and packed that morning. Taking advice from some of the YouTube wild campers I follow I took more than I thought I would need but despite being reasonably strict the volume of stuff still surprised me.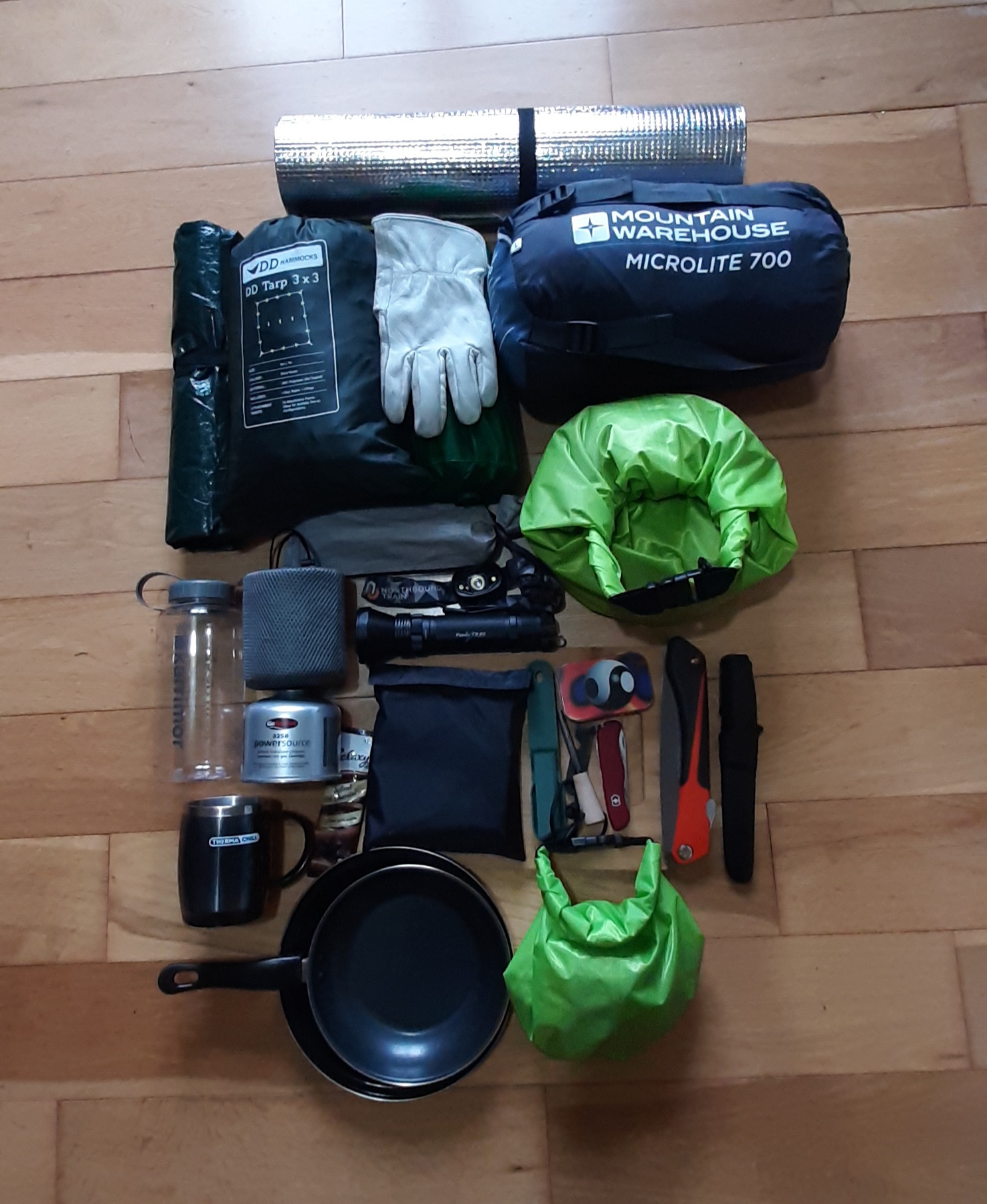 Part of my problem is that not all my gear packs efficiently. For example the cooking cup is smaller than the gas canister so they can't be nested. Also the thermal cup took up more space than I expected and my sleeping bag is probably bigger than most modern bags.
I'd chosen a spot called Dooish Hill between Raphoe, St Johnston and Newtowncunningham. I've been there before and it has a great view and only a short 1km walk from the parking location in case things went disastrously wrong. It's also one of the 50 nearest hills listed on Mountainviews.ie so starts the 50for50 ball rolling for me too.
The actual campsite was OK but far from ideal. The area of grassland I remember turned out to be quite boggy and mostly covered with low heather. This made for damp, soft ground and while heather is nice enough to lie on it doesn't compress as easily as grass and made everything that little bit more awkward but still manageable.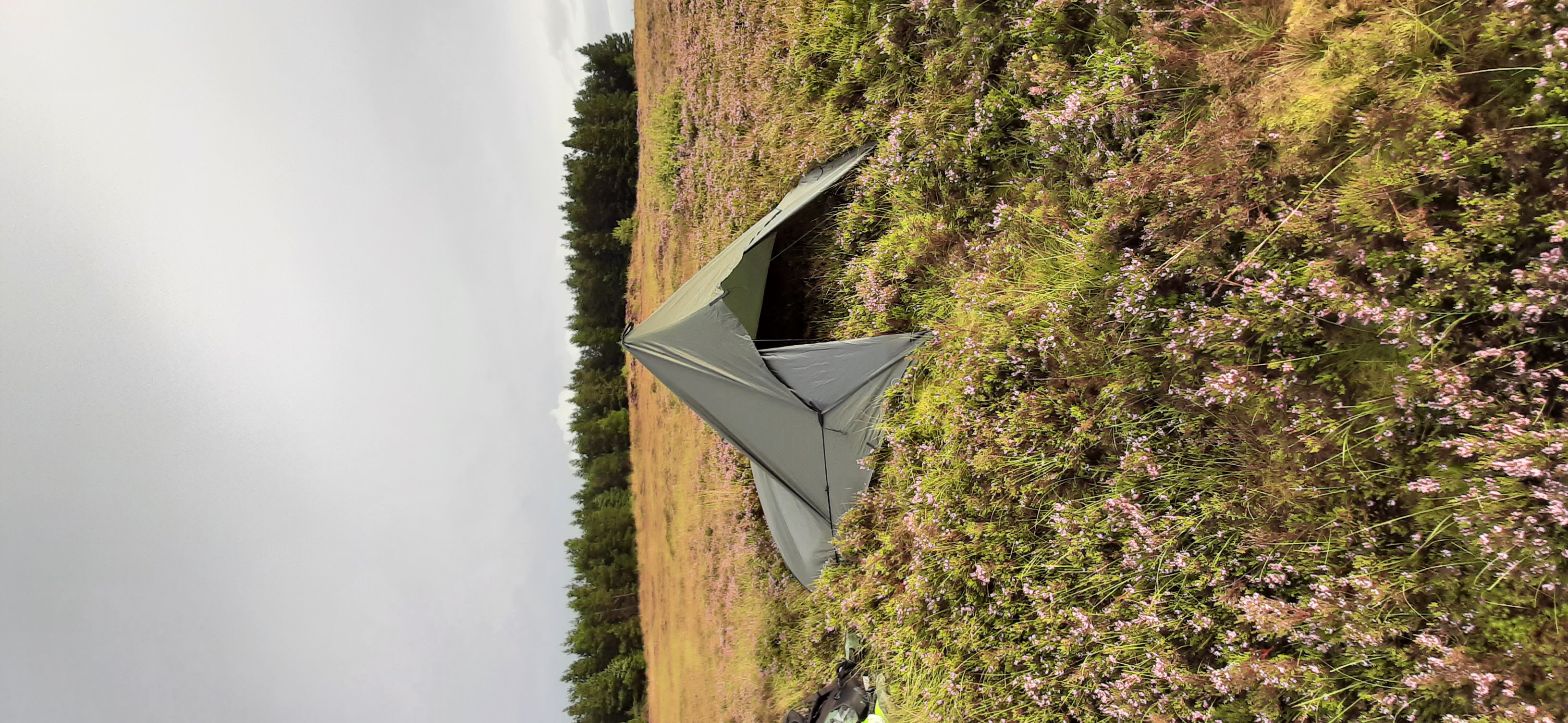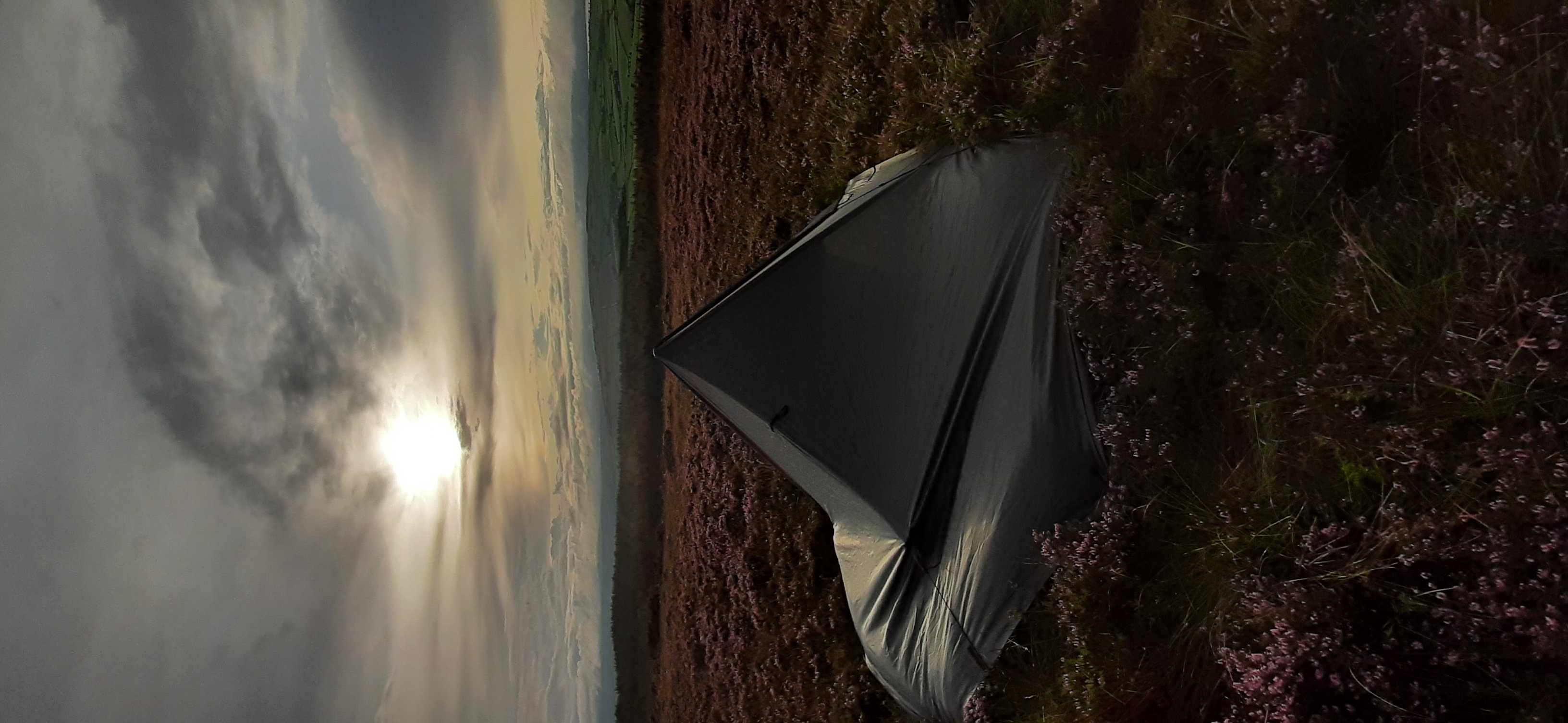 the heather complicated the pitch of the tarp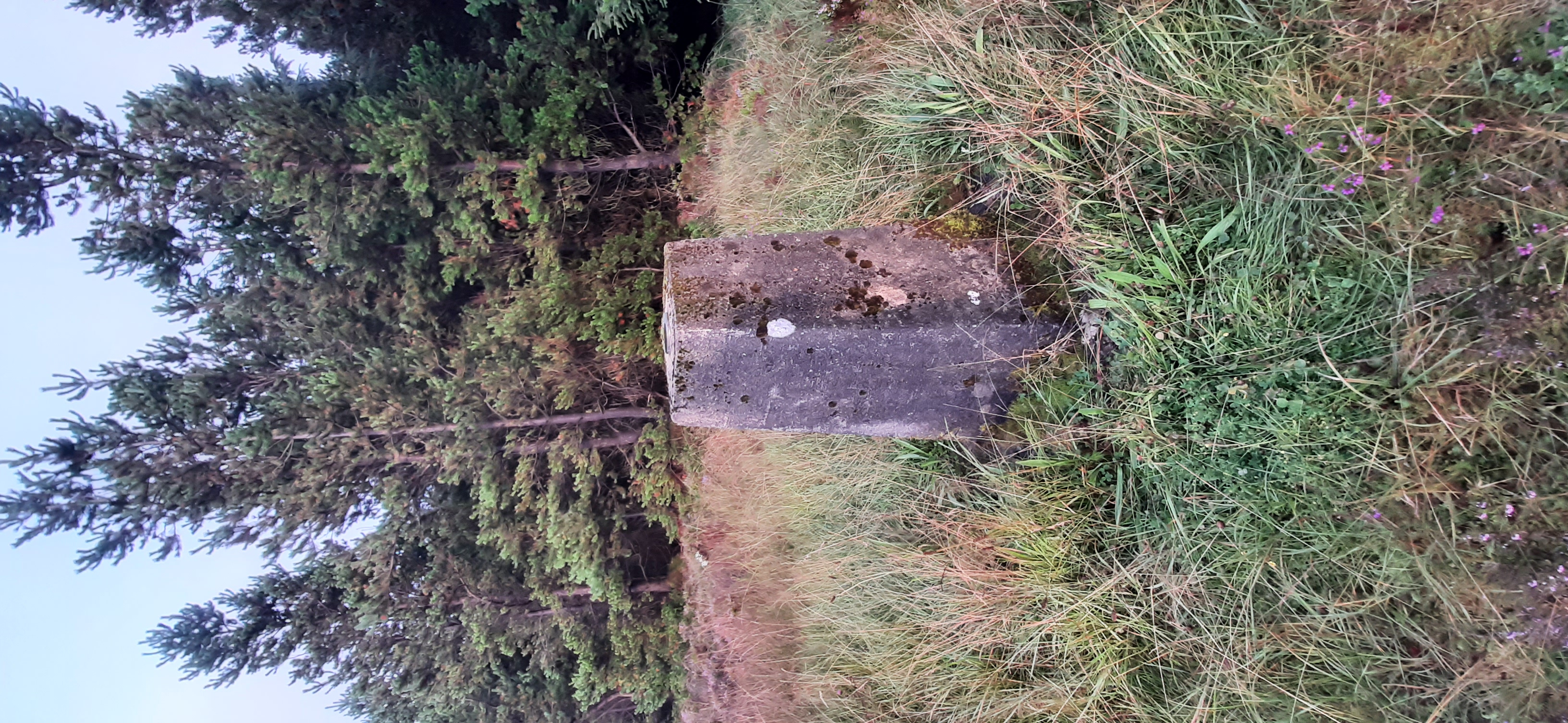 nearby unmapped trigpoint pillar
I'd brought two stoves with me. My BSR gas stove I used previously on my hike up Bessy Bell and also a small wood burning firebox copy from Lixada. The plan was to use the wood burner to cook dinner, keep away any midges and provide a nice fire as it got dark. The gas stove was for the morning to make life easier. After the day of heavy rain I also decided to bring a small bag of dry tinder and sticks and a large birch branch I'd taken from my local woods a couple of months ago. I didn't fancy hunting in the wet trees nearby and trying to start a fire with damp wood. I did process the wood on site though with my saw and knife to cut and split it and lit the fire using a fire steel rather than a lighter. It felt surprisingly satisfying to do it this way – very bushcrafty!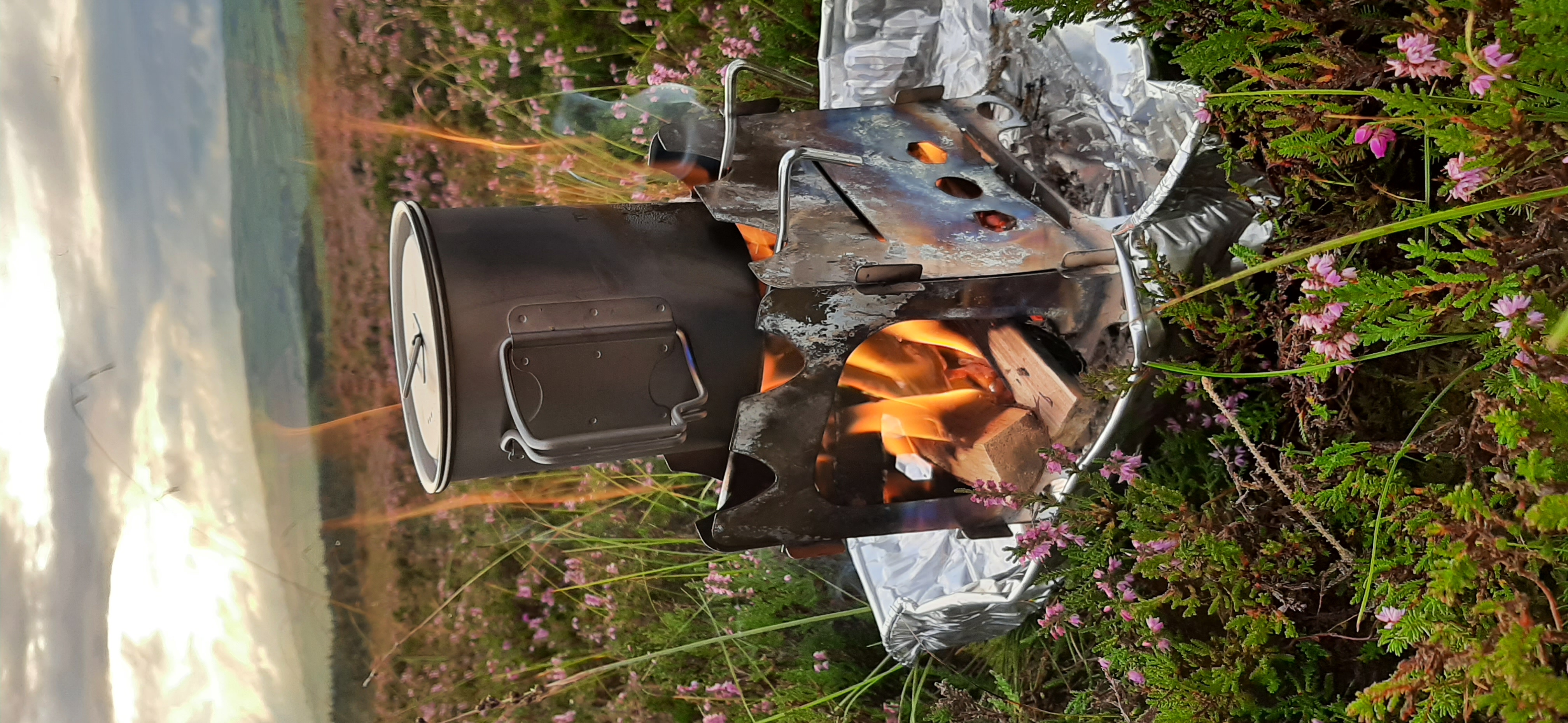 Dinner was kept simple too. I brought some chorizo sausage pieces and a pre cooked pack of multi grains. I just needed to boil a small amount of water and then reheat the whole lot in the frying pan for 5min. Dessert was a chocolate chip muffin. All was eaten while enjoying the views as the low clouds came and went.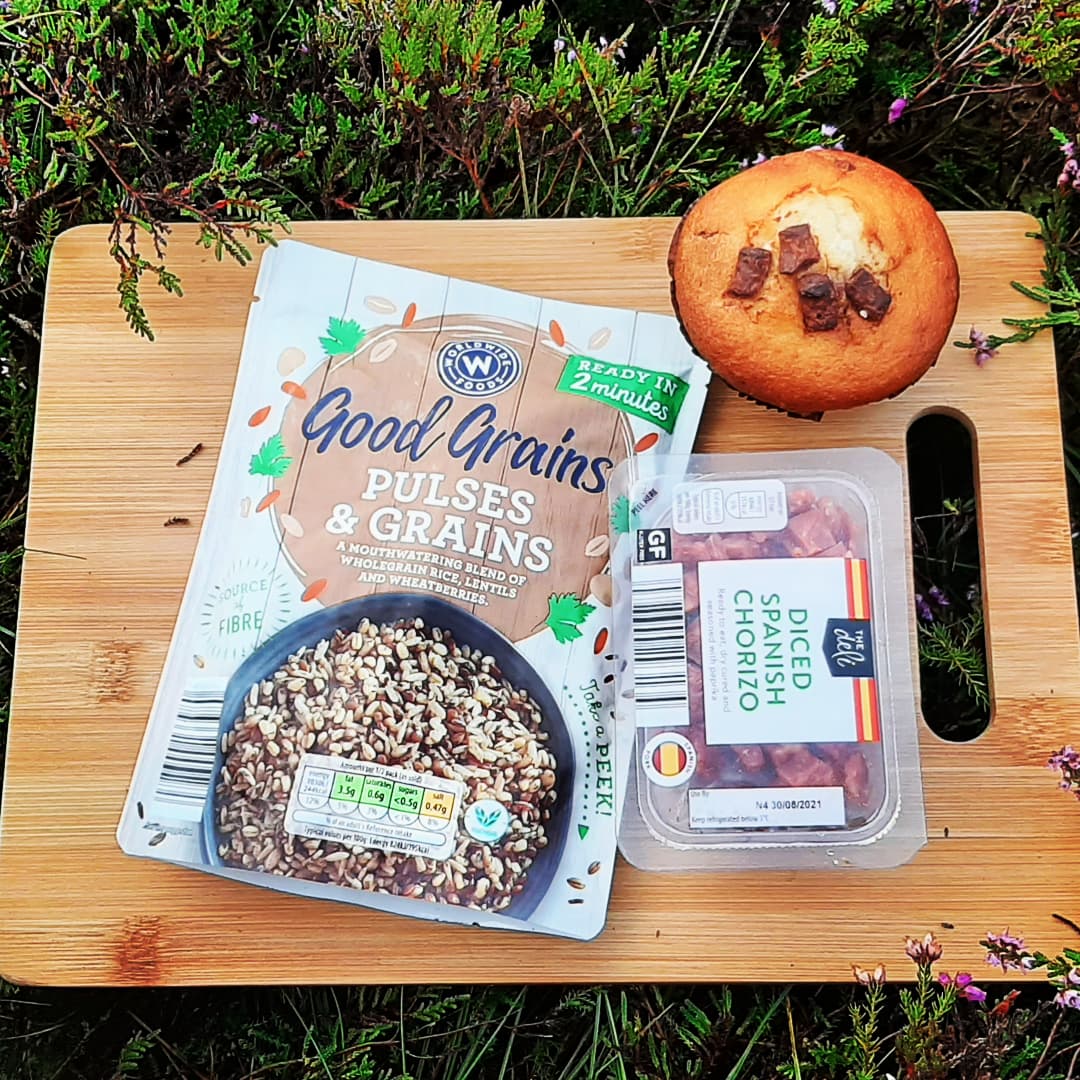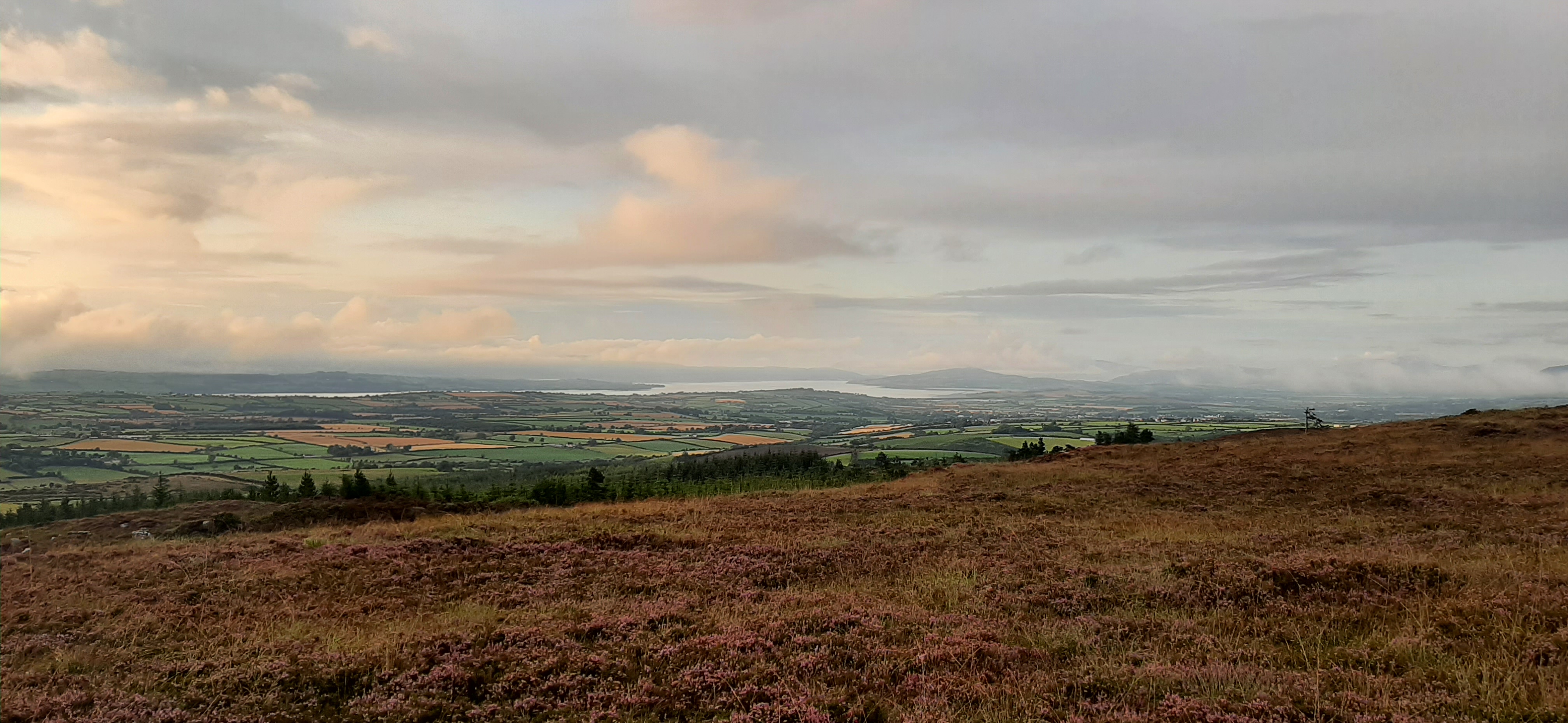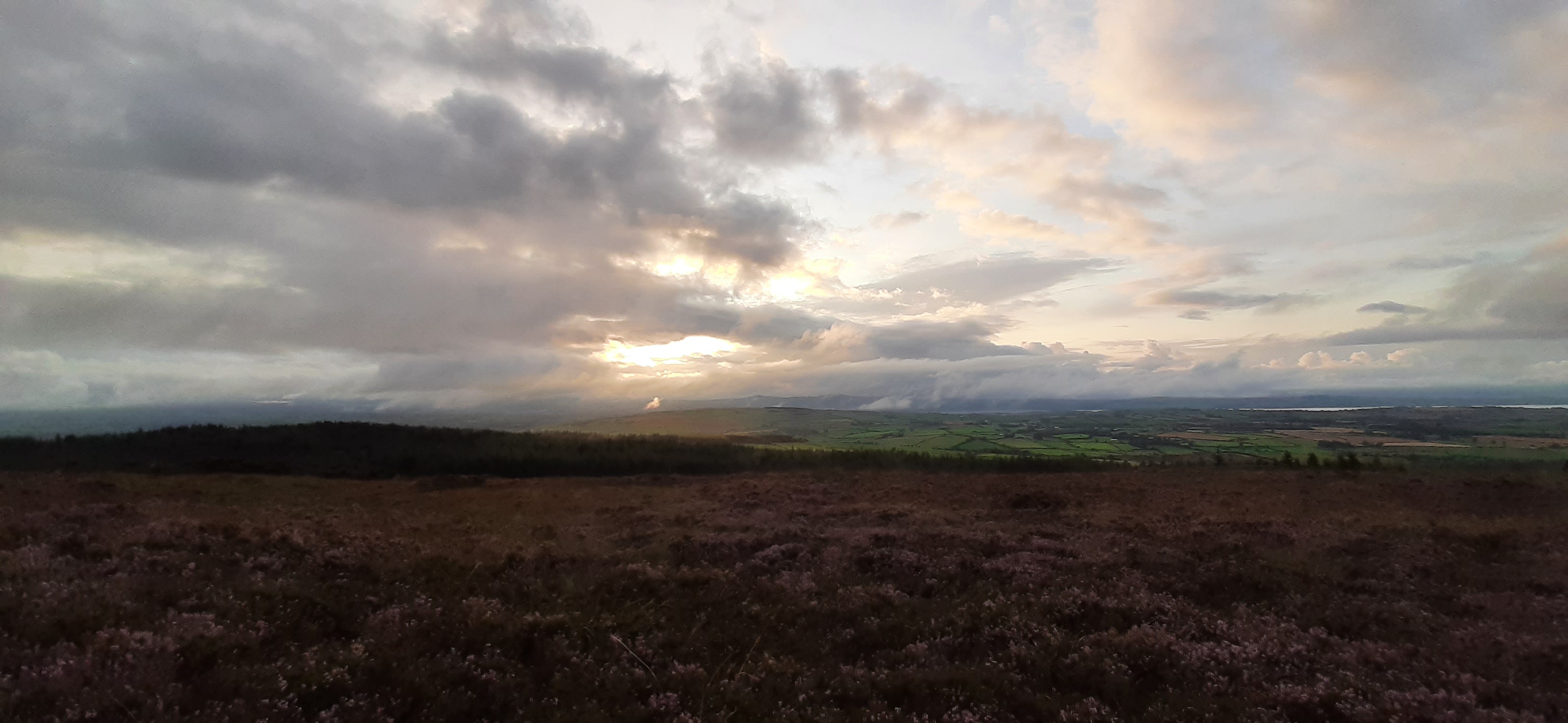 Sunset came quickly with darkness pretty much complete shortly after 930. However, just before 9 I was treated to a flock of birds (swallows, swifts or martins, they all look and behave very similar!) that swooped in and spent 10 minutes showing off their aerial acrobatics as they dined on flies and other insects high above my head. Even once it was dark there was a surprising amount of light in the sky.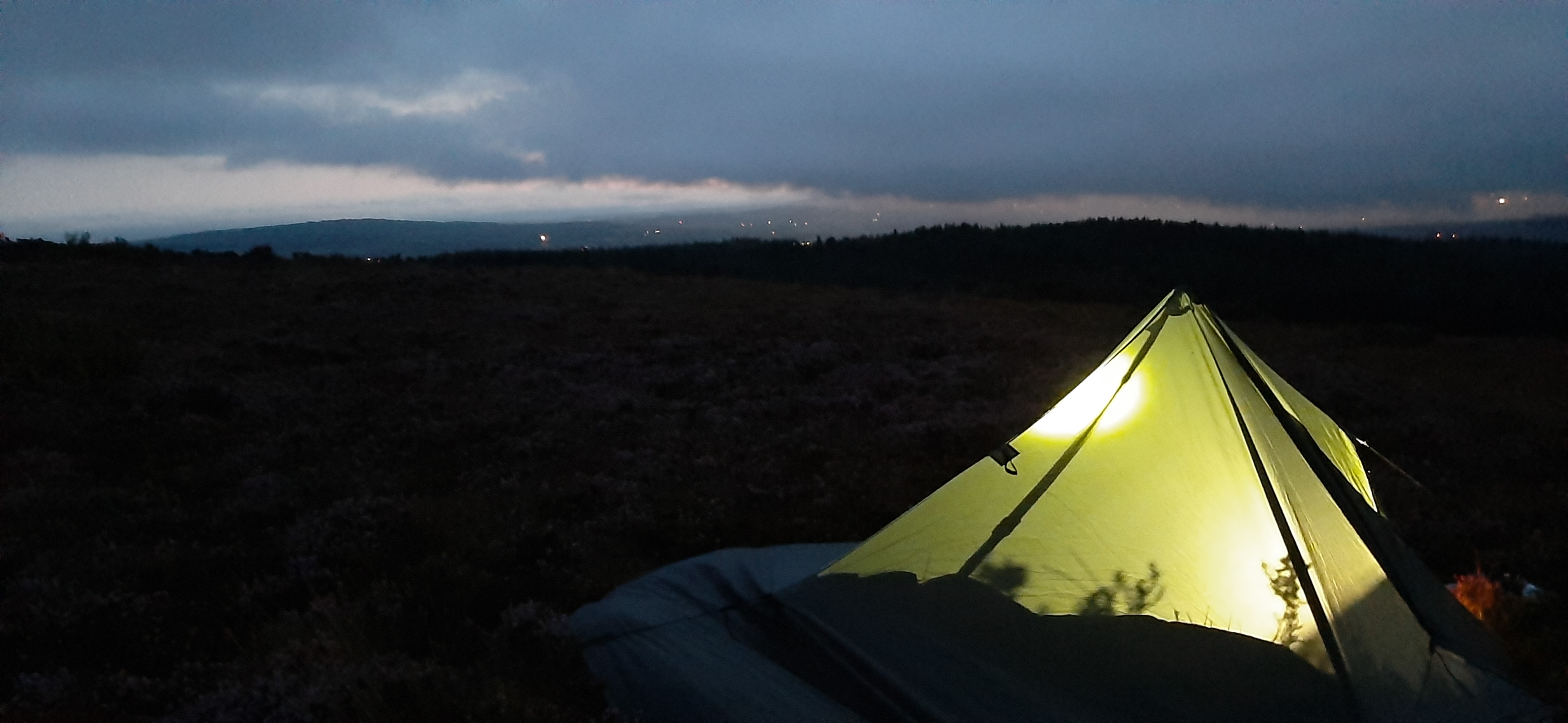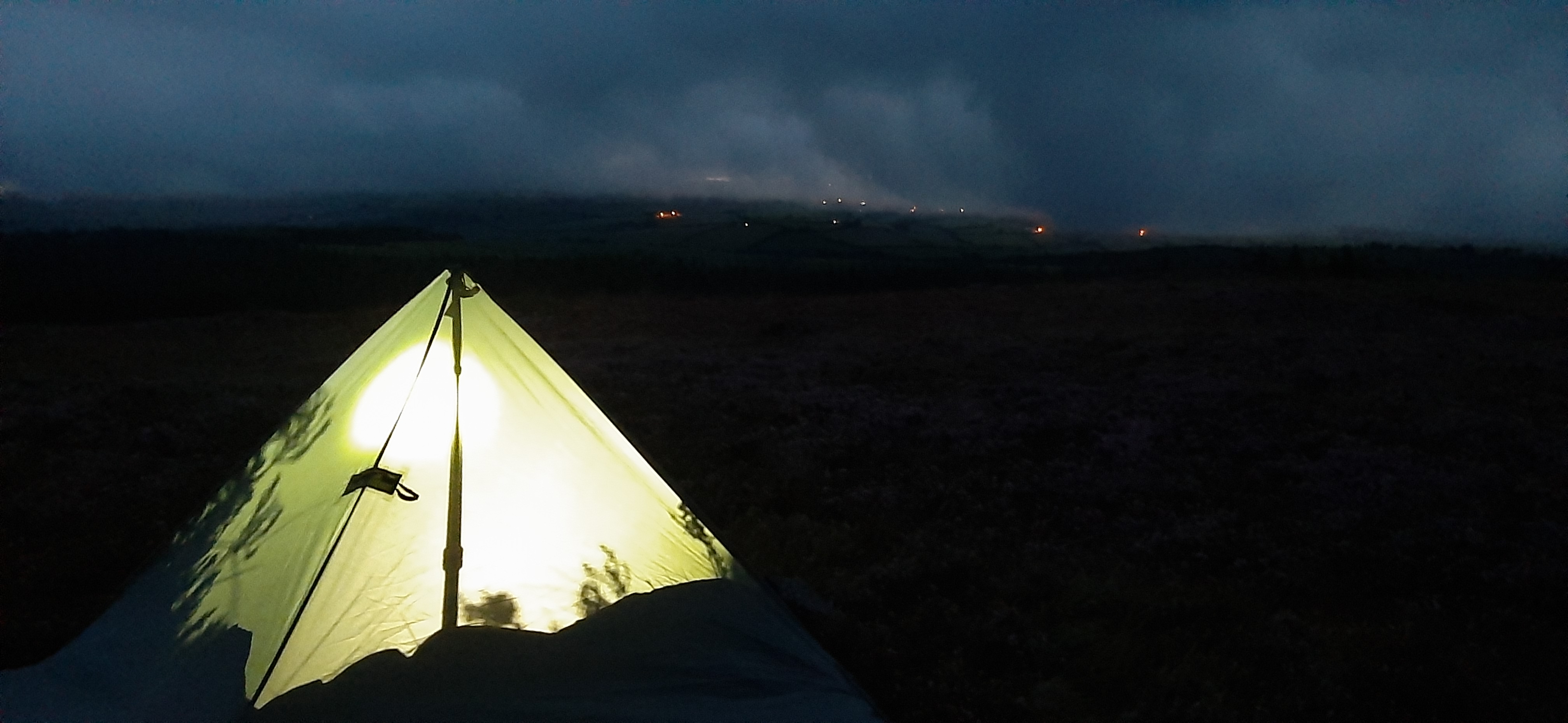 I read for a while by the light of my head torch and finally went to bed shortly after 1030. I slept reasonably well, waking about 1230 and again shortly after 3. I needed a pee at 3 so it took a while to settle again but I then managed to sleep until just after 6am. Not perfect but good enough and better than I expected for my first night out. Another tip from YouTube helped. I was wearing a thin thermal hat and this was big enough to pull down over my eyes and stop the early dawn from wakening me too early.
The early morning was chilly and unfortunately the view was gone as the hill was totally shrouded in a dense bank of low cloud. A breakfast bacon bap and tea was nice but could have been so much better with a view to enjoy.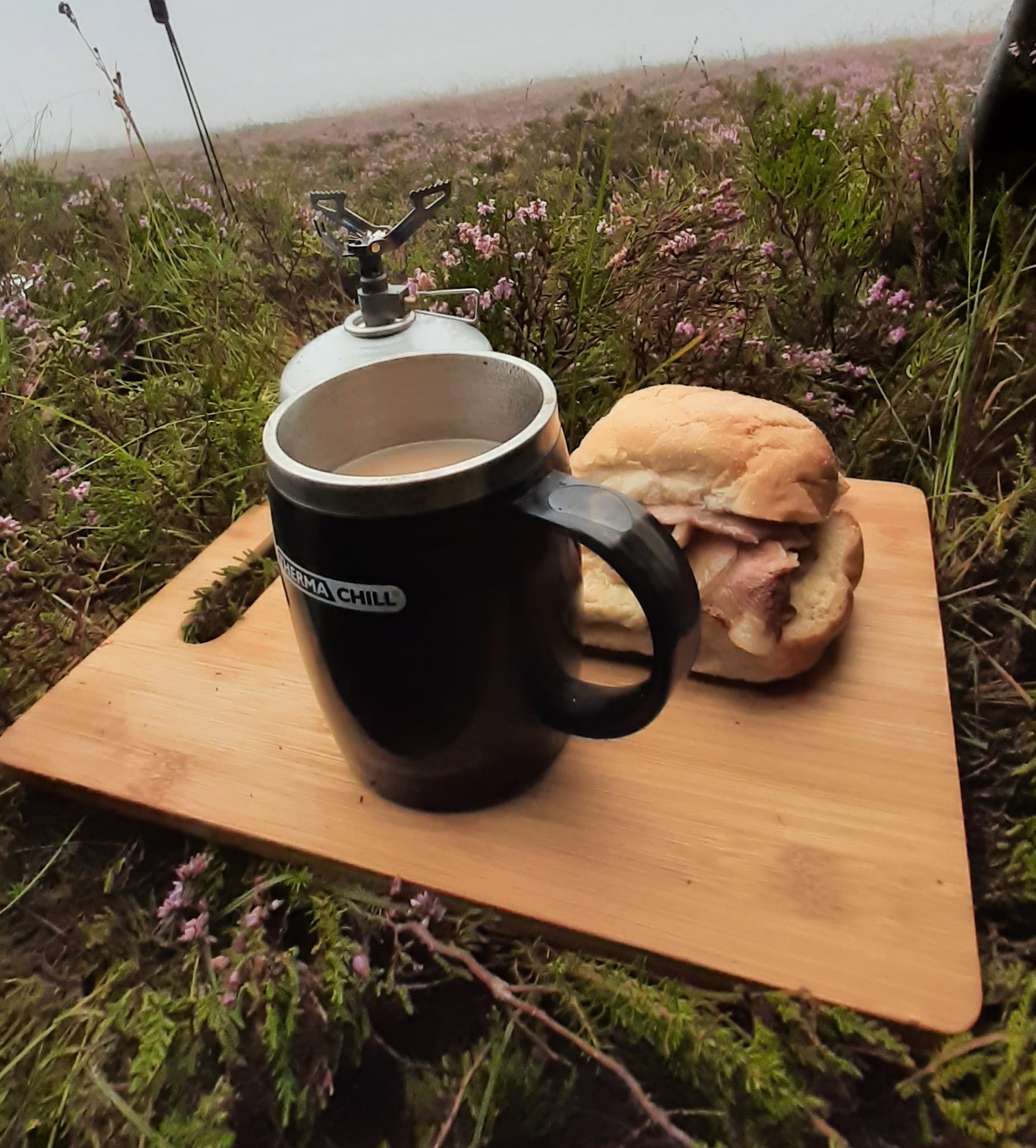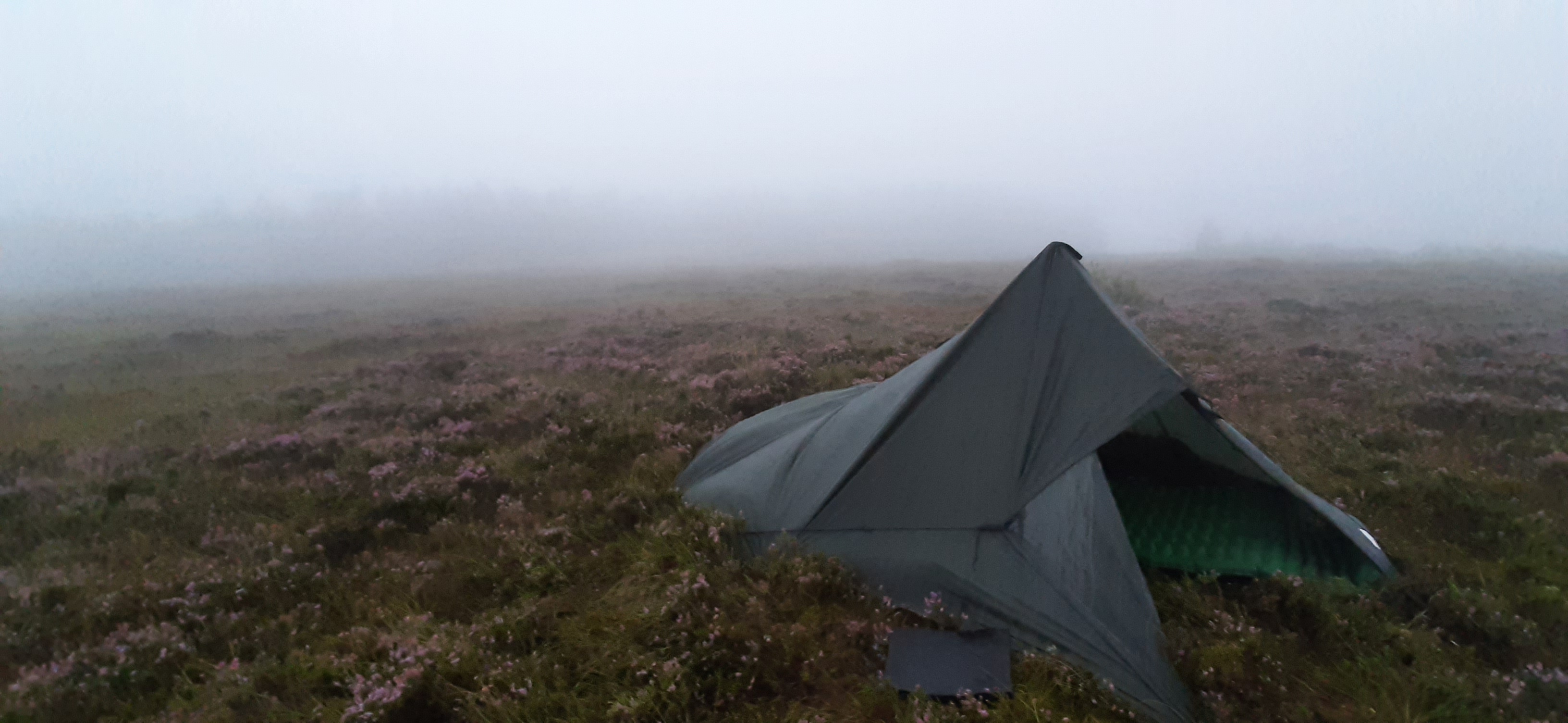 lost in the mist
Packing up was quick and simple, somehow everything went back in easier this time and after a short damp walk back to the car I was home again shortly after 8am.
All in it was a really good and enjoyable first wildcamp. I'll definitely go out again and with my first experience I have some small lessons to help make it better next time too.