I dropped my road bike off with the bike mechanic yesterday morning on my way to work. I had hoped to get it back early this morning and get a spin today but they're very busy. He suggested it would be this evening before it would be ready so I had to make alternative plans.
It's a while now (March last year) since I had a proper day out on the MTB. I'd spotted a great route a few weeks ago by a guy I follow on Strava and with a slight modification I soon had almost a 60km, mostly off road route to ride.
First though the bike needed some TLC. My poor MTB doesn't get much more than very basic maintenance and performs way better than I deserve. However, before riding it today I had to spend some time scrubbing down and re-lubing the drive train and pumping up the tyres. After my hydration miscalculation on Sunday I also figured that taking my Camelbak would be a wise idea. Of course, it hasn't been used in almost two years and needed a good sterilisation and clean too. By the time I'd everything prepared it was after 12 before I was in the car and off to the start.
The car park and start location is part way into Barnes Gap between Ballybofey and Donegal Town. The first 5K would be along this busy main road following part of my route from Sunday's 100K. After this it turns off onto quieter side roads for another 5K to Leghowney Community Hall where it finally goes off road.
The route follows the first section of the Leghowney Loop Walk up through Meenadreen Windfarm. The first section of this is up a punishing climb for just over 2km with the gradient fluctuating between 10-14%. The windfarm has a 25km/hr speed limit and halfway up there was a speed display sign that seemed to take great delight in telling me I was going at 8km/hr.
This climb is up through mostly mature forestry and at the top opens out into the generic upland bog that is typical of this part of Donegal. It's here were the turbines are located. There appeared to be two windfarms in total with the main one consisting of 25 turbines. Altogether there must have been 40 with a couple more locations visible on nearby hills. One thing about Donegal, there's no shortage of wind!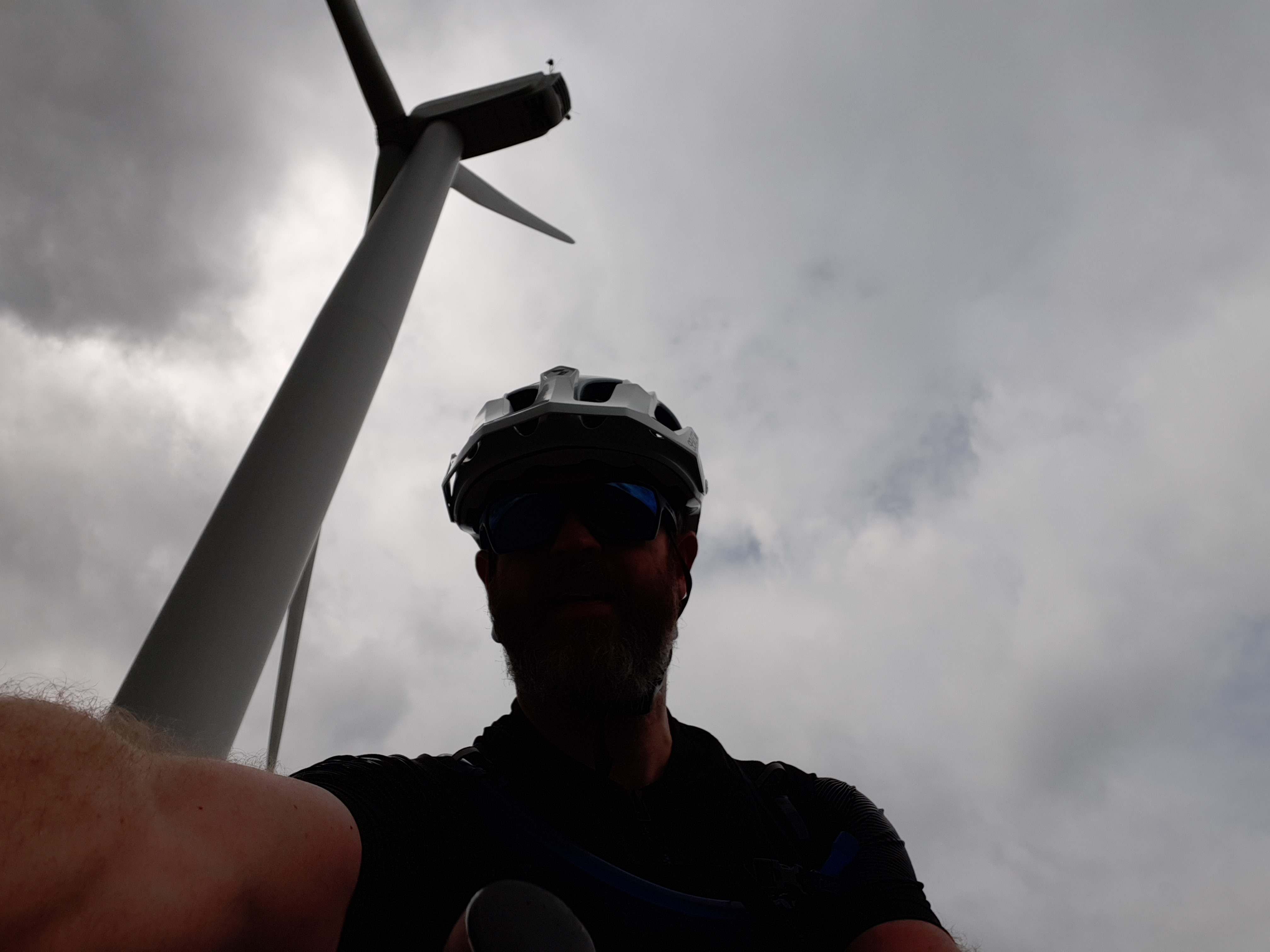 Close to the first turbine there's a very out of place bench that looks exactly like a memorial. I'm not sure of the meaning behind the plaque as I couldn't see any signs of habitation but possibly any old ruins were cleared during the construction works?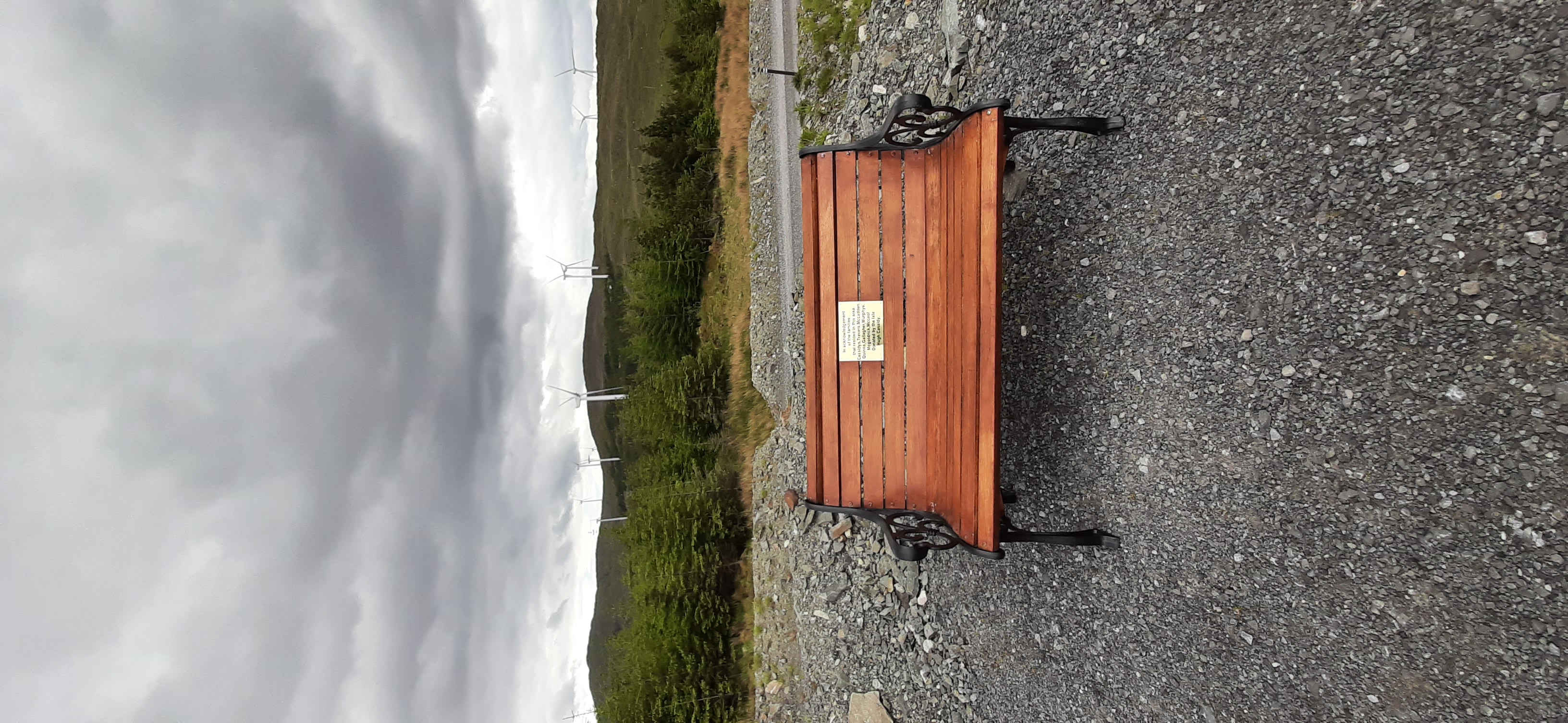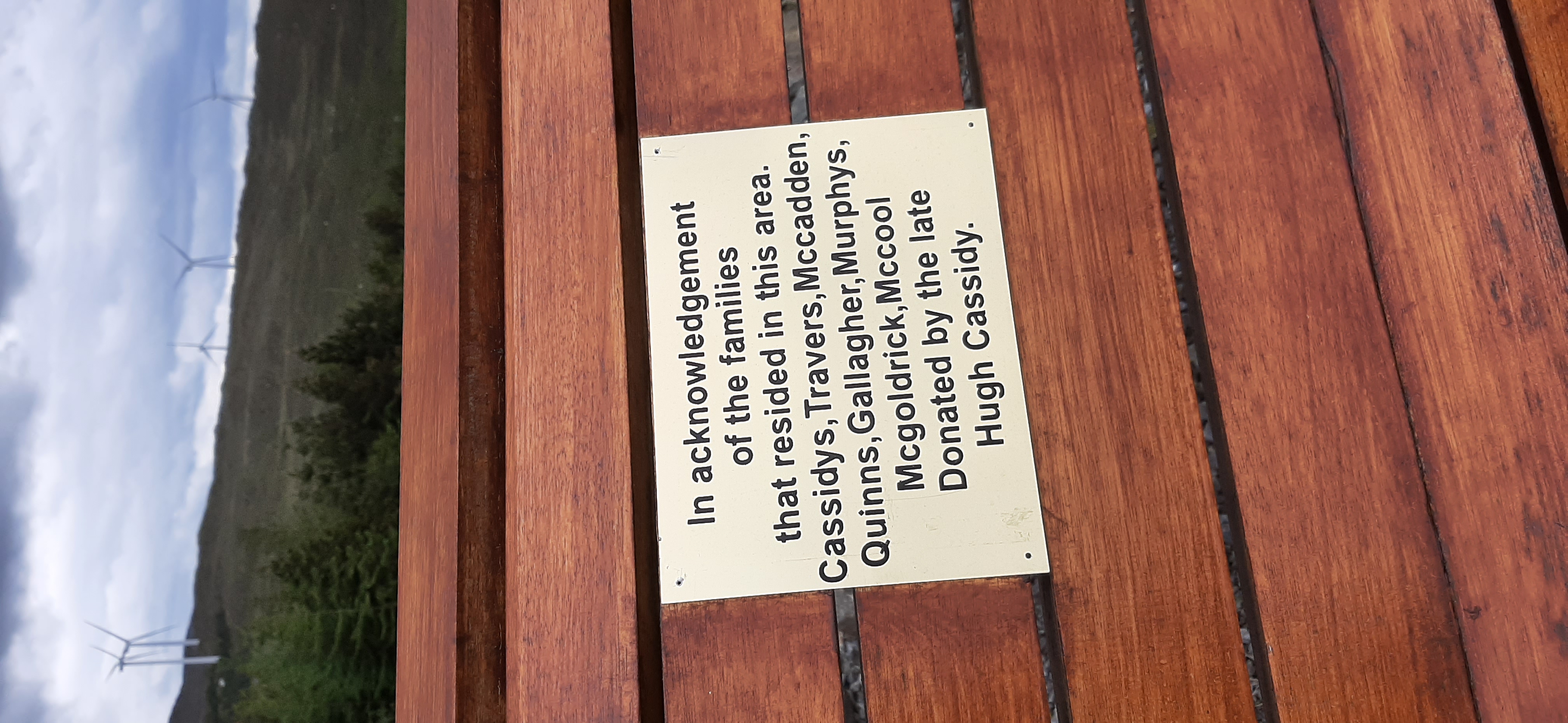 The route through the windfarm is almost 9km in total along graded access roads. It varies from stiff climbs to sweeping descents. However, it's hard to escape the feeling that you are riding through an industrial complex in the middle of nowhere. Once again I struggled to see the justification of the impact of windfarms while being hypocritical enough to enjoy the trails they provide!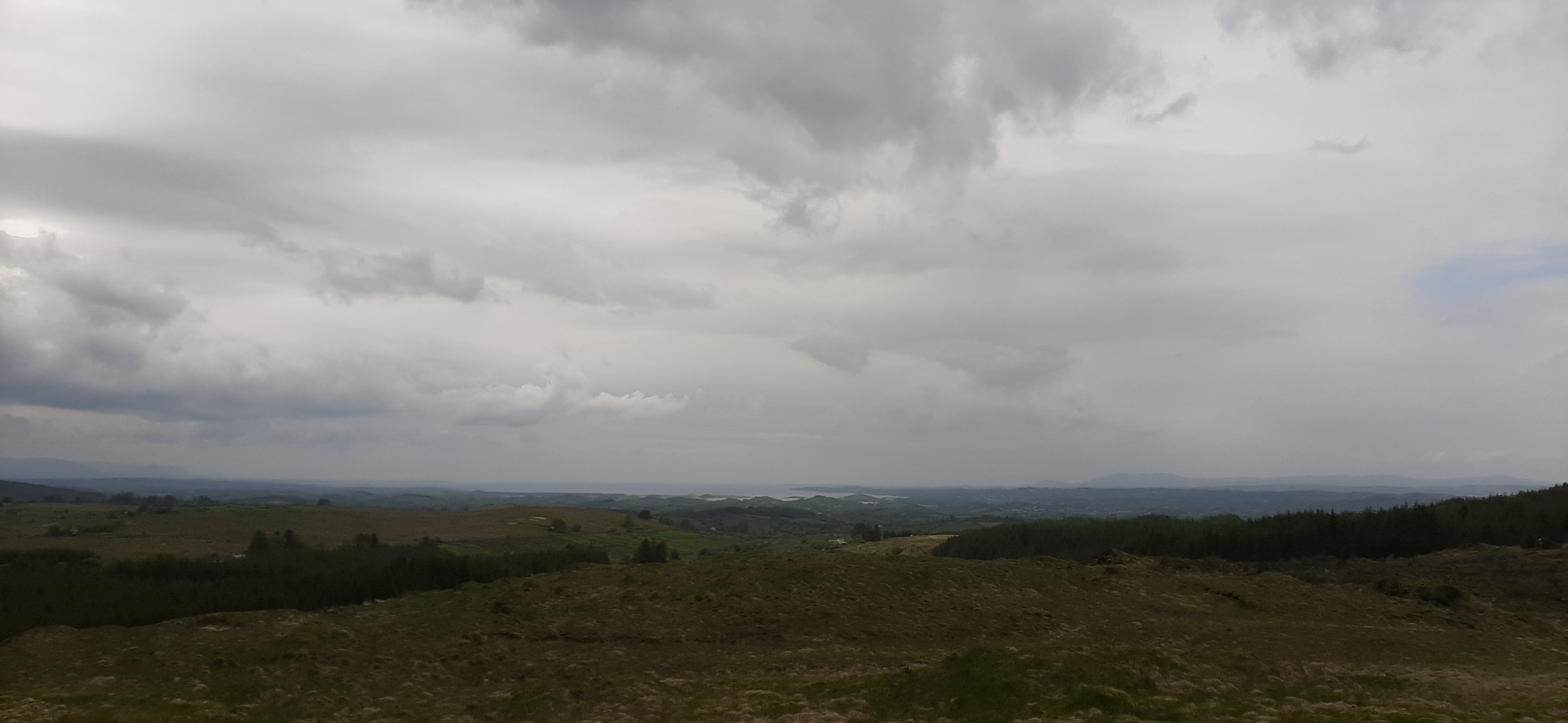 donegal bay
Exiting the windfarm by a large gate with a pedestrian kissing gate, definitely not designed for bikes, I came out on the Laghey to Killeter road close to the border crossing called Kelly's Bridge.
© Copyright Kenneth Allen from Geograph.ie
A short section of road brought me to the forest section of The Bannadoo Trail I walked at the end of April but heading in the opposite direction. Another 6km of undulating forest track before reaching Big Bridge.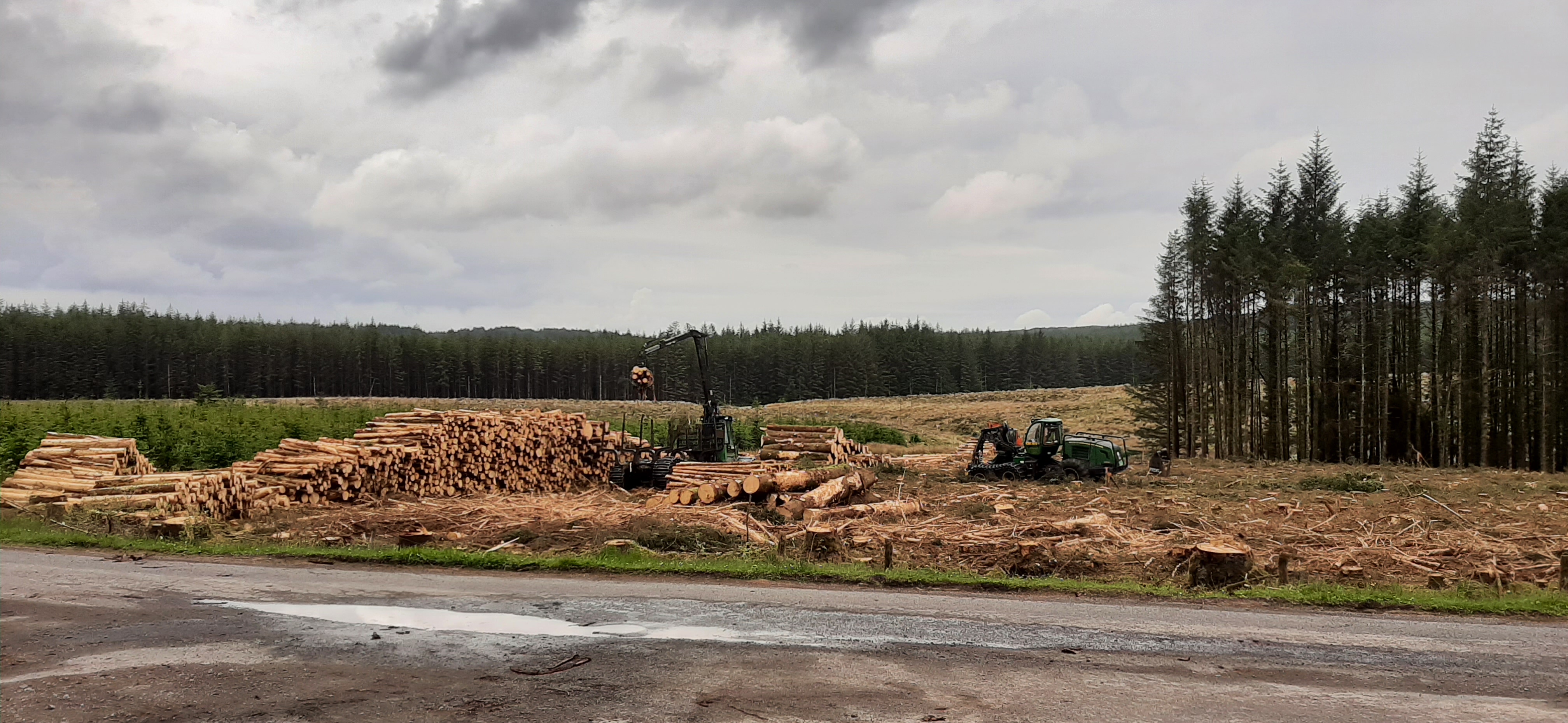 Along this forest track I met a guy walking two beautiful beagle dogs. One of them decided to run along after me giving me a bit of a fright when I realised he was chasing me about 150m after I passed him. Not nice getting startled on these rough tracks, he could easily have caused me to slip and crash.
From Big Bridge it was back to climbing again. I've only ridden this section once before and from the opposite direction and I didn't remember it being so long. It was almost 9km with the first 4km of that climbing, sometimes steep, and always with a track surface composed of rock dust that sucks the energy out of the legs. Along this section I was treated to the sight of a red deer bounding across the track from one forest section to the other before enjoying the final few kilometres downhill and back to road for a while again.
This 5km is the last significant section of road and took me past the start and finish of my Barnes Gap walk from a couple of weeks ago. It used to be possible to go up here and make an alternative route but with the ongoing construction I didn't fancy the hassle today.
Turning after 5K took me on to a bog road that runs along the top of Lough Mourne which is the water source for most of the Finn Valley. This is a pretty barren location when the weather is against you but has a severe beauty on a warm, almost sunny day like today. Thankfully the wind wasn't against me as it's also ferociously exposed. The track is mostly used by tractors accessing the bog and as such the surface is incredibly rocky and rough, eroded further by water runoff. My ass took a real pounding* for 3km before I eventually dropped down to the head of the Lough and stopped to let tender bits recover.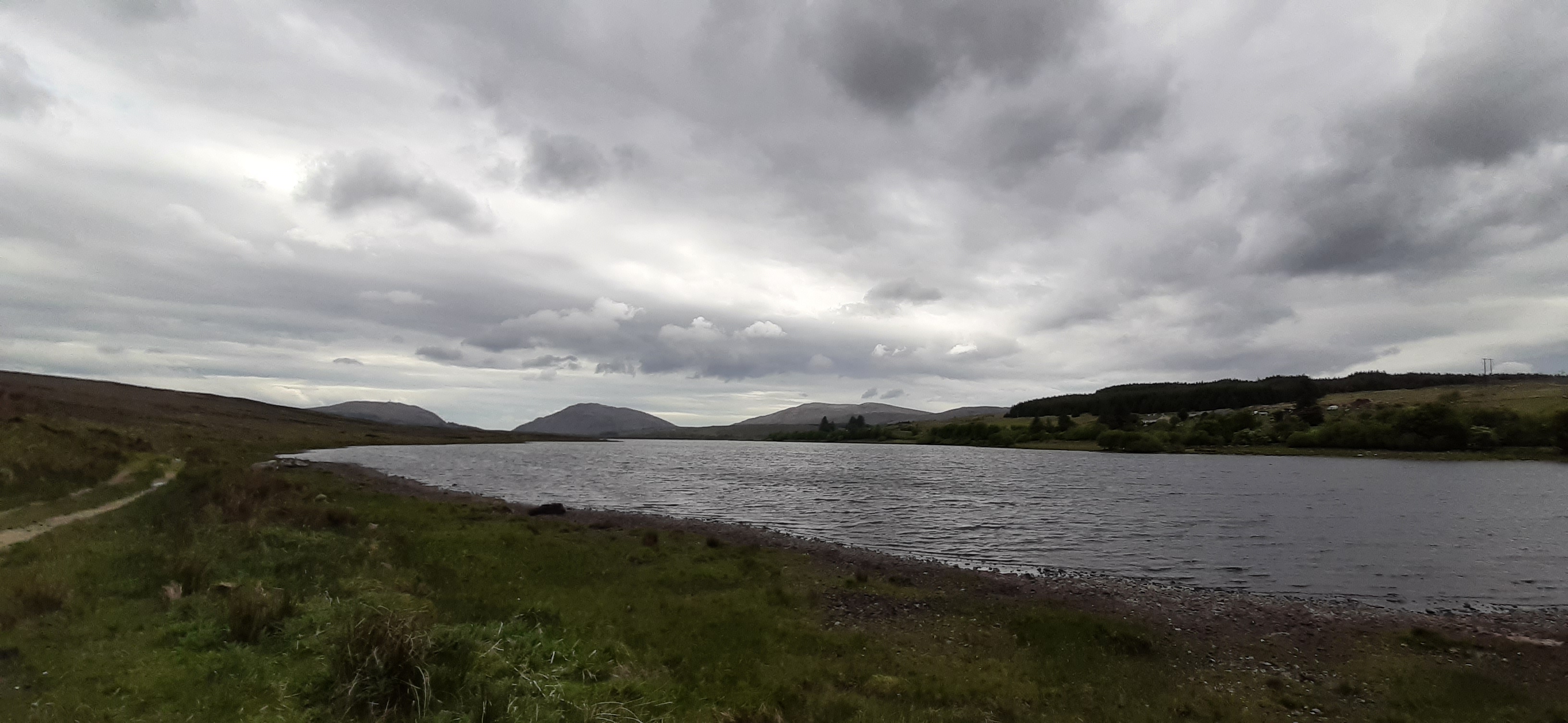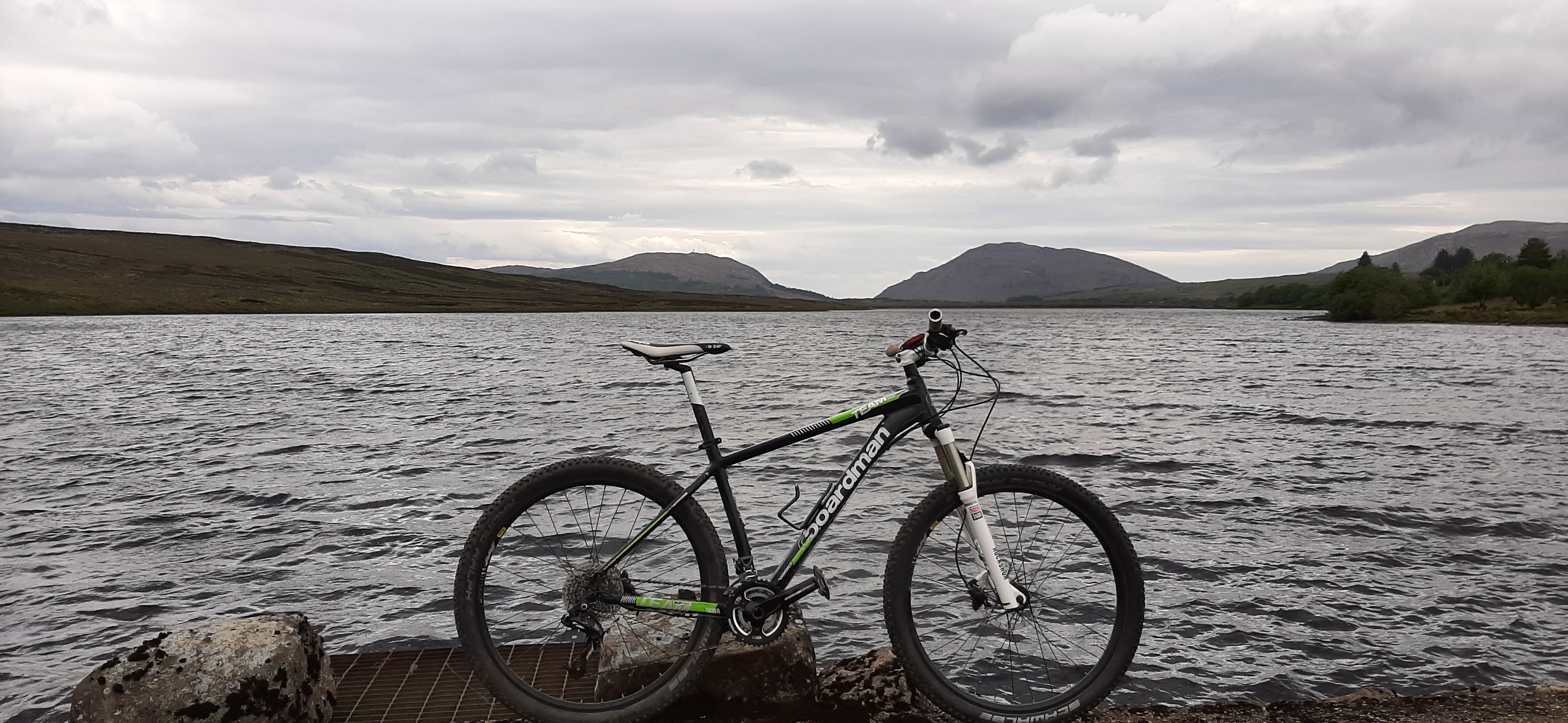 *not intending to spend time in a maximum security prison, this is a phrase I didn't ever expect to write!
Two short sections of road broken by a fast descent of a rough track at the back of the water treatment works brought me back to the forest and saw the last of the tarmac for the day. Along the first section of road I spotted a large buzzard hunting the abandoned grazing between the road and forest. He was hovering for ages but didn't get to eat this time and eventually drifted off as if embarrassed to fail with me watching.
This last section of forest is familiar to me from two routes I've ridden a number of times. The first section crosses a steep ridge but normally I ride it in the opposite direction. It's one of my favourite off road descents but today I had to ride up it. Close to the start of the climb there was a Cavan reg car randomly parked at the side of the track and a few hundred metres on I spotted a forest worker who obviously owned it. He was quite short and wearing a huge pair of wellies that looked way too big for him. These were literally his downfall as he tripped and took a tumble as he stepped to the grass verge to give me space to puff my way past. It was a real slow motion tumble and perfect roll and thankfully only his dignity was bruised. I was especially happy to see him getting up again as I didn't fancy stopping and starting on that bugger of a climb. I was of course also happy to see that he wasn't hurt!
Just before the steepest section the track cut off to the left and within 20m my Garmin was having a fit that I was off course. I looked at Google Maps to confirm I was right, there couldn't be two tracks that close and going in the same direction, so I pushed on. The track did seem more overgrown than memory but it's been a few years so I was happy enough. A few hundred metres later the track dead ended and I had to turn back. I'm sure that the Garmin would be sniggering if it could. The little Cavan man also got his revenge as I met him driving along the track as I made my way back to tackle the last couple hundred metres of 14% climb before taking the correct turn this time.
The advantage of doing this section the opposite way is that the tough uphill I normally struggle along now becomes a fast downhill although sadly broken by a gate halfway. It was along the flat section of the ridge that I had my most surreal experience on the bike a few years ago. I was pedalling along and swore I could hear music. Coming around the corner I met a beautiful black lab followed by a guy playing bagpipes! He walks the dog up here and brings the pipes to practice where he doesn't bother the family or neighbours!
The final 10km was tough. It's two sections of forest with a section of upland grazing in between. The forest is the usual graded track but the farmland section is back to a rocky lane. It's a steep area rising and falling along the edge of the hill but generally climbing all the way. The farmland section is the steepest and the toughest with deep eroded sections exposing rocks big enough to stop me if hit the wrong way. By the time I reached the end of this all my contact points were sore and tender and crying out for a break.
Through this area there are a number of abandoned buildings. It was obviously a much more populated area over the last 100 years but completely abandoned now. It must have been a tough life eking out an existence up here, especially in harsh winters.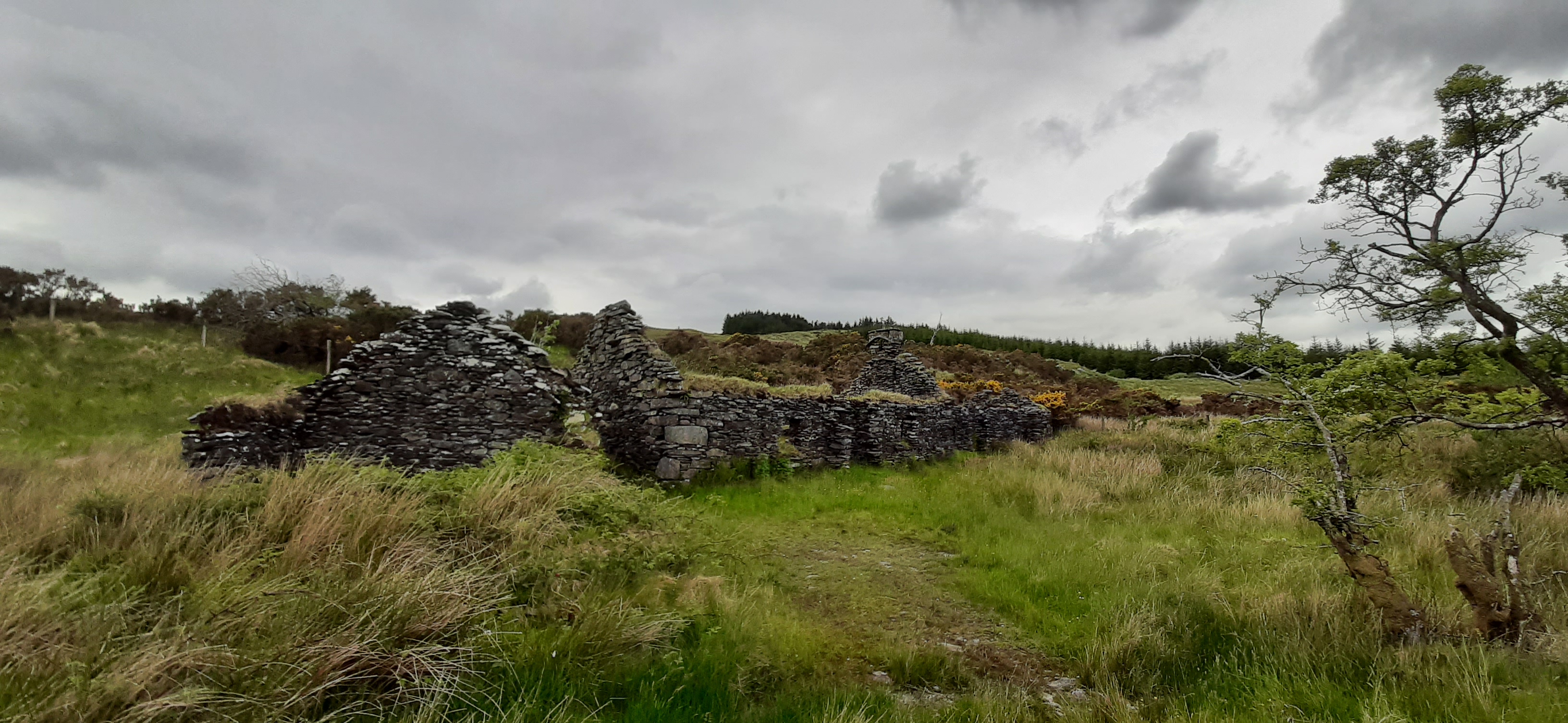 The final section of forest starts with a rapid downhill and one I've ridden many times. Knowing the terrain I let the bike go and aided by the open forest gate I got halfway up the next hill with momentum on my side. The next couple of kilometres are a series of rolling short, steep climbs with shorter descents gradually increasing the elevation each time. The track had changed to finer gravel and loose small stones making it very tiring on already tired legs. The strong breeze was also back in my face making it feel even harder again. I was very pleased to make it to the top of the last climb and took a few minutes to admire the views across the back of Barnes Gap, into the Bluestacks and catch my breath.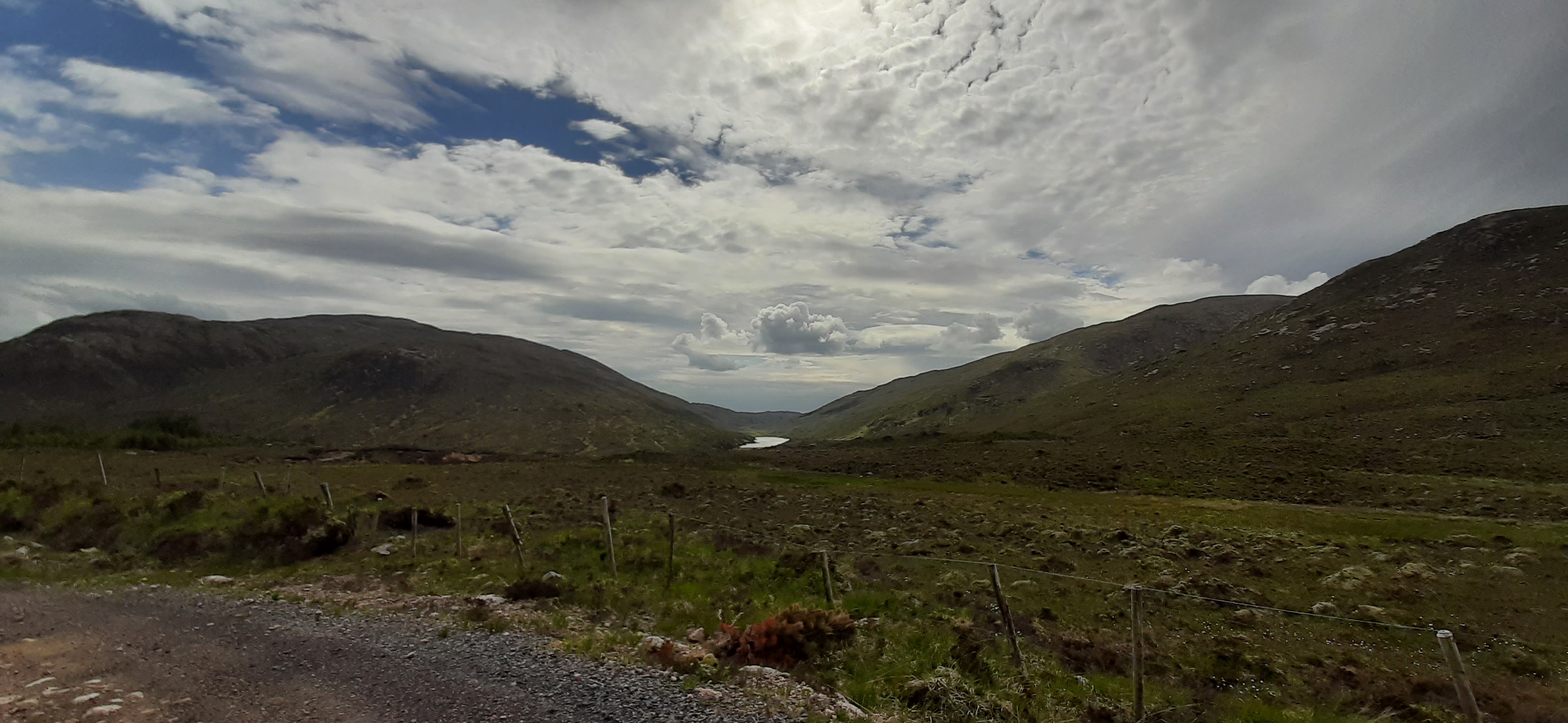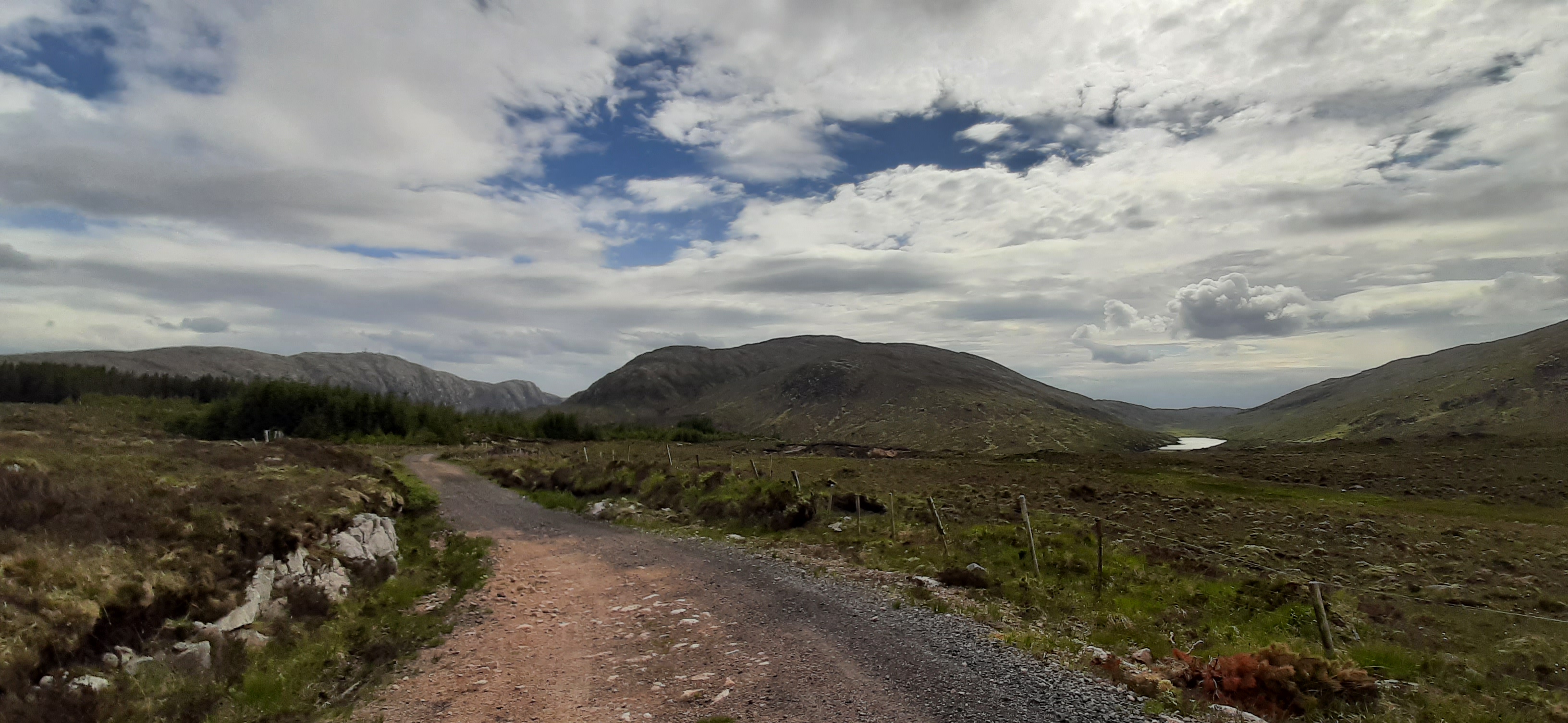 The last section is an exhilarating and very fast descent back to the road just 50m from the car park. This area gets a lot of rain so the steep track is badly rutted and eroded by constant run-off. It takes a careful eye and concentration to navigate safely especially as tired as I was. I made it safely and enjoyed this last blast of adrenaline before finishing.
Back at the car I was starving. I had a substantial late breakfast before leaving the house and had two bars along the way but I was out longer than expected and more than ready for food. Getting home I made a ham and cheese toasty that I may have swallowed whole! However, hydration was not a problem today.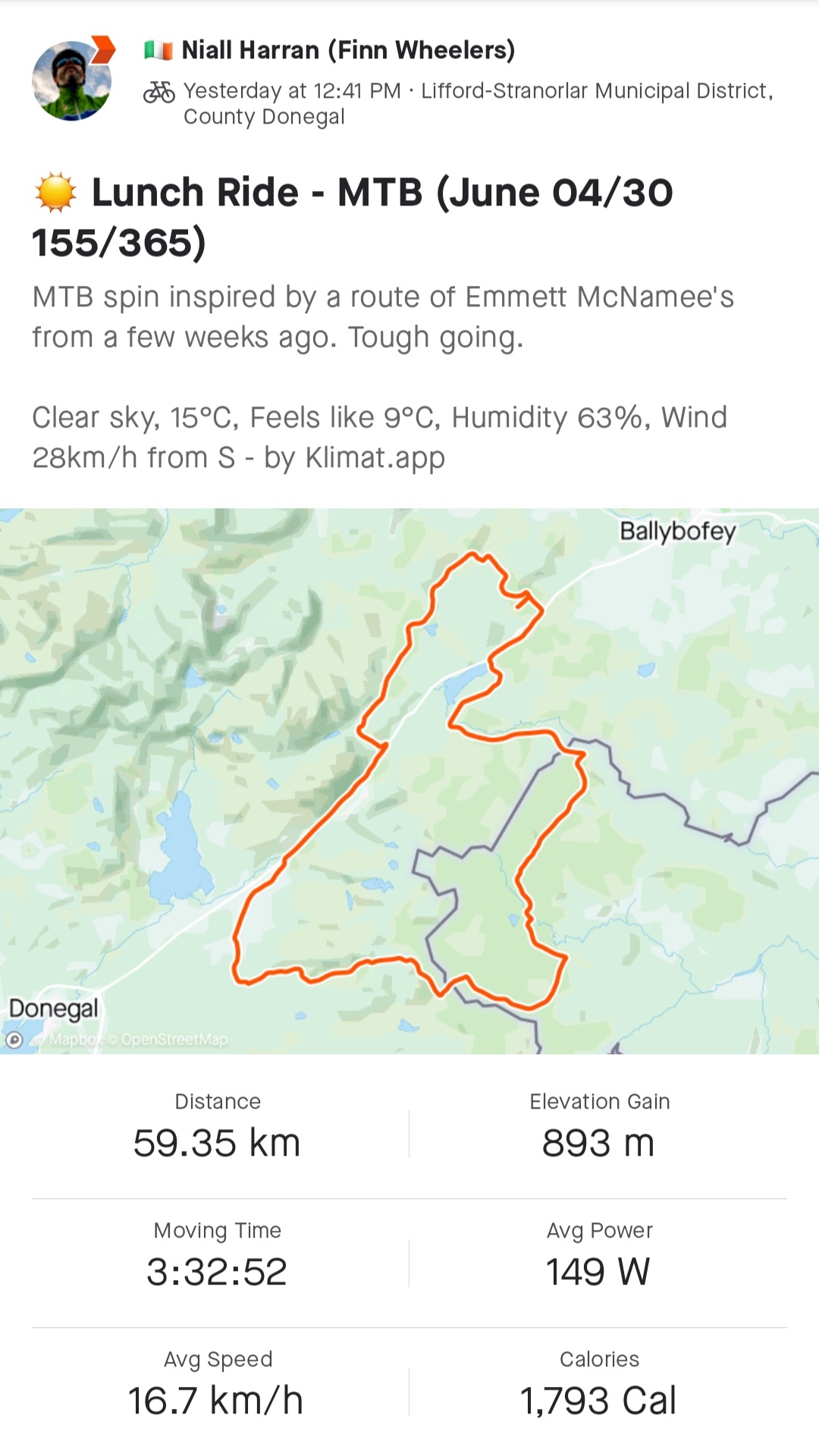 click here to view on strava
I have my first vaccine appointment in the morning and I also have a 100km spin planned. I'm not sure about that now having read BgddyJim's experiences post vaccine but as I still haven't heard from the bike mechanic that decision may be made for me.