The General's Daughter (Paul Brenner #1) by Nelson deMille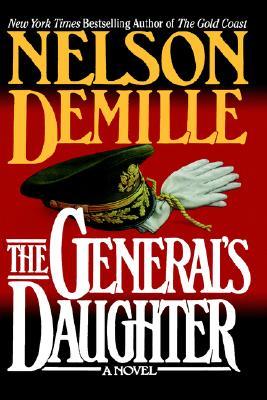 From Goodreads:
Captain Ann Campbell is a West Point graduate, the daughter of legendary General "Fighting Joe" Campbell. She is the pride of Fort Hadley until, one morning, her body is found, naked and bound, on the firing range.

Paul Brenner is a member of the Army's elite undercover investigative unit and the man in charge of this politically explosive case. Teamed with rape specialist Cynthia Sunhill, with whom he once had a tempestuous, doomed affair, Brenner is about to learn just how many people were sexually, emotionally, and dangerously involved with the Army's "golden girl." And how the neatly pressed uniforms and honor codes of the military hide a corruption as rank as Ann Campbell's shocking secret life.
My Rating: ⭐⭐⭐⭐
Overall a very good story and well written. It's a difficult task to take on with two topics you don't see much of in books – murder/rape on a military base and the impact of introducing women into the armed services. I thought that they were both handled pretty well.
The difference between crime investigation and procedure in the army versus civilian life was intriguing and Brenner is an interesting character with a surprisingly cavalier attitude towards the army and procedures, not what you would expect from a long serving soldier.
I did enjoy the book very much but found the use of leaps of intuition and guesswork to solve the case frustrating. Too much of it came out of nowhere. Maybe that's the result of years of experience as an investigator but I found it to be lazy writing.
The book has also been made into a film. Reading the synopsis on Wikipedia it seems they have made some interesting plot changes. I'm not usually a fan of John Travolta but might be tempted to watch it.
Header image by Kaboompics .com from Pexels