The 29th Day – Surviving A Grizzly Attack by Alex Messenger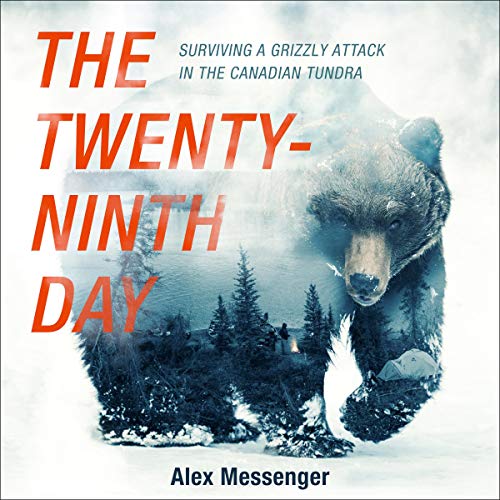 From Audible:
A 600-mile canoe trip in the Canadian wilderness is a 17-year-old's dream adventure, but after he is mauled by a grizzly bear, it's all about staying alive.

This true-life wilderness survival epic recounts 17-year-old Alex Messenger's near-lethal encounter with a grizzly bear during a canoe trip in the Canadian tundra. The story follows Alex and his five companions as they paddle north through harrowing rapids and stunning terrain. Twenty-nine days into the trip, while out hiking alone, Alex is attacked by a barren-ground grizzly. Left for dead, he wakes to find that his summer adventure has become a struggle to stay alive. Over the next hours and days, Alex and his companions tend his wounds and use their resilience, ingenuity, and dogged perseverance to reach help at a remote village a thousand miles north of the US-Canadian border.

The Twenty-Ninth Day is a coming-of-age story like no other, filled with inspiring subarctic landscapes, thrilling riverine paddling, and a trial by fire of the human spirit.
My Rating: ⭐⭐⭐
A fascinating story of a once in a lifetime adventure that goes incredibly wrong. The story provides background to the trip and builds up through the journey until the bear attack and then follows the aftermath and his fight to reach safety, supported by his friends.
With stories like this I'm always amazed by the detail of recall. He creates a vivid picture of the Tundra wilderness and what it is like to explore there and the challenges they faced travelling by canoe. However, the detailed recall of the bear attack was astounding considering how quickly it all must have happened and the shock he experienced afterwards. It did make me wonder if it was embellished a bit but I'm taking it at face value.
The remoteness of their location and the actual wilderness of the area they were travelling through was really brought home in the immediate period after the attack. These teenage boys showed remarkable courage and perseverance to support and care for their injured friend and get him to safety.
Where the audiobook falls down is the narration. The author chose to narrate his own story and it's a good example why it's a good idea to employ a professional reader. He has a strong, pleasant voice but reads in a flat monotone with no variation for emotion. The story would have been so much more gripping if read in a way that reflected the experiences being described. However, it's still very much worth a listen.
Header image source: fossbytes.com