Camino Sunrise – Walking With My Shadows by Reginald Spittle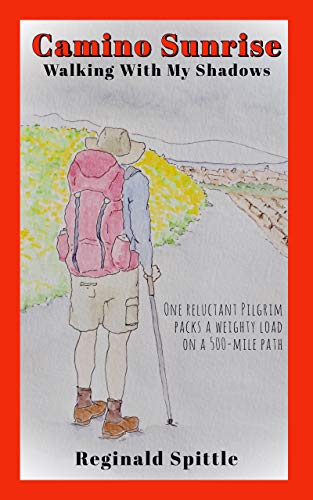 From Goodreads:
Walk? 500 miles? Across Spain? We can't do that!
And so began the journey of a lifetime for Reg Spittle.

An outwardly well-adjusted professional and family man, Reg was a master of disguising a lifetime of debilitating anxiety that undermined his self-confidence.

Recently retired, he never dreamed he'd soon find himself chasing distant boundaries across a foreign land, sleeping in dorm bunks and sharing bathrooms as if he were a teenager experiencing his gap year.

When tragedy strikes, Reg reluctantly accepts his wife's challenge to carry his red backpack on the historic Camino de Santiago, confronting past fears and humiliations, while packing weighty new worries.

Self-reflection, humor, and a recurring cast of characters create the backdrop for a story of hope in Camino Sunrise: Walking With My Shadows.
My Rating: ⭐⭐⭐⭐
This is the first book written by the author but I have already read his second book that details his later treks. This is the story of how it all began.
The book is an enjoyable account of the Camino experience. It's very different from the PCT and AT endurance treks I've enjoyed in lots of other books but it's most certainly a challenge in its own right. I found that the book captured a sense of sharing and camaraderie that seems more personal on the Camino compared to the other treks. The author describes his Camino "Family" and the spirit of this definitely comes across. This subtle difference may be due to the kind of trekker that is attracted to the different trails. The people Reg and Sue met were older in general while the PCT and AT seemed to be predominantly younger trekkers.
The book is also a very personal and private struggle for the author as the Camino experience brings his life-long struggles with anxiety to the fore. Even contemplating and agreeing to attempt the trek is a massive challenge for him. Throughout the book he describes events through his childhood that led to anxiety in his adult life and how he hopes that post-Camino Reg will be a different person to pre-Camino Reg.
At times I felt the personal stories uncomfortable. I was lucky to have a much happier childhood but many of the struggles he describes were very familiar. At the time I simply put it down to shyness and social awkwardness but it made me realise that anxiety that I sometimes struggle with in adulthood was there during my childhood too. Recognising this shook me a bit. Maybe this was my own Camino journey in a very small way.
Header image by Kaboompics .com from Pexels